New leadoff man Dirks has monster game in win
Left fielder, filling in atop order, hits grand slam; Sanchez fans eight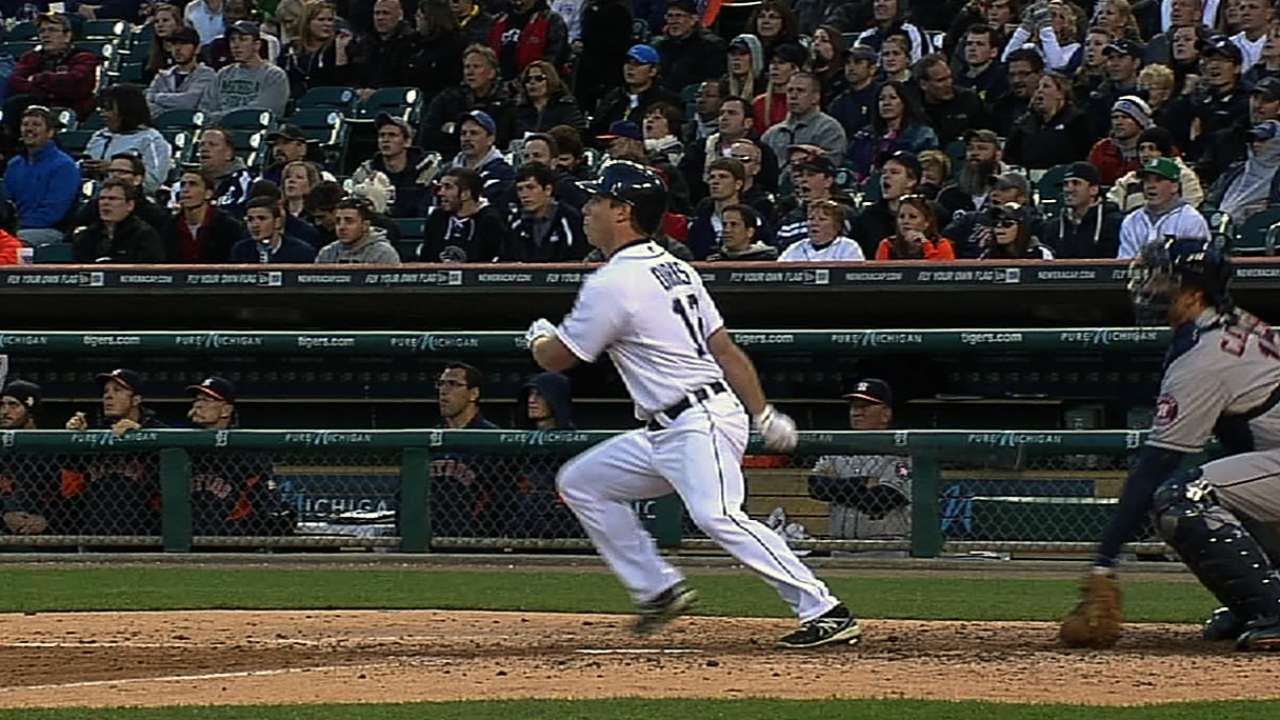 DETROIT -- Center field is just half the challenge of replacing Austin Jackson in the Tigers lineup. Finding another leadoff man who gets on base for the big hitters in the middle of the order is a whole other matter.
Andy Dirks isn't the prototypical on-base machine atop a lineup, but on Monday, he was the hot bat. With a three-hit game and his first career grand slam, he fit the role of offensive catalyst just fine in Detroit's 7-2 win over Houston at Comerica Park.
"Pretty good leadoff hitter tonight," manager Jim Leyland said with a smile.
The victory moved Detroit (21-15) back into sole possession of first place in the American League Central ahead of Cleveland, which split a doubleheader against the Yankees earlier in the day. Detroit is now 5-0 against Houston this year, with all the games coming since May 2.
Hours after the Tigers placed Jackson on the 15-day disabled list with a strained left hamstring, Dirks went 3-for-4 with two runs, and his grand slam coming as part of a six-run fourth inning. It wasn't a leadoff kind of attack, but Dirks helped turn a game Houston briefly led into another one-sided Tigers win over an Astros squad that lost All-Star second baseman Jose Altuve with a partially dislocated jaw and No. 1 starter Bud Norris with lower back spasms.
It was more the type of game the Tigers seek from Dirks when he normally bats sixth, trying to drive in the big hitters in the order rather than setting the table for them. It's all the same to Dirks.
"I've hit leadoff in college, and I've hit leadoff in the big leagues and in the Minor Leagues," Dirks said. "It's really nothing different the way I approach it. I just try to get on base for the big guys when I'm up in there, and when I'm in the six hole it's kind of the same thing, just try to get a new rally started."
It's a simple approach from a hitter with a simple swing. He centered two pitches when the situation called for it. Then, with a two-strike count in a typical sacrifice fly situation, he looked to lift a ball and took advantage of what Norris called "the worst 0-2 pitch I made in my career."
The results left Dirks a triple shy of the cycle. The one hit he needed, ironically enough, was the hit that has been Jackson's specialty.
Dirks' lone leadoff hit was a first-inning drive over Robbie Grossman's head in deep center field for a double, which Torii Hunter duplicated three pitches later to give the Tigers a 1-0 lead. Dirks' single was a ground ball up the middle with one out in the third that looked like it'd spark a rally, but Marwin Gonzalez's lunging catch robbed Hunter of a hit before Norris spotted three pitches low and away to strike out Miguel Cabrera.
At that point, Norris was protecting a 2-1 lead built on three consecutive hits to lead off the third. Victor Martinez's second homer against the Astros in a week and a half erased that, as the two-run shot made it 3-2. Back-to-back singles and an Omar Infante walk gave Dirks a chance to put it away with the bases loaded.
Norris (4-4) put Dirks in an 0-2 hole with offspeed pitches. With a runner on third and less than two outs, it's normally a situation for a hitter to shorten his swing, look for contact and settle for a fly ball deep enough to score the run.
"You just want him to put a good, short swing on the ball," Leyland said.
That's what Dirks was doing.
"It's not like you can think this is the count," Dirks said. "Once you get two strikes, maybe you shorten up a little bit more, but other than that, it's not like you think, 'All right, he's going to try to throw me this or this.' You just have to kind of see the ball and hit it."
It was a good, short swing, Leyland explained. With a slider over the plate, it just happened to go a long way. The extended arm from Dirks on the follow-through showed what he thought of it.
"Dirks made a good swing on it," Norris said. "It was unfortunate to me and my team, and I've got to learn from that, and next time don't make that same pitch."
Dirks will take it if it's there.
"Well, I liked it," he said. "No, it's just one of those things in baseball. He didn't mean to leave a pitch over the plate like that, and I was fortunate enough to be on time with it and hit it."
Dirks had one chance to complete what would've been the first cycle by a Tigers hitter since Carlos Guillen in 2006, but he hit a comebacker to reliever Paul Clemens leading off the seventh.
He won't always be at top the order while Jackson is out. Leyland still plans on sitting him against left-handed starters in favor of Matt Tuiasosopo, and use Omar Infante to lead off. Still, he's batting .354 (17-for-48) with four home runs and eight RBIs in 13 games since coming back from knee trouble at the end of April.
That was plenty of run support for starter Anibal Sanchez (4-3), who recovered from Houston's two-run third to retire 14 of the final 16 batters he faced. He fanned four consecutive Astros from the end of the fifth inning into the sixth, comprising half of his eight K's.
Sanchez has struck out 42 batters over 27 innings in his last four starts, starting with his 17-strikeout game against the Braves on April 26.
Jason Beck is a reporter for MLB.com. Read Beck's Blog and follow him on Twitter @beckjason. This story was not subject to the approval of Major League Baseball or its clubs.