Astros lose game, All-Star Altuve, ace Norris
Second baseman leaves with dislocated jaw; righty with back spasms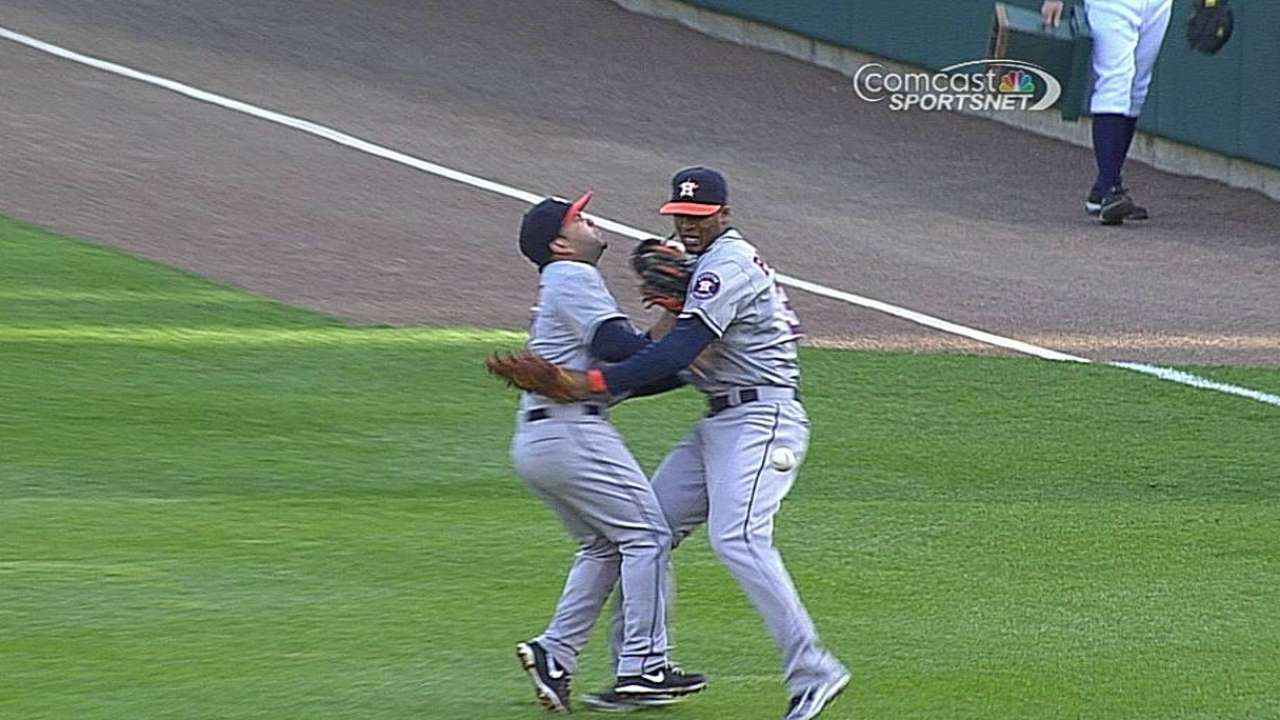 DETROIT -- The Astros lost their All-Star second baseman to a partially dislocated jaw in the second inning, and their ace got belted for seven earned runs in five innings before injuring himself throwing warmup pitches prior to the sixth.
It was that kind of Monday night for the Astros in their first game at Detroit as an American League team. What began as a one-run lead for Houston, and had the makings of a pitchers' duel between Bud Norris (4-4) and Anibal Sanchez (4-3), abruptly turned into a series-opening, 7-2 route.
However, it wasn't the injuries that extended the Astros' losing streak to five. It was one pitch. A pitch that Norris described as one of the poorest he's thrown while ahead in the count during his five-year career.
It came in the fourth inning, when he hung an 85-mph slider to Tigers' leadoff hitter Andy Dirks with the bases loaded.
"It was probably the worst 0-2 pitch I've made in my career, and Dirks put a good swing on it," Norris said. "It was unfortunate to me and my team, and I've got to learn from that. Next time, I can't make that same pitch."
The result would be Dirks' first career grand slam, as he sent a line-drive homer into the right-field seats. It was also the first grand slam allowed by Norris in his career.
The ironic part is that, with two strikes, Dirks wasn't attempting to put a powerful swing on the pitch. The Tigers left fielder said he was just hoping to shorten his swing and put it in play.
"It's just one of those things in baseball," Dirks said. "He didn't mean to leave a pitch over the plate like that, and I was fortunate enough to be on time with it and hit it."
Norris had been coming off his best start of the season and arguably career, pitching into the ninth inning for the first time against the Angels on Wednesday.
The 28-year-old had been throwing well, too. He allowed one run in the first inning on back-to-back doubles by Dirks and outfielder Torii Hunter, but settled down for the next two.
But allowing a five-hit, six-run fourth while against an opposing pitcher like Sanchez, who came into the game with a 1.97 ERA, put the Astros in too deep a hole to climb out of.
Along with Dirks, Victor Martinez also homered in the inning after a Prince Fielder opposite-field double to retake the lead. The Tigers notched two singles and a walk before Dirks stepped to the plate and turned the fourth into another one of those big innings Houston has been striving to avoid.
"Obviously, the big hit was the grand slam," manager Bo Porter said. "It was one of those things where, again, if we can stay away from the big inning and find a way to give up two, maybe three instead of giving up six, it's a different ballgame."
Considering Paul Clemens provided three innings of scoreless relief, it certainly had potential to remain a one-run game until late.
But that's not how it panned out. Instead, the Astros fell to 3-15 in their last 18 games. They also lost Norris and Altuve to freak injuries.
Norris hurt his back after throwing his first warmup pitch prior to the sixth. He was removed from the game, and the Astros will wait until Tuesday to see how he feels.
For Altuve, the hope was he could return for Tuesday's contest after suffering a partially dislocated right jaw colliding with Jimmy Paredes in the second inning on a short fly ball, however Altuve was placed on the bereavement list on Tuesday after the death of his grandmother and will miss at least the next two games.
"We can't hear anything from the dugout," Porter said when asked if anyone called for it. "But just from a fundamental standpoint, the infielder's job is to go and get the ball. The outfielder's job is to call him off."
Altuve said after the game he still felt pain, but believes he avoided anything long term.
Although the team rallied with Altuve out, scattering three straight singles to plate the go-ahead run on a Ronny Cedeno RBI groundout in the third, Houston knows it can't survive long without its best hitter.
"It's real tough. Altuve's the leader of the position players, he's the captain of this team," Clemens said. "Hopefully we'll get him back as soon as possible, but we gotta keep going. It's a big loss, but we gotta come out fighting tomorrow."
Anthony Odoardi is a contributor to MLB.com. This story was not subject to the approval of Major League Baseball or its clubs.