Miscues continue to plague scuffling White Sox
Ramirez's error leads to Twins' four-run inning; Dunn robbed of homer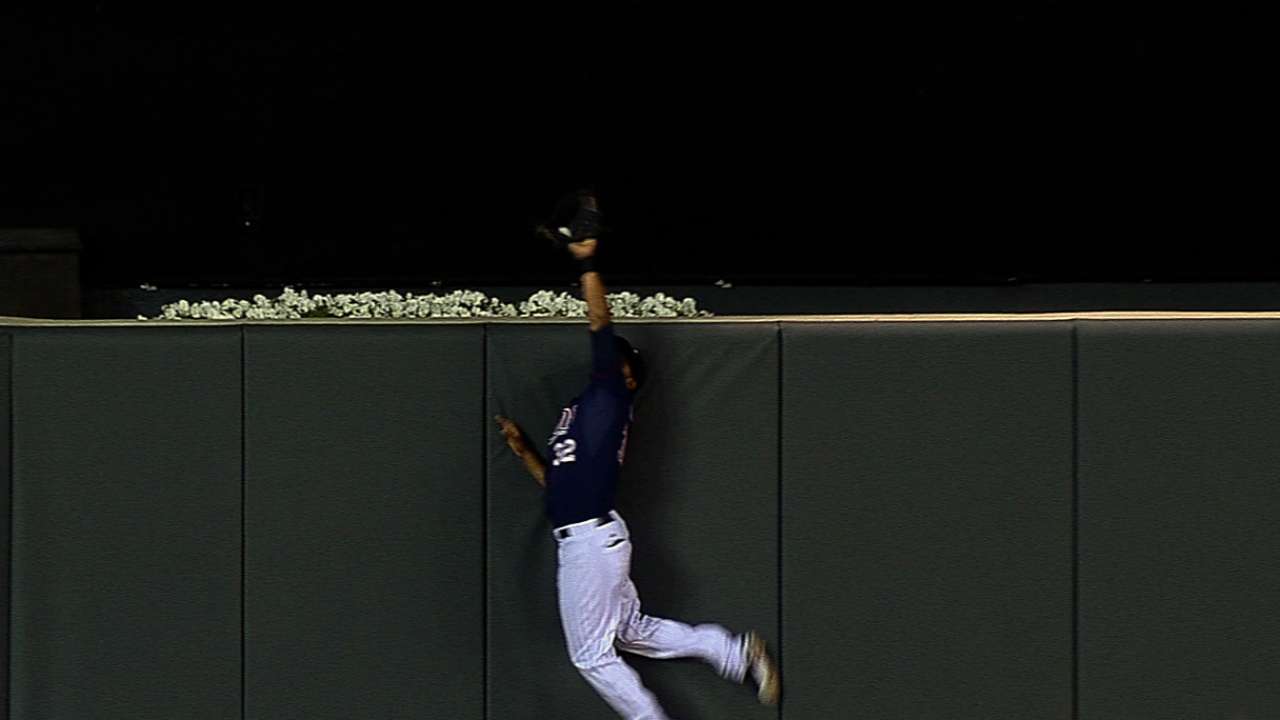 MINNEAPOLIS -- Hector Santiago's recent move into the White Sox rotation hit its first snag on Monday night.
After back-to-back impressive starts, including a seven-inning scoreless outing last Tuesday against the Mets, Santiago was derailed by a rocky four-run third inning as the White Sox dropped the series opener to the Twins, 10-3, at Target Field.
The momentum Chicago seemed to have gained after Chris Sale's dominant one-hit shutout on Sunday dissipated quickly.
Once again, mental miscues haunted the White Sox.
With the bases loaded in the third inning, shortstop Alexi Ramirez botched a chance at an inning-ending double play on a ground ball up the middle that would have gotten Santiago and Chicago out of the inning with a 2-0 lead intact.
Instead, Ramirez's error allowed the Twins' lead runner to score and led to three more runs. The mistake served as an early but critical turning point.
"We have to be better," White Sox manager Robin Ventura said. "We have to work at it. Hector's grinding and he gets into a situation and we have to help him out. I think there are lapses of knowing what's going on."
Santiago, making his third start since replacing injured right-hander Gavin Floyd, labored to get comfortable against a persistent Twins lineup. When Ramirez couldn't come up with the play, Santiago appeared to be momentarily rattled. Minnesota capitalized by extending the scoring burst and inflating the left-hander's pitch count.
Only three of the six runs surrendered by Santiago were earned, but his 5 1/3 innings were tarnished in large part by a pair of home runs he allowed to Twins rookie Aaron Hicks in consecutive at-bats.
"I had a few pitches that I felt could have been better, left a few in the zone," Santiago said. "It was one of those games. You make some pitches and try to get out of stuff and it just went the opposite way."
Chicago was rolling early, using three straight hits in the first to jump in front, 2-0. The offensive surge proved to be short-lived as the White Sox were able to score only once more the rest of the way.
Twins starter Pedro Hernandez, originally drafted by the White Sox in 2006, provided a serviceable three-run performance. Following his bumpy initial inning, Hernandez faced the minimum number of batters in the next four innings. The Sox tacked on their third and final run in the sixth.
Six of Chicago's 10 hits came from the first two batters in its lineup, Alejandro De Aza and Ramirez. Without much help from the rest of the order, the White Sox couldn't offer a substantial rebuttal to the Twins' lead.
Back in the lineup after getting a day off from his hitting struggles on Sunday, Adam Dunn came within inches of belting a game-tying two run homer in the sixth. But Hicks added to his memorable evening by making a stunning catch at the wall, falling to the ground and coming up with the ball and a sheepish grin.
"That was a special night," Twins manager Ron Gardenhire said. "The home runs were wonderful and that catch was spectacular in a big situation like that to keep the lead."
Dunn looked more comfortable at the plate Monday than he had as of late, but he still saw his batting average drop to .133 after going 0-for-3 with a walk.
The Twins pulled away in the eighth. One batter after White Sox reliever Deunte Heath walked Josh Willingham with the bases loaded, Justin Morneau lined his third hit of the game, a three-run double. Heath was kept on for the entirety of the inning, despite giving up four runs and walking three.
The flurry of self-inflicted, and in some cases game-changing, errors the White Sox have endured this season are beginning to reach a juncture where Ventura may start by taking away playing time for mental lapses.
"Eventually you get to that point where you don't pay attention to what's going on, [and] we're going to find somebody else to do it," Ventura said. "We're going to start with the paying attention and the lapses first. There's part of performance that goes with it. We're going to do that, too, but the stuff that should be the simple stuff is going to be first."
The White Sox's residency in the cellar of the American League Central was further solidified with only their fourth loss in their last 17 games at Target Field. Saddled with a 15-21 record, Chicago is 3 1/2 games behind fourth-place Minnesota (18-17).
Nate Sandell is a contributor to MLB.com. This story was not subject to the approval of Major League Baseball or its clubs.