Hicks' huge night propels Twins past rival White Sox
Rookie center fielder rips two homers, robs Dunn of game-tying blast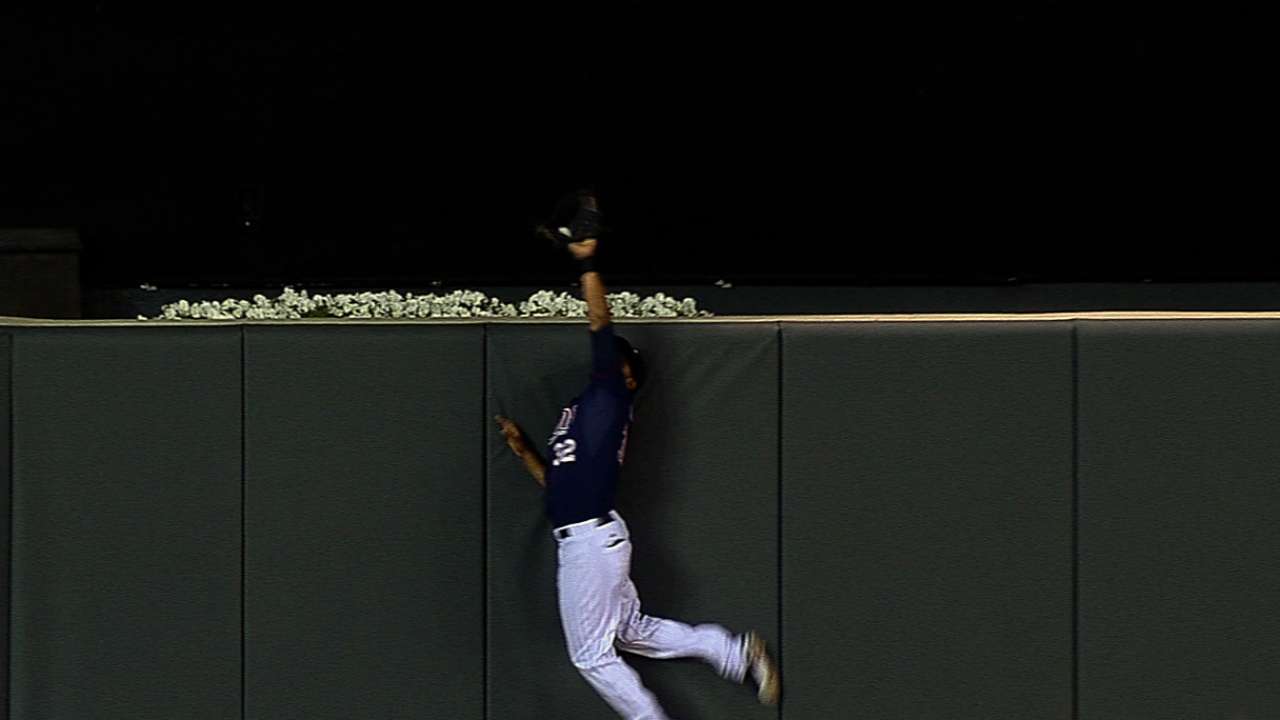 MINNEAPOLIS -- Through 30 career games, Aaron Hicks never had a multihit game, let alone a multihomer game.
The 23-year-old rookie entered Monday's game against the White Sox hitting just .137 with one homer and had missed the previous two games after hyperextending his right elbow.
But Hicks came through in a big way and had his best game as a big leaguer, homering twice and robbing what would've been a game-tying home run with a leaping catch in center field, helping lead the Twins to a 10-3 win over the White Sox on Monday night at Target Field.
"That was a special night," Twins manager Ron Gardenhire said. "The home runs were wonderful and that catch was spectacular in a big situation like that to keep the lead. He definitely had an ear-to-ear smile and that was fun for everybody involved, because we've all watched him battle through this thing with the struggles he's gone through. Especially with that curtain call, that's kind of why we do this as coaches."
Hicks, batting from the right side of the plate, connected on his two solo shots off White Sox left-hander Hector Santiago.
His first blast came in the fourth inning on a deep drive to straightaway center for his second career homer and his first since May 4.
But it was overshadowed by his spectacular leaping catch to rob Adam Dunn of a two-run shot in center to end the top of the sixth. Hicks came off the field to a standing ovation from the Target Field crowd, as the catch robbed Dunn of what would've been a game-tying blast off reliever Josh Roenicke.
"He hit it good and sometimes you watch the guy and his reaction to see if he got it, and the way he came out of the box, it looked like he thought he got it," Twins first baseman Justin Morneau said. "And then I saw Hicksie going back and I thought, 'Maybe' and then he jumped, I was just like, 'Hmm,' and there was that pause where everybody in the stadium wasn't sure if he caught or not. And then he jumped up with a big smile on his face, so that was cool."
And in his next at-bat in the bottom of the sixth, Hicks crushed a solo homer to left-center to knock Santiago from the game. Hicks, who registered his first career multihit and multihomer game, came out for a curtain call after his second homer.
"Right after the catch, I just felt loose and amazing, so for the second one to come right after just topped it off," Hicks said. "I've just been battling every day. It's what you have to do in this league. I was able to make some plays today and have fun."
His impressive night backed left-hander Pedro Hernandez, who made his first start against his former team since being traded from the White Sox last July in the deal that sent Francisco Liriano to Chicago.
Hernandez struggled early, giving up three consecutive hits to open the game, including an RBI double from Alex Rios, as the White Sox built an early 2-0 lead. But Hernandez settled down from there and didn't allow another run until the sixth, on an RBI groundout from Rios after Alejandro De Aza singled and Alexei Ramirez doubled.
"In the first inning, I wasn't hitting my spots and after that, I tried to get the ball down low," said Hernandez, who gave up three runs on six hits over 5 1/3 innings to get the win. "I got into the flow of the game and went from there."
The Twins used a four-run third against Santiago to take the lead after Hernandez settled in. Justin Morneau brought in the first run on a bases-loaded error from Ramirez at shortstop before Ryan Doumit added a sac fly and Plouffe roped a two-run double.
"I did what I felt like I could," Santiago said. "I had a few pitches that I felt could have been better, left a few in the zone. It was one of those games. You make some pitches and try to get out of stuff and it just went the opposite way."
Minnesota tacked on insurance runs with Hicks' homers and a four-run eighth, highlighted by Morneau's three-run double. Roenicke, Jared Burton and Casey Fein combined for 3 2/3 scoreless innings to close out the win.
Morneau extended his hit streak to nine games by going 3-for-5 with four RBIs, but acknowledged it was Hicks' night to remember.
"We don't need him to be Superman," Morneau said. "We just need him to be Aaron Hicks and that's good enough for us. He's capable of being a Major League Baseball player. He doesn't need to be a superstar as soon as he gets here. He just needs to keep working hard and keep trying to get better and he's doing that. I think he's got a lot of good days ahead of him."
Rhett Bollinger is a reporter for MLB.com. Read his blog, Bollinger Beat, and follow him on Twitter @RhettBollinger. This story was not subject to the approval of Major League Baseball or its clubs.