Estrada gives Crew right stuff to beat Pirates
Right-hander fires seven strong innings; Aoki logs three hits, RBIs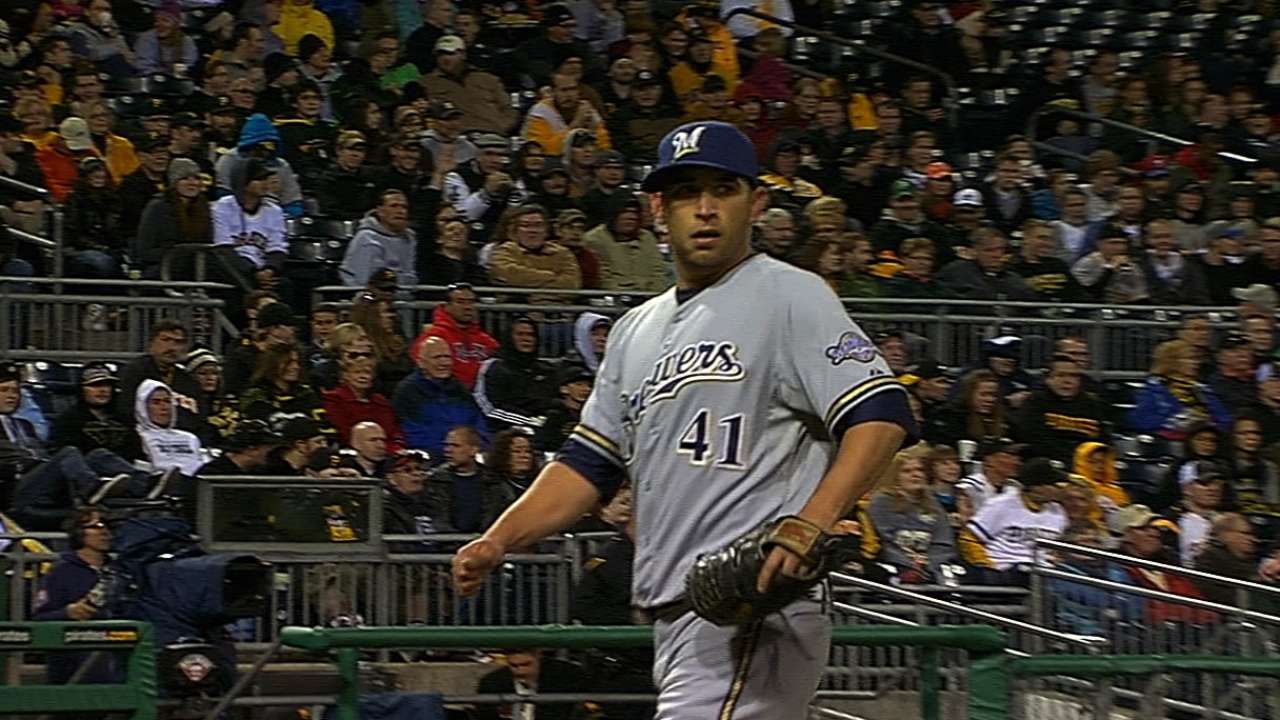 PITTSBURGH -- Right-hander Marco Estrada gave the Brewers exactly what they've been lacking lately in a 5-1 win over the Pirates on Monday night at PNC Park.
"We needed a good start," manager Ron Roenicke said. "We needed him to go deep and for his confidence and for the team, I thought it was huge."
The Brewers continued their stranglehold on the Pirates -- upping their record at PNC Park to 24-12 since 2008. Since the start of '07, the Brewers are 72-25 against the Bucs.
"When we play a game like this, good things are going to happen, "Roenicke said. "A few breaks went our way because we played well."
Estrada (3-2), who was shelled for eight runs in his last outing against the Cardinals in a 10-1 loss on May 5, held the Pirates at bay through his seven innings. He surrendered one run on three hits.
The outing pleased Estrada very much.
"In my mind it was just timing, the timing of everything," Estrada said. "I still made a couple of bad pitches here and there, but the timing of everything was pretty good, and once I got that down, and once I got it going mentally, I knew I can locate a couple of things here and there and it just makes pitching a little easier. Where in the last outing, I had no timing, no consistency. I had it today and obviously it worked."
Estrada has pitched very well at PNC Park. Coming into the game he was 2-0 in Pittsburgh with a 1.29 ERA.
"I've pitched against them a lot, so I kind of know a lot of these guys," Estrada said. "But here at PNC it's a pretty big ballpark and I'm more of a fly-ball pitcher, I think. Some balls were hit pretty well, whereas in Milwaukee they were probably out, but here they were camped underneath them and they were just pop flies. Maybe it's the confidence that I know that I can throw more strikes and not be afraid of a home run."
Pirates manager Clint Hurdle gave a tip of the cap to Estrada.
"[Estrada] has been [tough one us]. Tonight was another case," Hurdle said. "He moves the ball around the plate in the strike zone, changeups have been the pitch for him. Breaking balls have been the pitch for him. He spots up his fastball. We haven't had a lot of success against him."
Pirates starter A.J. Burnett tossed seven innings and gave up four runs (three earned) on seven hits. He was tagged with the loss and is 3-4.
"It was one of those nights," Burnett lamented. "They ran, were [fearless]. It did not seem to matter if we were quick to home, or whatever. Nothing went our way."
The Brewers jumped on Burnett in the top of the first inning. Norichika Aoki led off with a double down the left-field line. Jean Segura's single moved Aoki to third base. Segura stole second base, the first of his three steals in the game. Carlos Gomez plated Aoki with an infield single.
"Aoki has been making things happen for awhile," Roenicke stated. "In the leadoff spot, when he's doing those kind of things with Segura behind him, who's also been doing the same thing, whoever is hitting third or fourth it's pretty nice in our lineup when those two guys are on all the time."
After Segura stole second base, Burnett settled down and struck out Aramis Ramirez, Yuniesky Betancourt and got Jonathan Lucroy to fly out to right field to end the threat.
In the fifth, the Brewers nicked Burnett again. Logan Schafer led off with a double and was sacrificed to third base by Estrada. Aoki doubled to knock in Schafer, while Segura's infield single scored Aoki. The Brewers continued to run wild on the basepaths as Segura stole second. Burnett escaped without further damage, but the Brewers had plated two runs for a 3-0 lead.
The Brewers added an unearned run in the seventh. Schafer reached on an error by first baseman Gaby Sanchez. He eventually came around to score after a throwing error by Burnett on a pickoff attempt and another error by Burnett on a ground ball by Aoki.
The Pirates finally broke through against Estrada in the seventh inning. Sanchez led off with a double and came around to score on a groundout by Pedro Alvarez, slicing the Brewers lead to 4-1.
Aoki completed a three-hit night with a ninth-inning RBI single off Pirates reliever Tony Watson -- driving in Alex Gonzalez who had reached base with a pinch-hit single.
The top of the Brewers' batting order: Aoki and Segura combined for six hits and four RBIs.
"I'm just trying to keep up with Segura right now and I'm just trying to get on base along with him, and just try to have guys behind us drive us in." Aoki said.
Brandon Kintzler pitched a scoreless eighth inning for the Brewers and Jim Henderson closed out the ninth inning.
The win was just what the doctor ordered for the Brewers, who snapped a three-game skid.
"We need to get back on the right track," Roenicke said. "We got a couple breaks that went our way, a couple choppers that went our way and that was nice to see, but we played a good game."
George Von Benko is a contributor to MLB.com. This story was not subject to the approval of Major League Baseball or its clubs.