Brewers continue to mystify Burnett, Bucs
Pirates' three-game win streak snapped; righty fans six in loss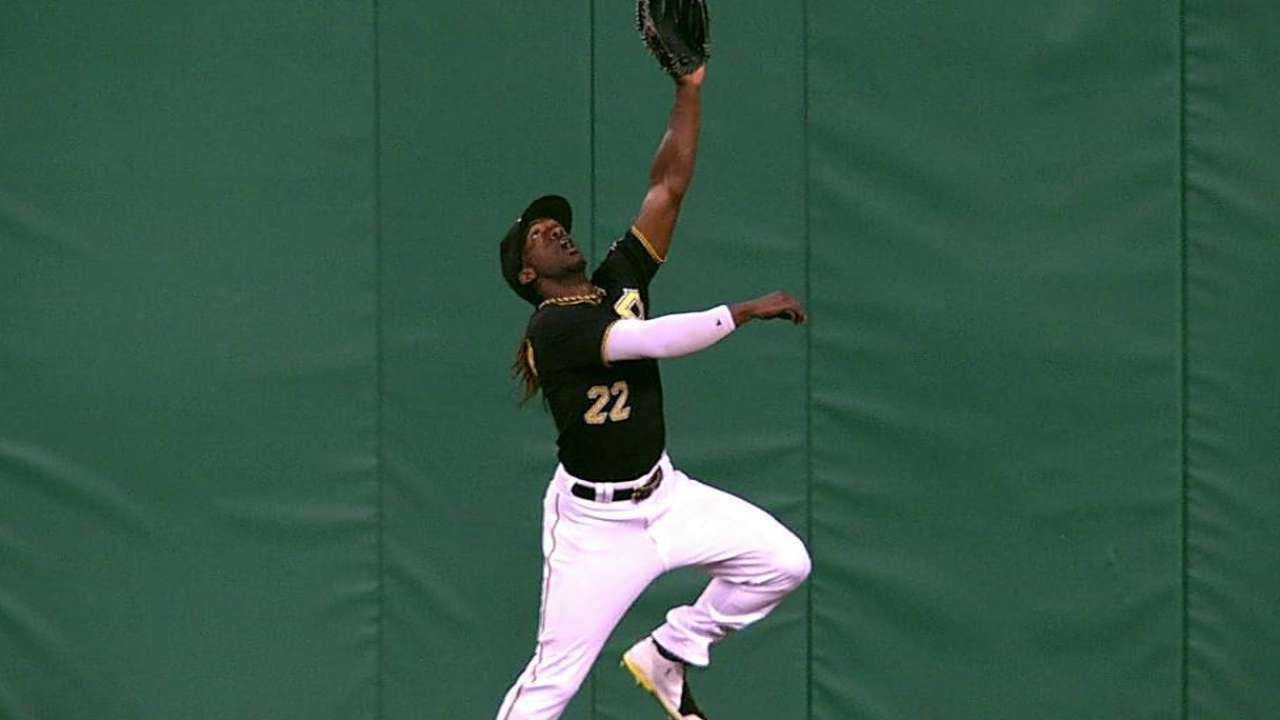 PITTSBURGH -- The Milwaukee Brewers' perceived curse over the Pirates got the ultimate test on Monday night. Unfortunately for the Bucs, it passed.
The Pirates came into the opener of a four-game PNC Park series in the heat of three straight wins, and the Brewers were on the opposite end of the baseball thermometer, with one win in their last 10 games.
Recent trends had no chance against historical tendencies, even with Pittsburgh ace A.J. Burnett opposing a right-hander with a 6.05 ERA.
The Brewers put another notch in their Pirate belt with a 5-1 victory, and Marco Estrada spoofed that high ERA by pitching three-hit ball through seven innings.
All of the Pirates were left singing the "It was one of those nights" blues.
"One of those nights," said homecoming second baseman Neil Walker. "Running, defense, the right pitch -- they especially do all those things well against us."
"One of those nights," Burnett said. "Nothing went our way. They ran. They were fearless."
The Brewers' six stolen bases were a focal point, and brought catcher Michael McKenry's throwing difficulties into focus -- particularly that of Burnett. But it was "one of those nights" when it was difficult to single out any shortcoming.
"Tonight was a storm in which we didn't have many answers for anything," manager Clint Hurdle said. "That has not been the norm. This was abnormal for us."
If you're keeping the gore score, that's 72 losses by the Pirates in 97 games with Milwaukee since the start of the 2007 season.
Even before the latest evidence, Hurdle noted that when they play the Pirates, the Brewers' "confidence level is significant. They have to feel, 'No matter who is involved, we can get these guys.'
"We just haven't played well against them," Hurdle had added before the game.
They still have not.
The Bucs had only one more hit (four) than errors, misplayed numerous others balls not officially ruled errors, and were defenseless against six stolen bases.
Burnett has worked hard to be on the forefront of the Pirates' new emphasis on controlling the running game. He takes pride in it, and has had noticeable success with it, as shown by a couple of pickoffs.
So, although he was the Pirates' easiest mark last season (36 steals in 38 attempts), he seemed to resent Monday night's runaway -- three by Jean Segura, two by Norichika Aoki, one by Carlos Gomez -- being attributed to his carelessness.
"It didn't seem to matter if we were quick to home, or whatever," Burnett said. "I don't know how many great jumps they had, if you watched the game. I don't think they had one great jump. I did what I could out there and Michael, it's not from not trying."
The Brewers were running circles around McKenry for the second straight meeting. In the May 1 finale of the teams' recent series in Milwaukee, also with McKenry behind the plate, the Brewers had stolen four bases. The 10 in the two games represent 26 percent of the season total of steals (38) against the Bucs.
"Maybe it's my fault for not keeping them off the bases," Burnett said wryly.
"He competed his backside off," Hurdle said of the righty. "It was hard for us to get into sync in any area, so I thought he competed. He gave us seven innings."
In those seven, Burnett allowed four runs (three earned) and seven hits, three of which stayed in the infield. He did not issue a walk while striking out six, bringing his National League-leading total to 72.
"Sometimes you'd rather they hit balls 800 feet," he said, alluding to the frustration of seeing dribblers -- a couple of them hit back toward the mound -- go for hits. "But I had a lot of movement [on the ball] and they were chopping it."
Estrada also went seven, losing the shutout in his final inning, when Gaby Sanchez led off with a double and advanced to third on Neil Walker's deep fly to center before scoring on Pedro Alvarez's infield grounder.
"We needed a good start," said Milwaukee manager Ron Roenicke, whose club had surrendered a total of 64 runs during that 1-9 slide. "We needed him to go deep and for his confidence and for the team, I thought that was huge."
It wasn't the cleanest first inning Burnett ever had, but it featured what had to be one of his best escapes. Consider the sequence of events with which it began:
Aoki doubled, Segura singled off Burnett's glove, Segura stole second, Gomez singled to deep short, Gomez stole second. Connecting the dots leaves men on second and third with none out and the Brewers already in a 1-0 lead.
"You've gotta come out of the gate a little stronger," Burnett said. "But you can't ever quit. Don't ever stop."
So that was all Burnett would give them. He fanned Aramis Ramirez and Yuniesky Betancourt, then got Jonathan Lucroy on a harmless fly to right.
The 27 pitches Burnett made in that inning were not so harmless, creating a load he began to feel in the fifth, when the Brewers opened up a 3-0 lead on Aoki's RBI double and an infield run-scoring single by Segura.
"I've gotten good at turning the page quickly," Burnett said, "not letting things escalate. We've got another game tomorrow."
Yes, but it will be against the Brewers. The city-wide roundup of talismans has begun.
Tom Singer is a reporter for MLB.com and writes an MLBlog Change for a Nickel. He can also be found on Twitter @Tom_Singer. This story was not subject to the approval of Major League Baseball or its clubs.