Yanks break out in nightcap for Nuno's first win
Six-run seventh inning helps New York earn split of doubleheader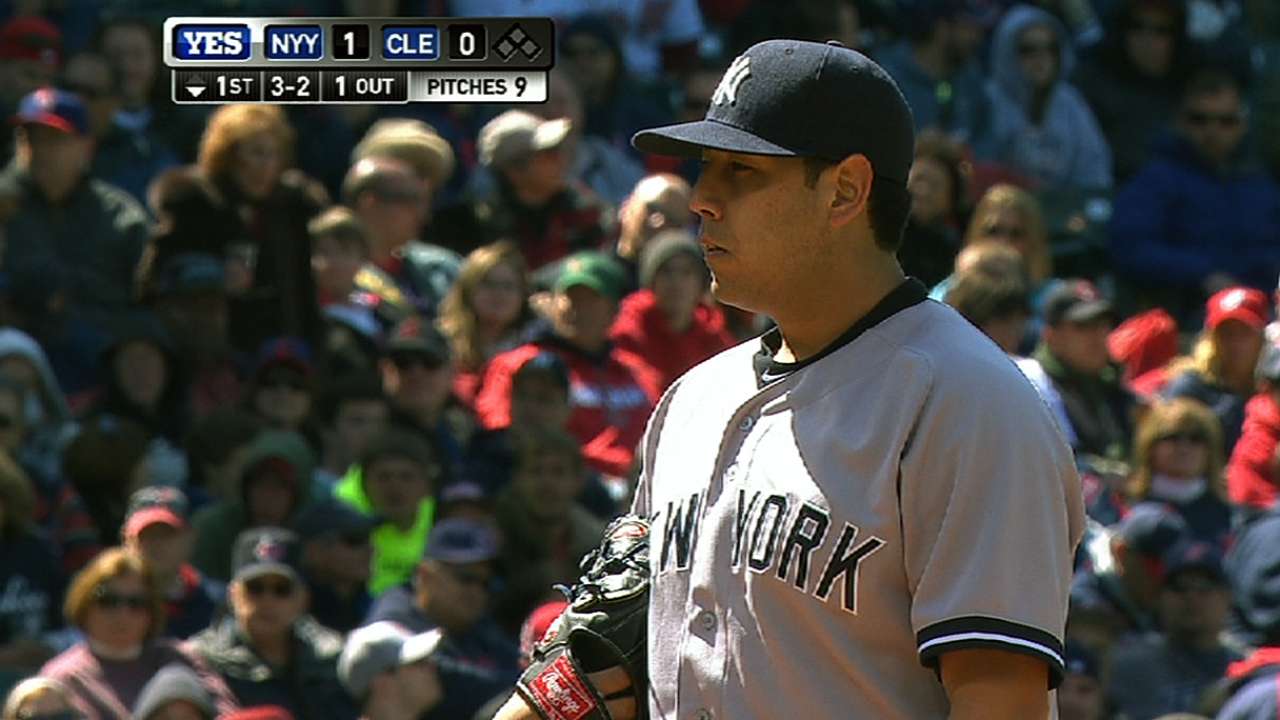 CLEVELAND -- The Yankees' pantheon of starting pitchers is chock full of legends such as Whitey Ford, Roger Clemens and Ron Guidry.
David Phelps, Vidal Nuno and Adam Warren have yet to etch their names into pinstripes lore. On Monday, though, the three young hurlers proved plenty capable in helping the storied franchise's cause.
The trio of pitchers provided New York with quality efforts to help the battered, bruised and worn -- yet surging -- Yankees to a split of Monday's doubleheader in Cleveland. Nuno delivered five stellar innings to guide the Yankees to a 7-0 win in the second tilt after New York dropped the opener, 1-0, despite 6 2/3 effective frames from Phelps.
"Coming into a doubleheader, you think about an all-hands-on-deck approach," Warren said, "but we got some good innings out of our starters, which made it easier on our bullpen guys."
The performances by Phelps, Nuno and Warren -- who earned his first career save with four scoreless innings of relief in Game 2 -- prevented the Yankees from overworking an already-taxed bullpen. With closer Mariano Rivera and setup man David Robertson unavailable for either contest, the Yankees had only four viable bullpen options for the first tilt and five for the second. Between games, the club promoted Brett Marshall to the big league squad.
"Both of them came to me and said they were all right, but we just felt it would be pushing it," Girardi said of his late-inning tandem. "We have a long way to go. To be able to shut this team down -- this team has been swinging the bats and swinging the bats. They're very balanced. They have switch-hitters, right-handers, left-handers, speed. It's an unbelievable job by our staff and [pitching coach] Larry [Rothschild] preparing these guys."
Initially, the second game mirrored the first. Whereas the Indians scored the first affair's only run in the first inning, the Yankees grabbed a 1-0 advantage in the opening frame of the second contest. New York capitalized on shaky Cleveland defense, as Jayson Nix singled and advanced to third base on a Robinson Cano infield single and an ensuing throwing error. Vernon Wells then plated Nix on a fielder's choice.
The run provided enough backing for Nuno, a 48th-round Draft pick of the Indians. While notching his first Major League victory, the 25-year-old blanked his former team on three hits and three walks over five innings.
"It was exciting," Nuno said. "It was fun. I enjoyed it."
The lefty threw 89 pitches, 14 more than the 75 Girardi originally established as Nuno's limit. He last toed the rubber on April 29, when he tossed three scoreless innings of relief in his Major League debut.
"He hasn't pitched in a while. That's the amazing part, to me," Girardi said. "We've had him up and had him throw some bullpens, but he hasn't pitched in a while, and to be able to come out and do that shows you the confidence he has in his stuff and how poised he is."
The Yankees opened the floodgates with a six-run seventh. Austin Romine doubled home Corban Joseph, who had reached on a leadoff double for his first big league hit. Nix blooped a single into short right field to score Romine, Wells singled to plate Brett Gardner and Lyle Overbay doubled home both Nix and Wells. Who needs Derek Jeter, Mark Teixeira, Curtis Granderson or Alex Rodriguez?
"It's rewarding to see these kids get an opportunity to shine," Girardi said. "You get a big hit from Corban, a big hit from Austin Romine and then it just kind of snowballed after that. Three guys that started the year in Triple-A had a huge effect on this game."
The patchwork lineup helped the Yankees salvage a split of the twin bill. New York has lost both ends of a doubleheader just once in its last 32 attempts.
Now, finally, the team can return home following a 6-2 swing through Colorado, Kansas City and Cleveland, three opponents that sport winning records.
"This was a great road trip for us," Girardi said. "We played three teams that were playing well. To be able to [go 6-2], that's a really good road trip."
Zack Meisel is a reporter for MLB.com. Follow him on Twitter @zackmeisel. This story was not subject to the approval of Major League Baseball or its clubs.