Bauer shows mettle as Tribe drops nightcap
Spot starter works into seventh but receives no support from bats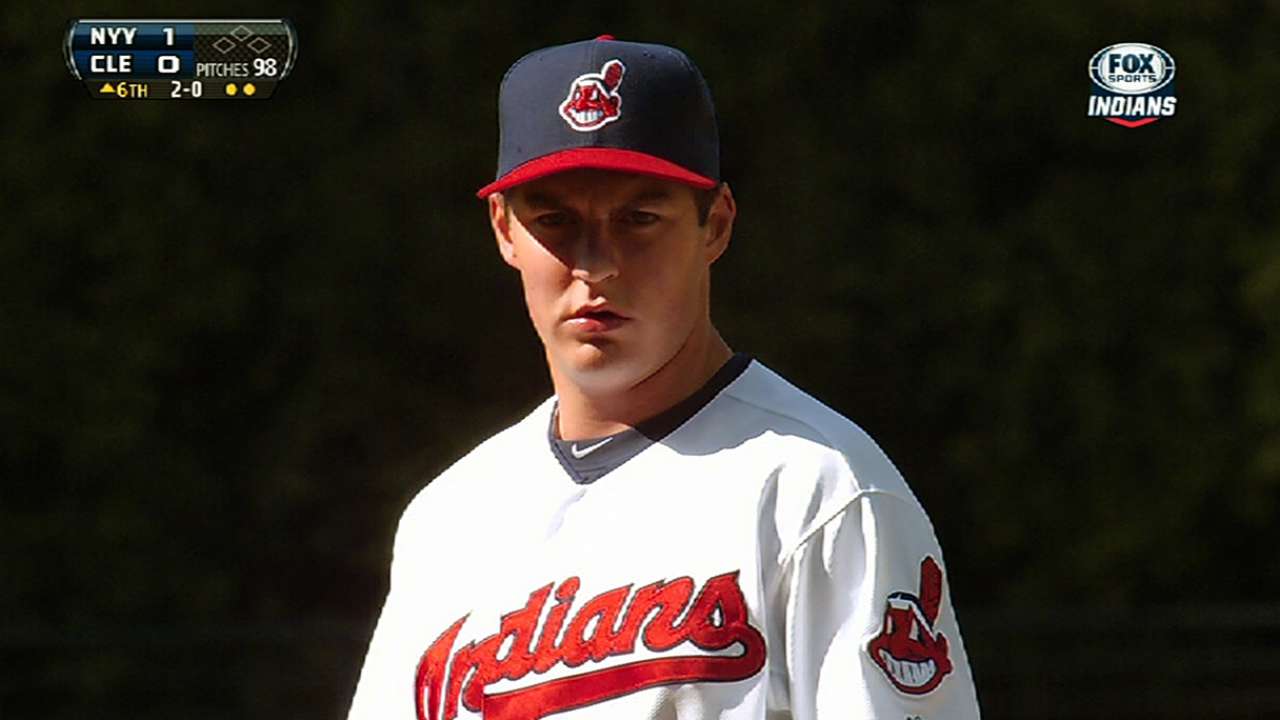 CLEVELAND -- It's impossible to say whether a chilly day at Progressive Field had anything to do with the Indians' cold bats. The club was able to get away with its muted offense in the first game of Monday's doubleheader against the Yankees, but the same would not hold up during the encore.
Shortly after Justin Masterson's shutout in Game 1, New York starter Vidal Nuno and reliever Adam Warren combined to pitch a shutout of their own in Game 2. Cleveland dropped the second game, 7-0, despite a strong showing from right-handed pitching prospect Trevor Bauer.
"You know what? He keeps 'em off the scoreboard," Tribe manager Terry Francona said about Bauer. "I'll tell you what. There's so much to like about him, and he's still developing, but even in the midst of that -- you know, coming up like he does isn't the easiest thing to do -- and he gives us a chance to win every time he pitches."
The first run Bauer allowed came in the first inning and was unearned. Jayson Nix singled to left and then advanced to third when first baseman Carlos Santana committed a throwing error on an infield single by Robinson Cano. Nix scored on a grounder off the bat of Vernon Wells.
Bauer was mildly hurt covering the bag for Cano's hit.
"The throw was a little bit behind me, and my right foot got stepped on pretty good, and I jammed my left ankle a little bit when my foot slipped," Bauer said. "I wasn't going to come out of the game because of it, that's for sure."
The righty displayed no sign of pain or discomfort the rest of the way. He cruised until the seventh inning, which Corban Joseph led off with a double, his first Major League hit. Two batters later, Austin Romine doubled as well, plating Joseph and knocking Bauer out of the game.
In came reliever Nick Hagadone, who allowed Romine to score on a single by Nix. That run would be the last one credited to Bauer.
"I thought he threw his fastball more tonight, more effectively than we've seen in the past," said Francona, who was also impressed with Bauer's offspeed stuff.
Hagadone took the blame for the next four New York runs, although only three of them were earned. Vernon Wells singled in Brett Gardner, who reached on a walk. Lyle Overbay doubled in Nix and Wells. Then, after Matt Albers replaced Hagadone, Overbay scored when Ben Francisco reached on an error by Mark Reynolds.
Bauer (1-2) allowed six hits over 6 1/3 innings. He walked two, struck out four and was charged with three runs, two of which were earned. His ERA rose slightly to 2.76.
"I can be a lot better than I was today, and I was a lot better today than I have been this year," said Bauer, who cited his command as an improvement. "I'm definitely moving in the right direction."
Bauer's opponent, Nuno (1-0), left after five scoreless innings, during which he surrendered three hits, issued three walks and struck out three en route to his first big league win. Warren went the other four innings, notching four strikeouts while allowing two hits to record his first first career save.
"You look at him, he's very poised out there," Yankees manager Joe Girardi said about Nuno. "Nothing seems to bother him. He works quick. He throws a ton of strikes. The first pitch of the game is a strike. He was ahead of hitters all day. When he had to battle and get a long at-bat, he continued to make pitches."
Monday callup David Huff pitched the final 1 2/3 innings for the Indians. He allowed one hit and struck out two batters.
Nick Swisher's eighth-inning double was Cleveland's only extra-base hit of the game. The Tribe went 0-for-4 with runners in scoring position and left eight men on base.
"We were a little tired today. It showed," Swisher said. "But to be able to come out of that with a split, I mean, we've got to be happy with that. We were dragging a little bit. ... Maybe that second game, we didn't really bring it as much as we should have. Sometimes that's going to happen."
The defeat snapped a three-game winning streak for the Indians, who have won 13 of their past 16 games.
Mark Emery is an associate reporter for MLB.com. This story was not subject to the approval of Major League Baseball or its clubs.