Nicasio offers improved length, but still lacks results
Righty completes six frames for first time since April 3 in loss to Cubs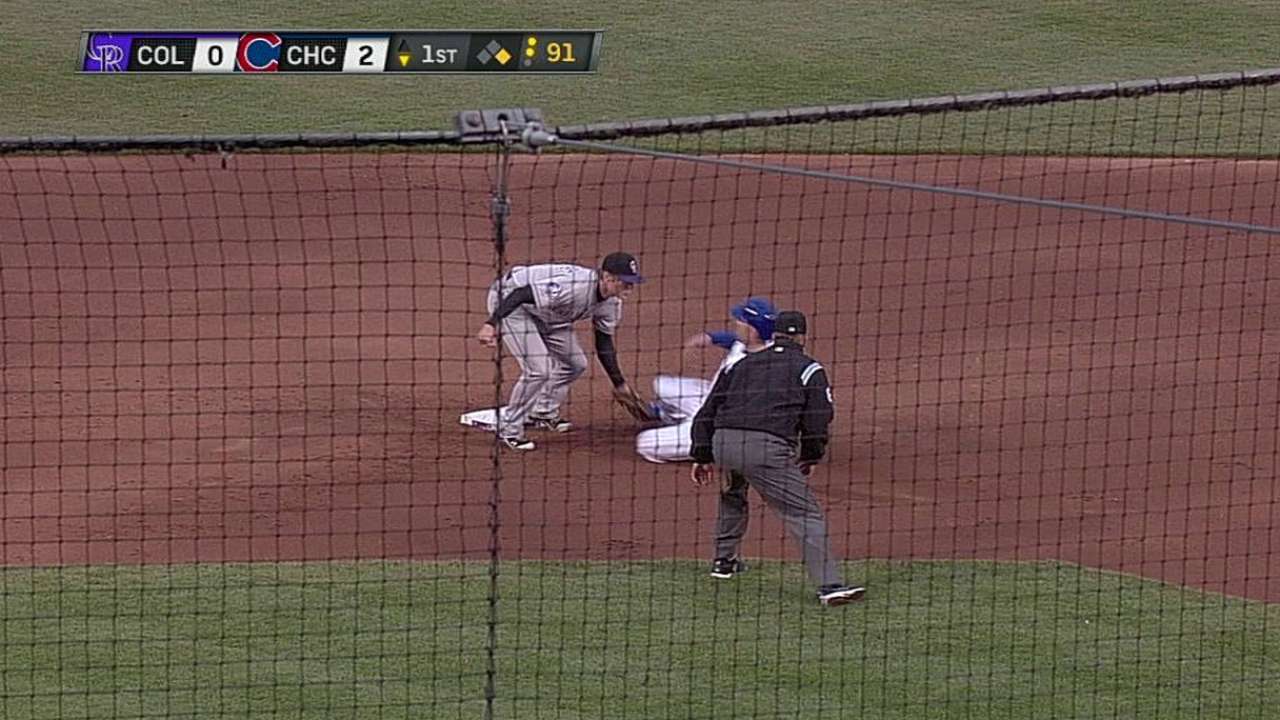 CHICAGO -- Rockies right-hander Juan Nicasio went deeper into Monday night's game than usual. It's too bad that the game was lost in the early innings.
Nicasio allowed an Alfonso Soriano two-run homer in the first and was quickly down five runs after yielding six hits in the first two innings of a 9-1 loss to the Cubs in front of 35,080 at Wrigley Field.
For what it was worth, Nicasio (3-1), who has been dogged all season by high pitch counts, went six innings -- the most since his first start of the year, a win at Milwaukee -- on 94 pitches. He gave up five runs and eight hits.
Rockies manager Walt Weiss complimented Nicasio for making it through six. But with a 5.13 ERA and a string of iffy starts, Nicasio might be nearing a fine line of remaining in the rotation. He has Minor League options, and Drew Pomeranz and Tyler Chatwood have pitched well at Triple-A Colorado Springs.
"I'm not going to go into player moves right now, but Juan is battling," Weiss said. "He's been up-and-down this year, shown some promise at times. We'll continue to evaluate."
Nicasio's priority was pitching in the strike zone. But the one pitch he didn't want in the zone hurt him. After David DeJesus led off the Chicago first with a double to left, Soriano hit a 1-0 slider that Nicasio wanted in the dirt. Instead, it cleared the bleachers to reach Waveland Avenue.
Welington Castillo, Travis Wood and Starlin Castro doubled off Nicasio in the three-run second.
"To Soriano, I threw a slider and I hung it," Nicasio said. "In the third and the fourth innings, I threw in the middle, down at the knees, and the hitters swung. I tried to go deep in the game."
But Nicasio's ineffective efficiency wasn't the Rockies' only problem as they lost for the fifth time in six games.
An offense that was held to one hit by Shelby Miller and two hits by Adam Wainwright while being shut out twice in a three-game series with the Cardinals over the weekend -- and has not produced consistently while winning just seven of the past 21 games -- struggled again.
With Cubs starter Wood (4-2) keeping contact weak for seven innings, the Rockies managed only three hits and six baserunners, and didn't reach scoring position until Josh Rutledge walked and went to second on a wild pitch in the seventh.
"That was against a lineup that crushes left-handed pitching," Cubs manager Dale Sveum said. "To throw like [Wood did] against those guys, the way they hit against left-handed pitching, was very, very impressive."
Rutledge averted the third shutout in four games with his fifth homer of season, off Carlos Marmol with one out in the ninth.
"I felt like the pitchers in St. Louis did a better job against us," said Rutledge, who was 0-for-9 on the road trip before the homer. "We hit some balls hard tonight, but we couldn't get any hits when guys were on. He did a good job of locating."
It wasn't that the Rockies were unimpressed with Wood, who dropped his ERA to 2.03 by limiting the Rockies to two hits and three walks, striking out two.
It's just that they seem to have grown tired of crediting opposing pitchers. Throughout the game, Rockies batters reacted with frustration as hard-hit balls hard ended up as outs. The quiet performance against the Cubs came the night after the Rockies seemed to break out with an 8-2 victory against the Cardinals.
"We need to be more consistent," Weiss said. "We've struggled -- there's no question -- lately, offensively. It looked like yesterday we busted out, but we need to be a little more consistent and put together some offense on a daily basis."
It opened a three-game series that, given the pattern of the season, the Rockies (20-18) need to win. Monday's loss to the Cubs (16-22) was just the Rockies' third loss against a team that entered Monday below .500. They're 7-15 against teams better than the break-even point, and will need to improve that record to contend for the postseason.
"When things are tough, it seems like things are tough," said outfielder Carlos Gonzalez, who went 0-for-4 with two strikeouts and is 2-for-14 on the road trip. "We can't hit, we can't win. Can't pitch, same way. That's a pretty bad combination right there. We don't deserve to win."
Thomas Harding is a reporter for MLB.com. Read his blog, Hardball in the Rockies, and follow him on Twitter @harding_at_mlb. This story was not subject to the approval of Major League Baseball or its clubs.