Wood keeps improving in win, but unlikely to change
Even-keeled lefty throws seven scoreless, pitches in with bat vs. Rox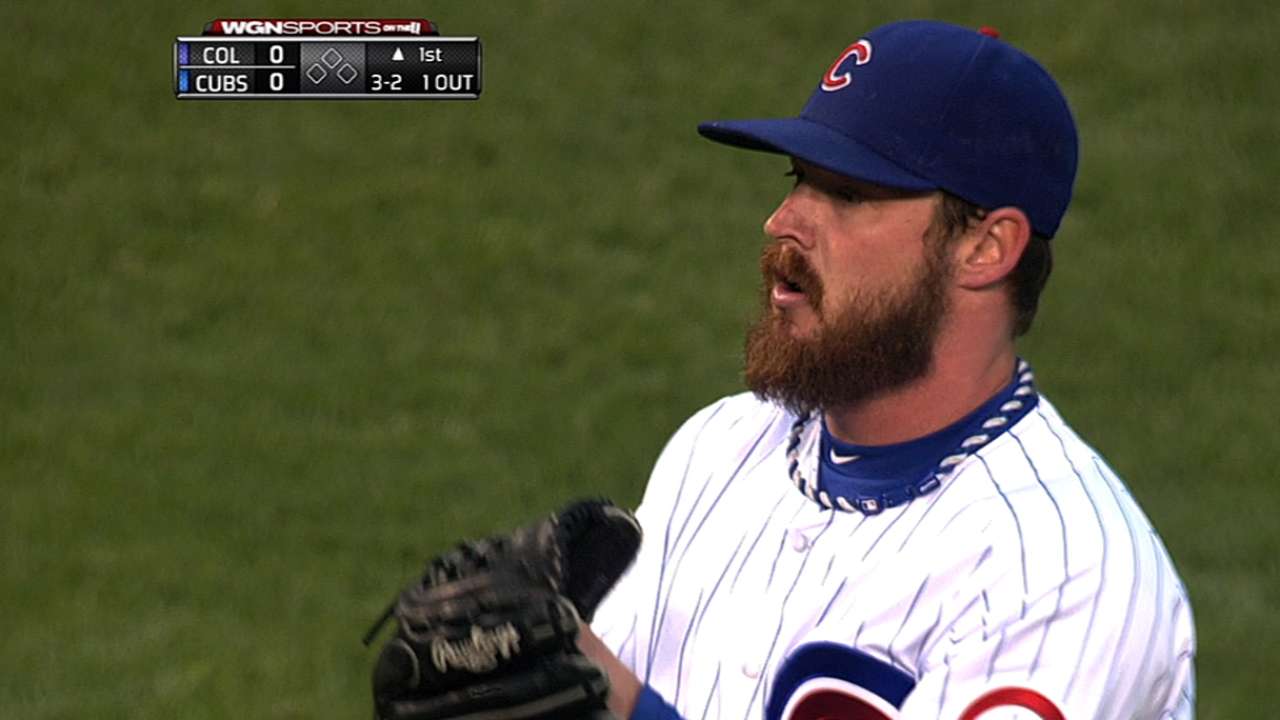 CHICAGO -- Travis Wood and Hippo Vaughn now have something in common, even if they're not very familiar with each other.
Wood posted his eighth consecutive quality start and hit an RBI double, one of six by the team, while Alfonso Soriano belted a two-run homer, and Starlin Castro, Nate Schierholtz and David DeJesus all drove in a pair to lift the Cubs to a 9-1 victory Monday night against the Rockies.
Wood is the first Cubs left-hander to open the season with eight quality starts since Vaughn did so in 1919. Wood admitted he had never heard of Vaughn. That's OK. This was the 23rd quality start by a Chicago pitcher this season, and while they have a combined 1.90 ERA in those games, the team has won only nine. Wood held the Rockies to two hits and walked three over seven innings.
"That was against a lineup that crushes left-handed pitching," Cubs manager Dale Sveum said of the Rockies, who entered the game batting .277 against southpaw pitchers. "To throw like that against those guys, the way they hit against left-handed pitching, was very, very impressive."
Wood struggled in the spring of 2012 and began last season at Triple-A Iowa. He's a different pitcher now.
"What he's done since Spring Training of last year is pretty impressive," Sveum said.
On Monday, the lefty was able to pitch to both sides of the plate and had impressive command of his cutter.
"He's doing a lot of this without secondary pitches," Sveum said. "It's not like he's throwing a lot of curveballs or changeups. He's mixing in those pitches and using them when he has to against people who are vulnerable, and able to use both sides of the plate and be aggressive and not walk people and help out with his bat, too."
Basically, Wood has learned how to pitch.
"When they sent me down after spring last year," Wood said, "I just got some work in on what they thought I needed and what I thought I needed, and I was fortunate enough to be able to get those things ironed out, and so far, so good. I've been rolling from last year."
Cubs catcher Welington Castillo was at Iowa at the start of last season, as well. He's gotten to know the lefty.
"He's had success because he put a lot of time in on the scouting report," Castillo said. "We've been on the same page."
The Cubs were able to keep the momentum going after winning their last two games against the Nationals, beating Stephen Strasburg and Gio Gonzalez.
"More importantly than doing it against two of the best pitchers in the game, it's more important to win those kind of games," Sveum said of his team, which capitalized on errors by the Nationals. "Those are the kind of games we've lost. To find a way to hang around and find a way to win those games is the important thing."
Anthony Rizzo, who signed a seven-year, $41 million extension earlier in the day, went 1-for-5, but his teammates picked up the slack. DeJesus got things started when he doubled to lead off, and two outs later, Soriano hit his fourth home run, launching an 0-1 pitch from Juan Nicasio over the left-field bleachers. It was Soriano's 376th career home run, tying him with Hall of Famer Carlton Fisk for 69th on the all-time list. Next up are Norm Cash and Jeff Kent, who both hit 377 in their careers.
Wood added a RBI double with two out in the second, and he and DeJesus scored on Castro's two-run double to open a 5-0 lead. Chicago leads the National League with 86 doubles and 131 extra-base hits this season.
Castro was safe on an infield single with one out in the seventh, beating a throw from second baseman Eric Young, Jr., and Rizzo singled. One out later, Schierholtz lined a triple into the left-field corner that Carlos Gonzalez had trouble tracking down. DeJesus added a two-run single in the eighth.
The Rockies had to deal with tough pitching as well in St. Louis, where they were shut out by Shelby Miller and Adam Wainwright.
"I felt like the pitchers in St. Louis did a better job against us," said Colorado's Josh Rutledge, who homered in the ninth off Carlos Marmol. "We hit some balls hard tonight, but we couldn't get any hits when guys were on. [Wood] did a good job of locating."
The Cubs made it clear Rizzo and Castro are part of the young core they want to build around, signing both to long-term deals. What about Wood?
"I would love to be here for a long time with the Cubs, but that's out of my hands," he said. "I'm not really thinking about that right now at all. We've got to go out and win tomorrow, and I've got four more days to get ready for my next start, and hopefully we can keep going on."
If Wood did get a mega deal, it most likely wouldn't change him. He has a scraggly beard that he isn't going to trim any time soon.
"I'm not really sure what I'm doing with it right now," he said of his facial hair. "It just started, and I didn't intend to let it keep going, but it's kind of hard to cut it right now."
"I think he's going to keep it," Castillo said.
And he's about as even keel as they come.
"You can guarantee one thing besides the sun coming up is that Travis Wood will be the same guy the next day," Sveum said.
Carrie Muskat is a reporter for MLB.com. She writes a blog, Muskat Ramblings, and you can follow her on Twitter @CarrieMuskat. This story was not subject to the approval of Major League Baseball or its clubs.