One run all Masterson needs to deny Yankees
Kipnis' first-inning home run the difference as Tribe remains hot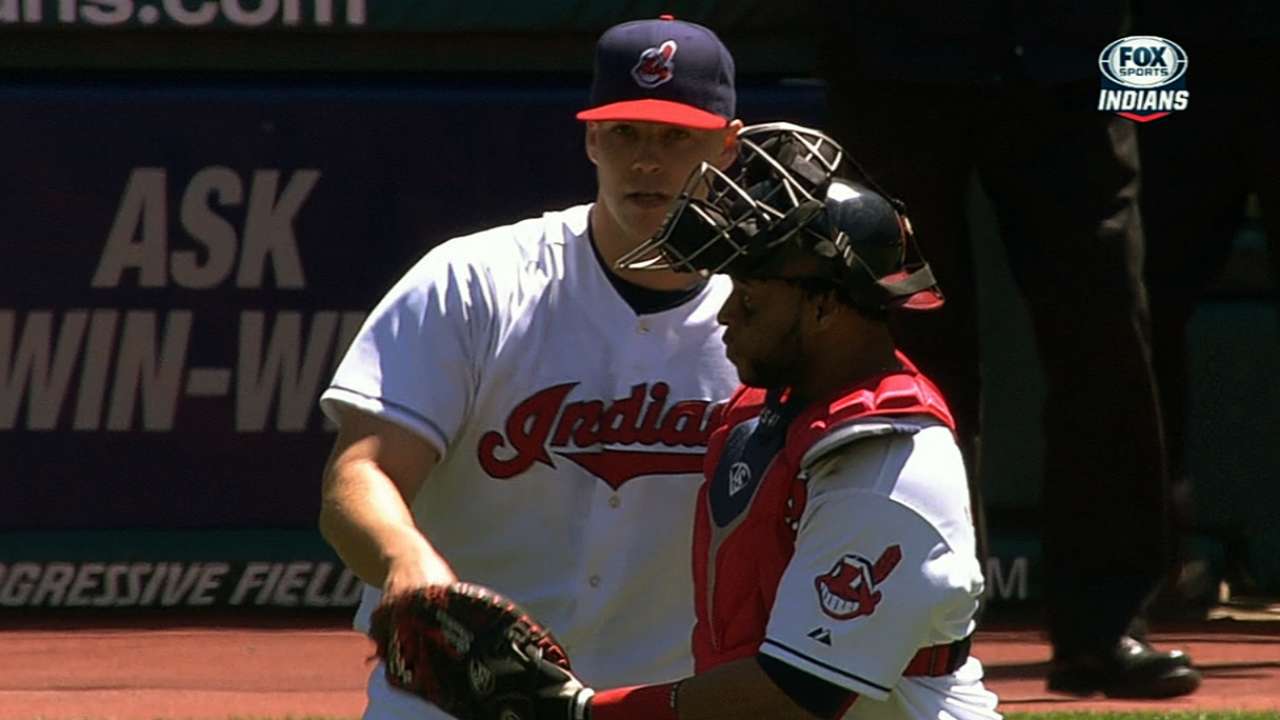 CLEVELAND -- On his way out of the postgame news conference that followed the first game of Monday's doubleheader, Indians manager Terry Francona patted Justin Masterson on the back and said, "Just tell them you did good."
Such remarks probably would have sufficed, as the right-hander had just wrapped up a shutout of the New York Yankees and all. Backed by his exquisite effort, the Tribe took the first game of a traditional twin bill, 1-0. Second baseman Jason Kipnis supplied all the required offense with a home run in the first inning.
"Masty went out and did exactly what you want your ace to do," Francona said. "From the very first pitch of the game, he had power, he had breaking ball, he attacked hitters.
"There was no wiggle room because we had one run, and he made it stand."
Masterson (6-2) limited New York to just four hits, three of which were infield singles. Of course, injuries have sidelined some of New York's heaviest hitters, and Vernon Wells was held out of the starting lineup before making the final out as a pinch-hitter, but Masterson will take the win all the same. He struck out nine batters while walking three and throwing one wild pitch.
Masterson graciously elaborated on the performance that guided Cleveland to its 13th win in the past 15 games. But not without a few jokes, of course.
Did Masterson hear the crowd cheer when he came back out for the ninth? "I had earplugs in." What makes Francona such a great manager to play for? "He has glasses."
All levity aside, Masterson talked at length about the win and his performance, which was bolstered by a slider that became more effective as the game went on.
"We tried to stay on top of our game most of the day," Masterson said. "[Catcher Carlos] Santana was back there, putting down good fingers. I didn't have to really shake him at all. We were on the same page.
"I think what helped is we were kind of able to mix it on both sides of the plate, among the other pitches, working the sinker and the four-seamer, just trying to keep guys off balance. And for the most part, we were able to hit our spots. Even when they were for balls, they were decently for a purpose. So it was fun."
The only jam Masterson had to deal with came early. In the second inning, singles by Chris Nelson and Chris Stewart and a walk to Corban Joseph loaded the bases. The righty made it out unscathed by striking out Alberto Gonzalez on a 2-2 sinker.
Shortstop Asdrubal Cabrera prevented a run from scoring by diving to keep Stewart's hit in the infield.
That play, and Kipnis' homer, went a long way in supporting Masterson, who lowered his ERA to 3.14.
"Staying out there is one thing -- we know he'll do that," Francona said. "But to pitch the way he pitched -- so effectively -- that was really impressive."
Monday's victory marked the third shutout of Masterson's career and his second of the season. The right-hander is the first Indians pitcher to record multiple 1-0 shutouts in the same season since 1989.
The Tribe's offense -- which had averaged 6.43 runs per game over the previous 14 contests -- was largely subdued by Yankees right-hander David Phelps. The only production came in the form of Kipnis' homer, the second baseman's fifth of the year and his third in the past eight games.
Early in Kipnis' at-bat, Michael Bourn was caught stealing for the first time this season.
Phelps left the game with two outs in the seventh inning after allowing a double to Drew Stubbs and issuing a walk to Bourn. Reliever Boone Logan struck out Kipnis to strand both runners, however.
Phelps (1-2) struck out seven and walked five, also allowing four hits.
"I want to be on my game every game," Phelps said. "Our lineup has been scoring runs for us. It hasn't been a problem for us. We have a great group of guys in there, guys that have done it and have had great careers and are still having great careers.
"We just ran into a guy who was really on his game, and you have to tip your cap to him."
That guy was Masterson. He not only earned the win, he also spared a bullpen that threw 10 1/3 innings of high-intensity baseball this past weekend in Detroit.
"Any starter wants to finish the game," Masterson said. "Tito and I talked about it, and I said, 'Hey, I'll give you everything I've got out there.' We were able to make it happen."
Mark Emery is an associate reporter for MLB.com. This story was not subject to the approval of Major League Baseball or its clubs.