Phelps' sturdy start in Cleveland unsupported
Yankees fall short with four singles against Masterson in Game 1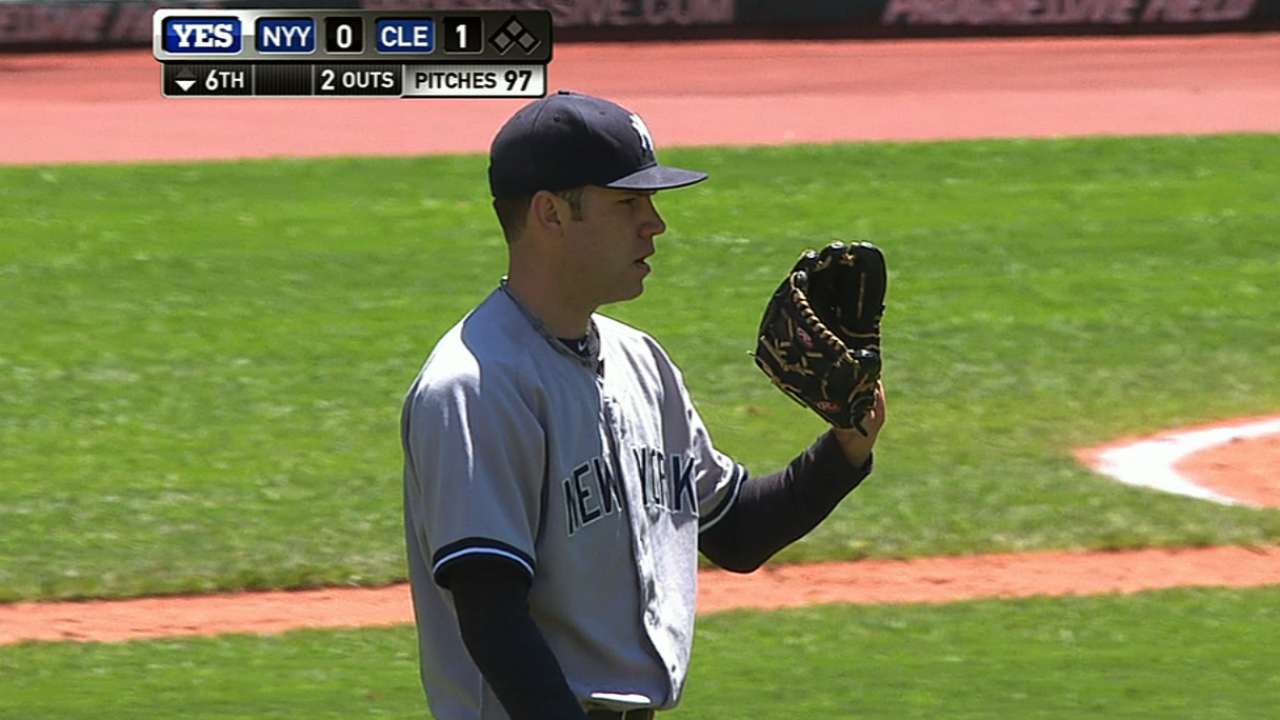 CLEVELAND -- The Yankees are in it for the long haul, and that means manager Joe Girardi must preserve his players' health and energy levels.
So for Monday's doubleheader in Cleveland, the skipper opted not to press his veterans into extra duty. As a result, a patchwork Yankees lineup struggled to solve Indians right-hander Justin Masterson, and New York dropped the first tilt of a twin bill, 1-0.
David Phelps submitted a strong effort to spare the Yankees' shorthanded bullpen. The right-hander logged his second quality start in as many outings, limiting the Indians to one run on four hits over 6 2/3 innings. He threw a career-high 115 pitches, eclipsing his previous season high of 87. The righty surrendered a home run to Jason Kipnis -- the second batter he faced -- to account for the only scoring in the contest.
"Early on, I didn't really have fastball command at all, and it showed," Phelps said. "It was a battle out there. … They made me work."
In an effort to keep his players as fresh as possible during a stretch of 17 games in 16 days, Girardi kept Vernon Wells and Lyle Overbay out of the starting lineup, though each served as a pinch-hitter late in the game. Corban Joseph made his Major League debut at first base and drew a walk in his first career plate appearance.
Outside of loading the bases in the second inning, the Yankees never pieced together much of a scoring threat. No New York batter hit a ball out of the infield until Chris Stewart flied out to right field in the fifth.
"Our lineup has been scoring runs for us," Phelps said. "It hasn't been a problem for us. We have a great group of guys in there, guys that have done it and have had great careers and are still having great careers. They're going to go out and battle, just like we [pitchers] are going to go out and battle. There are going to be games where they're going to pick us up and games where we're going to pick them up. We just ran into a guy who was really on his game, and you have to tip your cap to him."
With two outs in the second, the Yankees put three runners on. Infield hits by Chris Nelson and Stewart sandwiched Joseph's walk. Masterson, however, struck out Alberto Gonzalez to dodge harm. Stewart's single was kept in the infield by a ranging Asdrubal Cabrera at short, preventing what would've been the tying run from scoring.
For much of the afternoon, Phelps matched Masterson. The Yankees hurler issued five free passes, but he made a habit of escaping damage. Three of the four hits he yielded came with two outs. Southpaw Boone Logan relieved Phelps with two on and two outs in the seventh and punched out Kipnis to maintain order.
Phelps' outing saved a much-maligned bullpen from being overworked. Girardi said before the twin bill that closer Mariano Rivera and setup man David Robertson would likely be unavailable for both games. Girardi also pegged Vidal Nuno for a pitch count of about 75 for Game 2.
"Doubleheader or no doubleheader, that's my job and that's still what I try to go out there and do," Phelps said. "We have so many games in a row, and losing our off-day, I know our bullpen is taxed and I have to go out and pitch as deep as I can. I was fortunate to have a couple quick innings there at the end."
Zack Meisel is a reporter for MLB.com. Follow him on Twitter @zackmeisel. This story was not subject to the approval of Major League Baseball or its clubs.