Medlen falters as Braves lose third straight
Righty surrenders three homers; offense subdued by Lincecum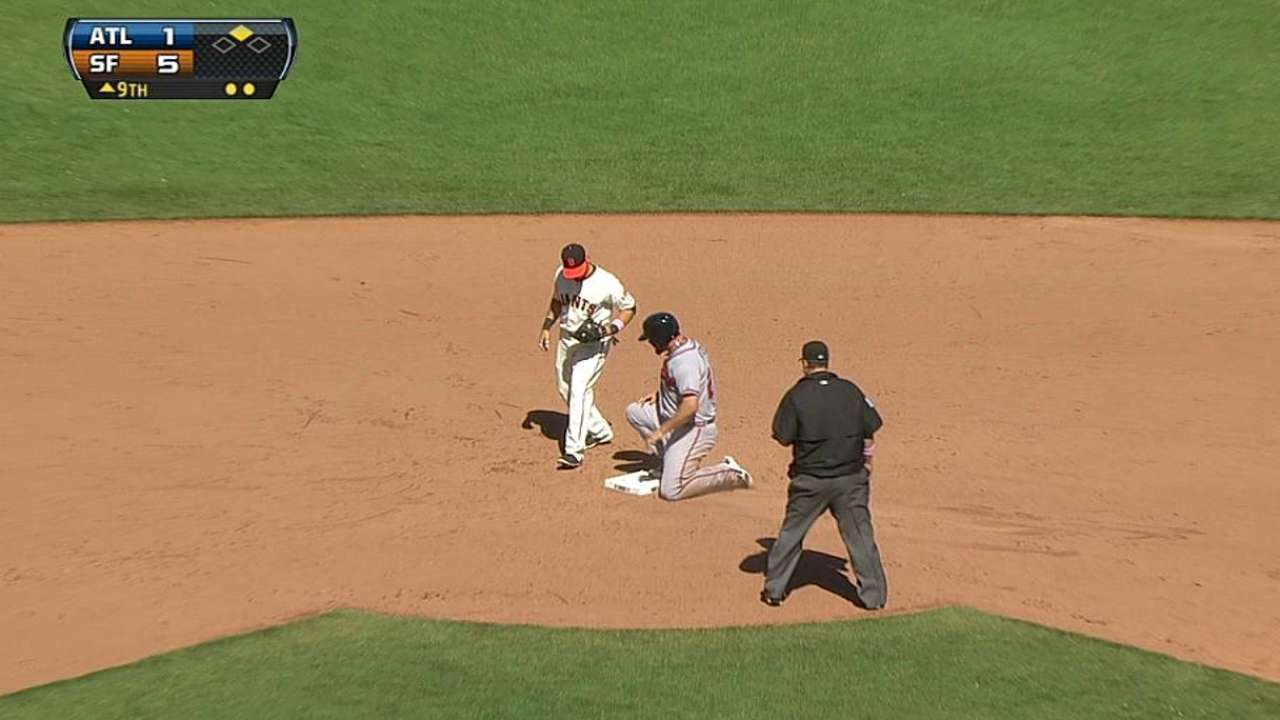 SAN FRANCISCO -- When the Braves proved to be nearly perfect through the season's first few weeks, there was certainly reason to believe they would eventually come down to earth. But it seemed hard to imagine they would fall as hard as they have over the past three weeks.
Optimism materialized when the Braves won three of the first four games of their current 10-game road trip. But that optimism seemed like a distant memory by the time Kris Medlen surrendered three home runs and a suddenly dormant offense fell victim to Tim Lincecum in Sunday afternoon's 5-1 loss to the Giants.
"We haven't been real pretty to watch these past few games," Braves manager Fredi Gonzalez said. "We're not getting deep in the game with our pitching and we haven't been scoring runs. We scored four runs in the past three games. We haven't been real fun to watch."
After winning the opener of this four-game series against the defending World Series champions, the Braves lost three consecutive games in frustrating fashion. The only thing separating them from a shutout in this series finale was Evan Gattis' two-out, ninth-inning double off Sergio Romo.
While Atlanta's starting pitchers allowed at least five runs in each of the series' final three games, none of San Francisco's starting pitchers surrendered more than four hits against an offense that had tallied at least five runs in each of its previous seven games.
"This is baseball," Braves left fielder Justin Upton said. "It's a long season. You're going to hit these rough patches. Obviously we don't want them to be as rough as it has been lately. But we've got to pull ourselves out of it. We've got a really good ballclub. Things aren't going our way."
Since losing just two of this season's first 15 games, the Braves have won just eight of the 22 games that have followed. There have been a few ugly slumps over the past few weeks. But none of them seemed to be as frustrating as this three-game stretch that concluded with Lincecum allowing just two hits over seven scoreless innings.
"It's the ups and downs of the regular season," Medlen said. "We still have a lot of baseball to play. We're going to have some more highs and some more lows. We've just got to have more highs than lows. They are the defending world champions for a reason. They pitched well against us and they absolutely crushed us."
While Lincecum was able to halt his recent struggles, Medlen continued to battle the mechanical issues that have haunted him dating back to Spring Training. The Braves right-hander surrendered three home runs for just the second time in his career and was charged with five runs -- three earned -- and eight hits over 5 1/3 innings.
The Braves entered this season having won each of the previous 23 games started by Medlen. But they have since lost six of the eight games he has started.
"I'm having trouble repeating [my delivery]," Medlen said. "I felt my delivery was awesome the last game in Cincinnati. I just came in and it felt completely opposite of how it had felt. I had no leg drive. I wasn't driving toward the target. It was just a brutal day."
Most of the damage incurred by Medlen came courtesy of solo home runs hit by Brandon Belt, Pablo Sandoval and Marco Scutaro.
The only other time Medlen had surrendered three home runs in a game was June 8, 2010, in Arizona. He surrendered just five home runs as he compiled a 0.97 ERA in the 12 starts that he made last year. But he has now allowed seven home runs in his past seven starts.
"I had nothing but my metaphorical [guts]," Medlen said. "I had to sit there and battle through every pitch. You go to throw a pitch in and it's away. You go to throw a pitch away and it's in. Everything feels flat. I picked a very bad day to have a bad day."
Belt provided the Giants an early advantage with his one-out home run in the second inning and Sandoval extended the advantage when he drilled a changeup deep over the right-field wall and into McCovey Cove with two outs in the third inning.
Dan Uggla's throwing error helped the Giants add a run in the fourth inning and Upton's inability to secure Sandoval's routine fly ball allowed the hosts to cap a two-run fifth inning with Gregor Blanco's two-out RBI double.
The early offensive support provided some comfort for Lincecum, who had allowed five earned runs in both of his previous two starts. Ramiro Pena's infield single in a 25-pitch first inning and Jordan Schafer's third-inning single served as the only hits surrendered by the former Cy Young Award winner, who retired 13 of the final 14 batters he faced.
"We haven't really been hitting on all cylinders," Gonzalez said. "We'll get out of here, go to Arizona and get the bats going. We've definitely got guys on our team and in our lineup that can swing the bat and hit. It's still in there."
Mark Bowman is a reporter for MLB.com. This story was not subject to the approval of Major League Baseball or its clubs.