Homers back Lincecum's superb outing
Giants smack three long balls to win third straight over Braves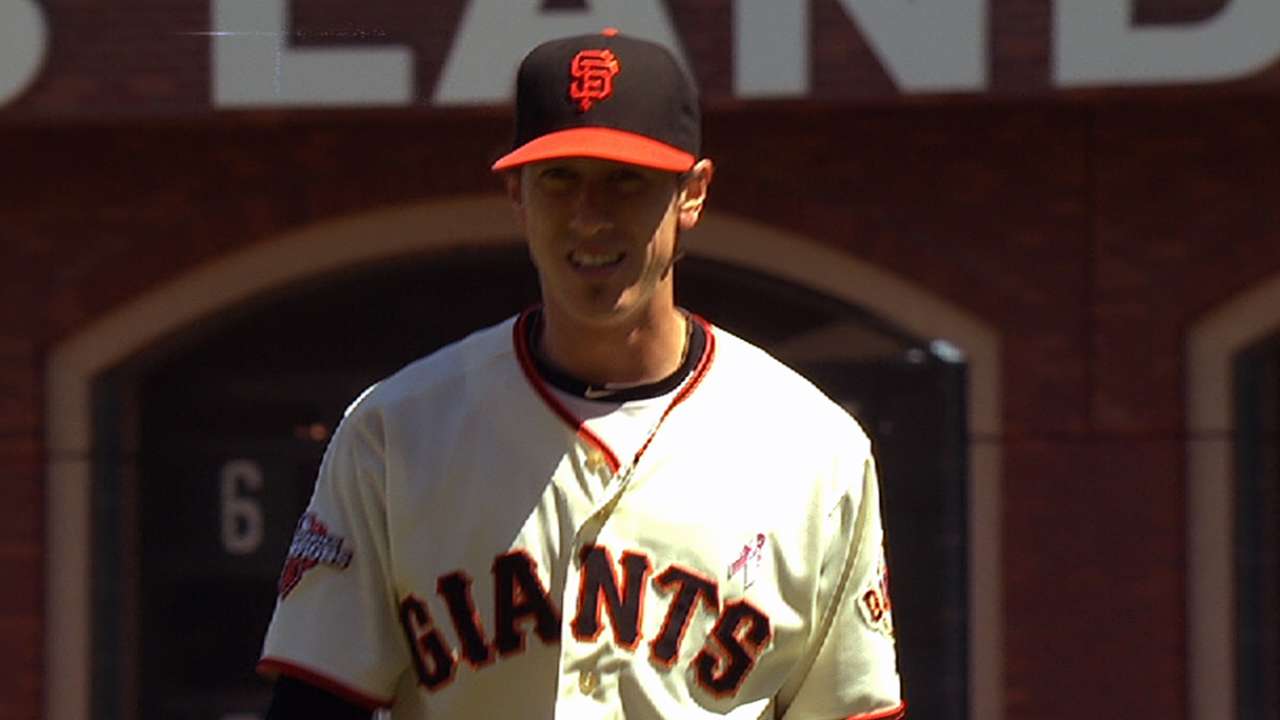 SAN FRANCISCO -- When Tim Lincecum fell behind in the count 3-0 against Atlanta's Jordan Schafer to open Sunday's game, that was as vulnerable as he would be all afternoon.
Lincecum sustained optimal efficiency despite his diminished velocity, allowing Atlanta two hits in seven shutout innings. His excellence complemented another powerful offensive effort to generate the Giants' third consecutive victory over the Braves, a 5-1 decision.
Brandon Belt, Pablo Sandoval and Marco Scutaro each homered to back Lincecum (3-2), who rebounded from a pair of subpar starts. He yielded 10 earned runs and 19 hits in 12 innings spanning his previous two outings. This time, Lincecum, who struck out seven, retired 13 of the final 14 batters he faced while permitting just two Braves to reach scoring position.
San Francisco completed a 7-3 homestand by capturing the four-game series from the Braves, who lead the National League East. After losing Thursday's opener, 6-3, the Giants finished the series by outscoring Atlanta 23-4 and batting .343 (35-for-102) with 16 extra-base hits.
"I think these last three games are some of the better baseball we've played this year, just all around," catcher Buster Posey said. "Good pitching, good defense and swinging the bats well. It's definitely nice, especially against a good team like the Braves."
Such complete efforts always begin with pitching. Lincecum balanced this equation with a vintage effort. The last time he pitched as many as seven innings while yielding two hits or fewer was Aug. 13, 2011, at Florida. Since then, 48 starts had passed.
Lincecum demonstrated immediately that he would not unravel as he did in previous starts. Explaining later that he slowed down his delivery to regain his timing, he recovered against Schafer to retire him on a groundout. After the next two Braves reached base safely, Lincecum responded by striking out cleanup hitter Justin Upton and retiring Freddie Freeman on a line drive.
Lincecum stranded runners on the corners in the third inning by again subduing Upton, this time on a fly ball. Otherwise, the right-hander enjoyed a hassle-free game.
"Everybody knows his 'velo' has been down," Upton said. "But as far as command and mixing his pitches and throwing strikes, he was on pretty good today."
"He didn't drop his guard at all when he got ahead in the count," Giants manager Bruce Bochy said. "He pitched today, every pitch. He got in a good rhythm and he and Buster worked great together. He had the great focus and concentration that a pitcher needs."
Determination could be added to that list. After losing to Philadelphia last Tuesday, punctuating a stretch in which the Giants' rotation made only two quality starts in 10 games, Lincecum suggested that he and his fellow starters needed to goad each other toward improvement. In their next starts, Lincecum, Barry Zito, Matt Cain and Madison Bumgarner combined for a 3-0 record and a 1.24 ERA.
"We took it upon ourselves to do better next time," Lincecum said.
Lincecum sounded as if he won't let this performance lull him into a false sense of security.
"I'm not jumping up in the air right now," he said. "... It's a work in progress. I'm still working to get better."
Teammates have remained behind him.
"I never lost faith in him," Sandoval said. "No matter what, he's a fighter."
Lincecum reciprocated by praising the offense that scored for four innings in a row against Braves starter Kris Medlen (1-5).
"They put me in a really good spot to kind of go into cruise mode," he said.
Each Giants homer was distinctive. Belt's was a drive to left field that opened the scoring with one out in the second inning. When he hits to the opposite field, he knows all is right with his swing.
"You want to take a pitch that's on the outer half of the plate and hit it hard into the left-center-field gap," he said. "That's what I've done my whole career. It's definitely a good sign when I can do that."
One inning later, Sandoval delivered the Giants' 63rd "splash hit" in AT&T Park history and seventh of his career when he reached McCovey Cove.
"I put a good swing on a high changeup," he said.
Scutaro's homer, his first of the season, lengthened his hitting streak to 12 games. He's batting .479 (23-for-48) during that binge, indicating his relief from back pain.
"It makes me be able to stay back and wait for the ball," he said.
After Monday's scheduled off-day, the Giants resume activity Tuesday at Toronto.
Chris Haft is a reporter for MLB.com. This story was not subject to the approval of Major League Baseball or its clubs.