Bats go quiet as Milone delivers shaky outing
A's drop series to Mariners as tough road trip comes to an end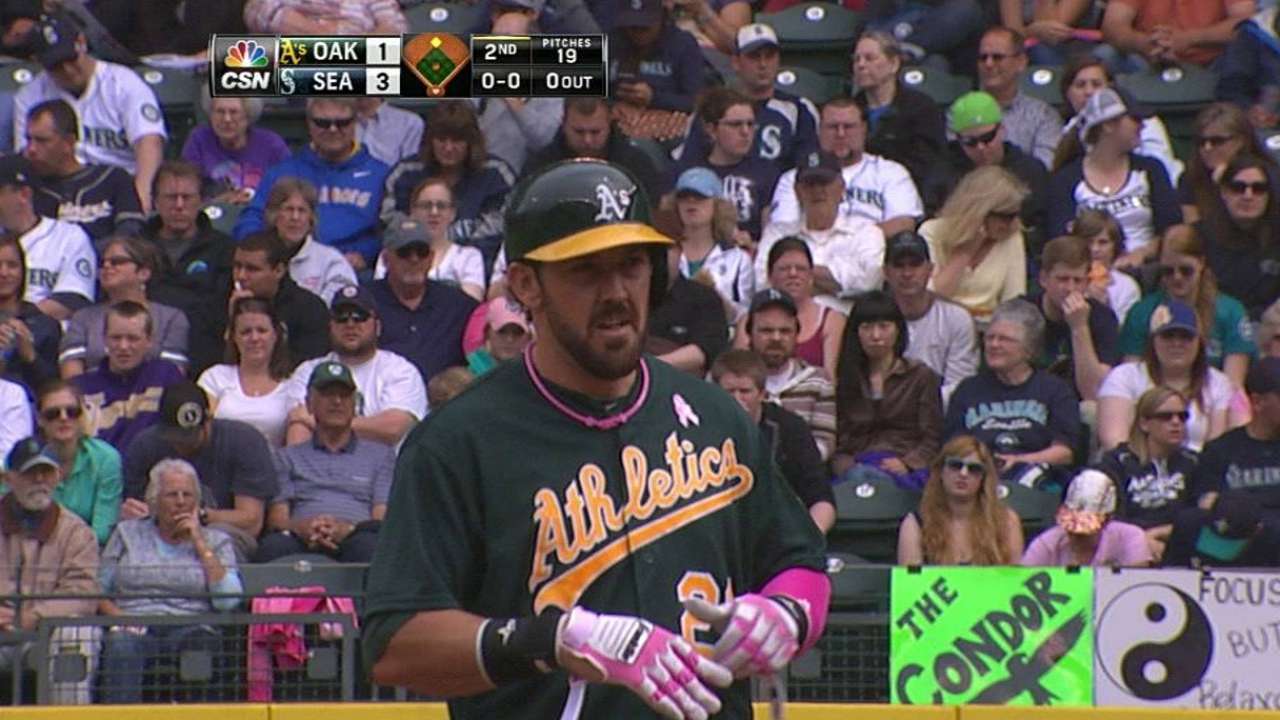 SEATTLE -- The A's managed to take two of three from the Yankees in New York last weekend, but the remainder of their lengthy road trip didn't prove nearly as enjoyable.
They were swept away by the Indians during a frustrating four-game stay in Cleveland, and two more losses awaited them in Seattle, where they dropped a 6-1 contest on Sunday.
"Yeah," said manager Bob Melvin, "It didn't work out as well as we would've liked."
Now the A's, who started the season 12-4, have won just seven of their last 23 games, and they're back under the .500 mark, in second place in their division with just a half-game lead over the Mariners.
"If we had come out with the win today, it would have been a 4-6 road trip, which all things considered wouldn't have been nearly as bad as it seemed," said Brandon Moss, who struck out four times. "But 3-7 sounds a lot worse than 4-6, especially the way we played the better part of this week.
"You go through ups and downs but this is not very fun right now. We have a new series tomorrow at home against a tough team, and we just gotta keep playing."
Perhaps Oakland could do well by an off-day, but that won't come until Thursday. First, the A's must deal with the first-place Rangers, who just happen to enter Oakland for a three-game set as baseball's best team, carrying a six-game lead over the A's.
Texas is slated to start Justin Grimm, Derek Holland and Alexi Ogando, a trio who have combined for a 3.03 ERA. In front of them will be an Oakland offense that was outscored 44-25 on its 10-game road swing. Hitters compiled a .205 average in that time, and the A's are now batting .238 as a team.
And the pitching staff? Well that group put together a 4.55 ERA on the trip, including a 5.17 ERA by its starters, following Tommy Milone's five-run outing over five innings Sunday.
So it's hard to point fingers right now, making it easy to use a crowded disabled list -- the A's are currently without Brett Anderson, Josh Reddick, Coco Crisp and Chris Young -- as something of an excuse. But that's not an option, Melvin says.
"There are other teams that have injuries too," he responded. "We have to grind through it, find ways to win some games, and then get our guys back. That's what we're trying to do right now. You can't look back and make excuses based on the personnel you have now."
"I don't know what it is," Moss said. "I feel like we haven't played that terrible on defense, but when we make a defensive mistake, it's capitalized on. We haven't hit that terrible, but we haven't put anything together either. We haven't pitched that bad, but when we do pitch good, we don't hit. It's just one of those times in the season where you gotta make it through it and not let it define your season."
Moss, the lone lefty in Oakland's lineup against southpaw Joe Saunders on Sunday, was paralyzed at the plate, with his four strikeouts spanning just 14 pitches -- making him the "poster child" for another rough day, as he said.
"Can't feel much worse," Moss said. "That was the most overmatched I've ever been in baseball right there, and it wasn't overmatched by stuff, just location of the pitches."
Back-to-back doubles off the bats of Josh Donaldson and Luke Montz in the second inning produced Oakland's only run, as Saunders limited the A's to just three other hits in 6 1/3 innings of work.
Milone didn't fare nearly as well, surrendering a three-run homer to Kendrys Morales -- each of his other six home runs allowed were solo shots -- with one out in the first inning.
"I was getting behind in the count, and then I was pretty much having to throw the ball over the plate to get back into the count," he said, "and they were waiting for it."
He recovered with a pair of clean bounce-back innings, before finding trouble again in the fourth and fifth, which would be his last.
The A's went 2-for-10 with runners in scoring position on the day and left eight on base, including four in the first three innings, their lack of production somewhat ill-timed given their upcoming schedule.
"It seems like every series will be more important when you're not playing as well, but it is a long season, and we're one game under .500," said Melvin. "It's not like we're 15 games below. At some point in time, we're going to play better, and we're going to win a lot of games. That's my opinion.
"It certainly is a big series because Texas is ahead of the whole division, so we'd like to play well in that series."
"We definitely need to pick it up, play better baseball and keep believing we're going to come out of it," Moss added, "because we're a much better team than the way we're playing. We really are."
Jane Lee is a reporter for MLB.com. Read her blog, Major Lee-ague, and follow her on Twitter @JaneMLB. This story was not subject to the approval of Major League Baseball or its clubs.