Shuffled lineup comes up big behind sharp Saunders
Southpaw builds on Safeco Field mastery as Mariners take series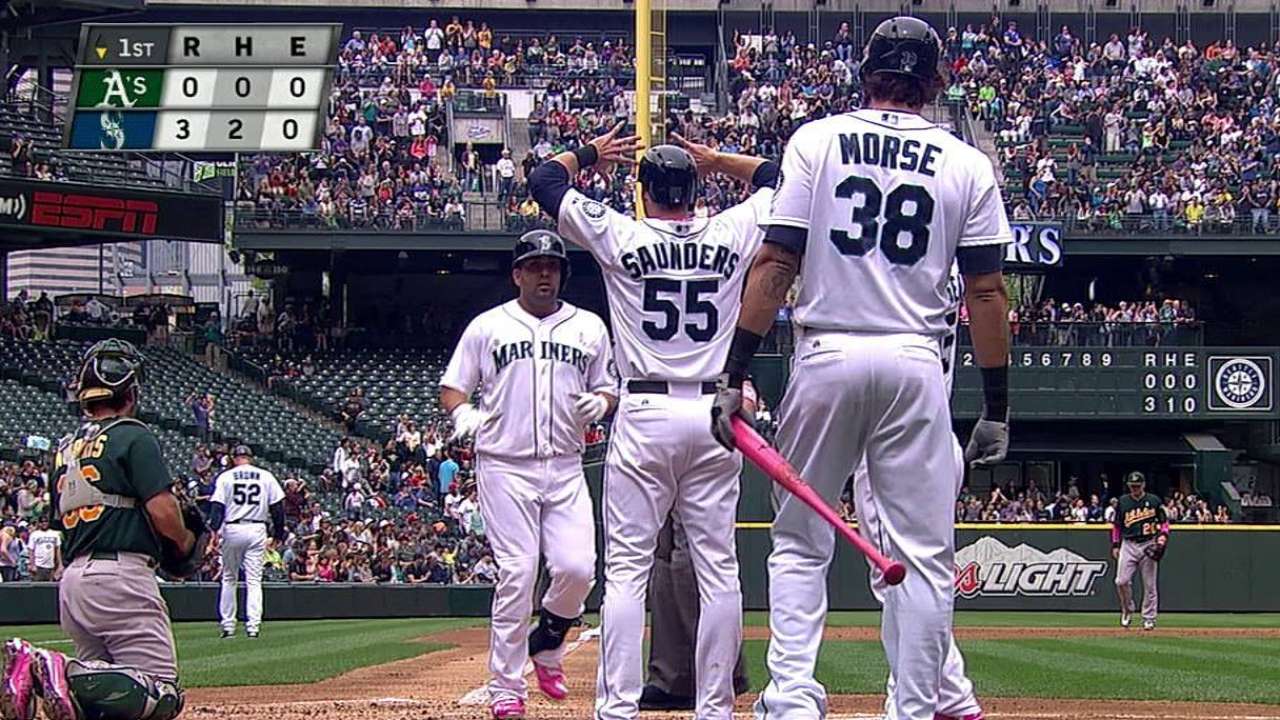 SEATTLE -- Manager Eric Wedge shuffled his lineup a bit on Sunday hoping to ease the pressure on struggling sluggers Kendrys Morales and Michael Morse, and the early results were promising as the Mariners topped the A's, 6-1, in a Mother's Day meeting at Safeco Field.
Thinking the two new middle-of-the-order hitters were putting too much pressure on themselves to carry the team, Wedge moved Kyle Seager into the three-hole in the lineup and dropped Morales and Morse down a spot to four and five, respectively.
Morales responded with a three-run home run in his first at-bat off Tommy Milone, staking Seattle to a three-run lead in the first inning, and the Mariners went on to a series-clinching victory that pulls them within a half-game of the second-place A's in the American League West.
"I don't think it matters where I hit in the order," Morales said through interpreter Ryan Schmitz. "Everybody has their responsibility and you have to produce no matter where you are."
Morse, who came into the day riding a 1-for-18 slump, went 2-for-3 with a double, a walk and a run scored in the fourth.
Seager, who has thrived wherever he's played the past two seasons, increased his team-leading RBI total to 17 with a sacrifice fly in the fifth. Morales' three RBIs on Sunday also give him 17 for the season.
And Jason Bay, hitting in the No. 2 spot previously held by Seager, went 2-for-4 with a home run, a solo shot to dead center in the seventh that increased the lead to 6-1.
"I think our guys are starting to settle in and find themselves a little bit," said Wedge. "I've said from Spring Training and even when we were struggling a little early that I love the dynamic of this club, I love the players in there. I like the diversity we have and the fact you can play a game like today where everybody contributes."
Mariners lefty Joe Saunders benefitted from the run support while continuing his Safeco Field mastery with 6 1/3 innings of one-run ball. Saunders improved to 3-0 with a 0.94 ERA in four Safeco starts this season, while he's 0-4 with a 12.54 ERA in four road games.
What does he hope to take from this start into his next road game Saturday in Cleveland?
"Anything and everything," Saunders said. "It's hard to explain. I pride myself on being a good road pitcher and that hasn't happened yet. So hopefully the next start I can finally turn the page. I know I have it in me. It's just a matter of doing it on the road."
Saunders, signed as a free agent this offseason, remains unbeaten in 13 career starts at Safeco Field with a 9-0 record and 1.72 ERA.
Morales' fourth home run of the season was the big blow, but Jesus Montero contributed an RBI single in the fourth, Bay clubbed his fourth homer of the season and Michael Saunders went 2-for-4 with two runs scored.
Joe Saunders also got some nice help defensively in the second, the one inning he got into trouble, when shortstop Brendan Ryan fielded a slow roller and fired home in time to nail Luke Montz at the plate after Oakland had scored once to cut the lead to 3-1 and was threatening with three straight hits.
"That's Brendan Ryan," said Wedge. "There's not too many shortstops that make that play. His awareness out there is tremendous."
Montero was surprised Ryan came home on that play, and he wasn't alone.
"So was I. He about took my head off," Saunders said with a grin. "But it was nice, it saved us a run. It was a heads-up play."
Yoervis Medina replaced Saunders with one out in the seventh after Adam Rosales reached on a single. Medina gave up a base hit to Jed Lowrie, but then got Yoenis Cespedes to hit into a double-play grounder and proceeded to pitch 1 2/3 innings with just the lone hit.
Oliver Perez then came on for the ninth and struck out the side to cap a nice Mother's Day win in front of 27,599 fans.
For Morales, who defected from Cuba in 2004 to join his mom in the United States, it was the second straight year he's hit a homer on Mother's Day.
"Everybody has a responsibility with their family and it's important for everyone to be thinking of their mother, especially on this day," Morales said. "It's very important to hit a home run on a day like this."
After winning the quick three-game homestand, the Mariners head back out on the road on a nine-day, three-city trek. But they're bringing some momentum with them, having won nine of their past 13 games overall and eight of their past 11 at home.
"It's a different club this year," Michael Saunders said. "We've got a great clubhouse, a great group of guys and we're playing good baseball right now. We're coming to the park expecting to win and we're doing all the little things right and it's showing."
Greg Johns is a reporter for MLB.com. Follow him on Twitter @GregJohnsMLB as well as his Mariners Musings blog. This story was not subject to the approval of Major League Baseball or its clubs.