Dodgers deliver Capuano's first win, take series
Van Slyke starts in place of Adrian, drives in two to beat Marlins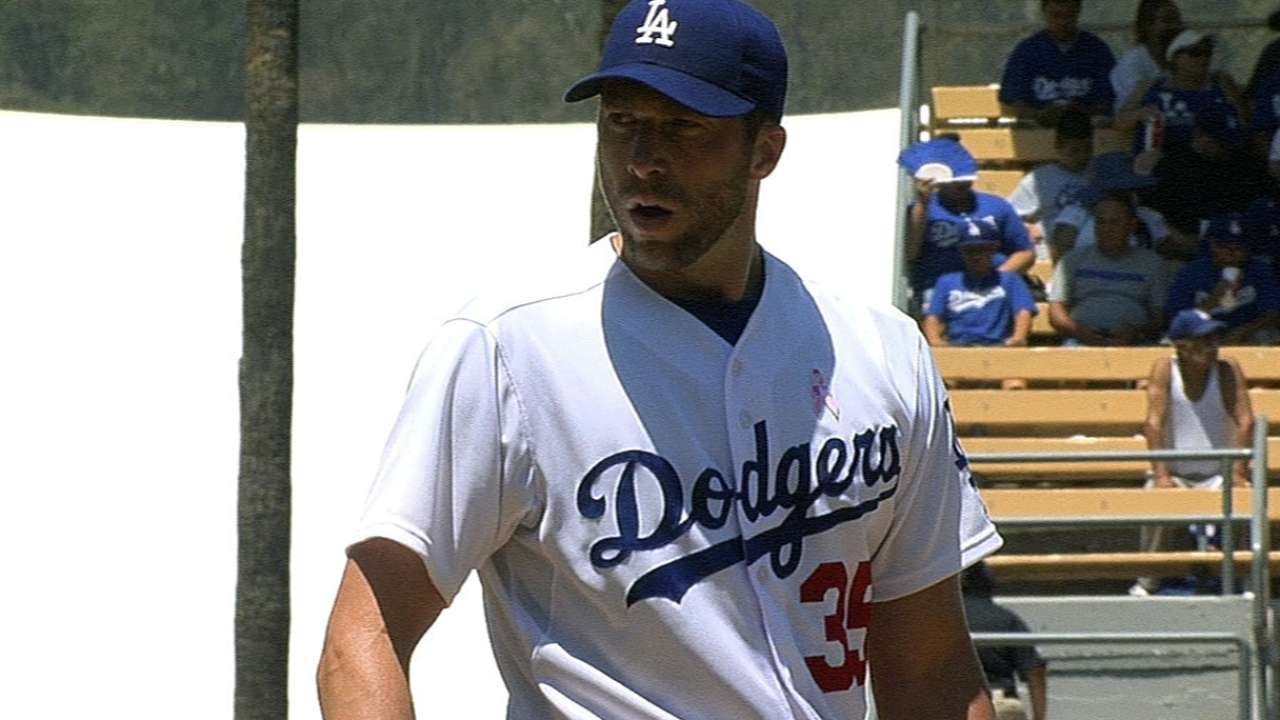 LOS ANGELES -- For the first time in more than a month, the Dodgers won consecutive games at home.
Behind a strong start from Chris Capuano and a balanced offensive attack, the Dodgers beat the Marlins, 5-3, on Mother's Day at Dodger Stadium.
The Dodgers won their first series in two weeks after snapping an eight-game losing streak. They had not won consecutive games at home since a three-game sweep of the Pirates April 5-7.
"It gives us a chance to kind of get a little bit of momentum going," manager Don Mattingly said. "It doesn't sound like much once you've lost eight in a row to come win a series, but it's something, and it's movement in the right direction."
Capuano won for the first time in three starts, striking out seven over 6 1/3 innings. The left-hander allowed five hits, including a homer in the sixth that produced the only run against him.
Eight Dodgers had hits, five scored and four drove in runs.
"It was a good team win today," said center fielder Matt Kemp, who had two hits to reach 1,000 for his career. "Everybody got in on the action, and that's what we need to be successful."
Scott Van Slyke, promoted from Triple-A Albuquerque on Friday, gave the Dodgers an early 1-0 lead with a homer in the second. He drove in another run with a single during a three-run seventh.
Van Slyke, who hit .167 in 27 games with the Dodgers last season, said he felt more relaxed this time around.
"I think last year I was trying to prove too much in such a short time," he said. "This year, I'm playing the way I know how to play."
Van Slyke's father, Andy, who spent 13 seasons in the Major Leagues, was at Sunday's game, along with his mother, Lauri. That made his home run even more enjoyable.
"I hit the home run and I was just smiling around the bases, because the first thing that came to mind was Mother's Day, and she got to see a home run," Van Slyke said. "It was pretty fun."
Van Slyke's shot came off Marlins starter Tom Koehler, a pitcher he was familiar with from the Minor Leagues.
"I kind of sped up his bat with a cutter right there," said Koehler, who allowed two runs in five innings. "He did a good job of staying on it."
Van Slyke started in place of the injured Adrian Gonzalez at first base and made an impressive catch leaning into the seats near the visitors' dugout in the sixth.
Capuano didn't make it out of the fifth inning in two starts before Sunday. His first start on April 16 was cut short by a strained left calf after only two innings, and he allowed six runs in four-plus innings Monday in his first start back from the disabled list.
But Capuano simplified his approach against a Marlins lineup he was unfamiliar with and had better results.
"Basically, I was trying to execute my pitches and not worry about dissecting the hitters' weaknesses," he said.
Mattingly was pleased to see Capuano take that approach.
"Sometimes we work so hard on game plans and things like that, sometimes you got to just attack," the manager said. "He can over-think it sometimes instead of just going out and staying on the attack and using his pitches."
Kenley Jansen relieved Capuano with a runner on second and one out in the seventh and promptly struck out Adeiny Hechavarria and Chris Coghlan to end the threat. The right-hander struck out two more during a 1-2-3 eighth.
In addition to Van Slyke, the Dodgers had contributions from a pair of players who also spent time at Triple-A this season.
Dee Gordon played a clean game at shortstop, drove in a run, singled and stole a base. Tim Federowicz called a good came behind the plate and got his first hit of the season.
Skip Schumaker had another strong game filling in for Mark Ellis at second base. He doubled and scored in the fourth to give the Dodgers a 2-0 lead.
But that lead was cut in half on Justin Ruggiano's homer to left in the sixth.
The Dodgers got to the Miami bullpen for three runs in the seventh. Carl Crawford started the rally with an RBI single. Gordon added a sacrifice fly and Van Slyke drove in the final run.
That insurance proved important, as Brandon League allowed two runs in the ninth to make it close.
Austin Laymance is an associate reporter for MLB.com. This story was not subject to the approval of Major League Baseball or its clubs.