Miami drops finale in LA as Koehler makes first start
Former reliever keeps Marlins close in five frames after joining rotation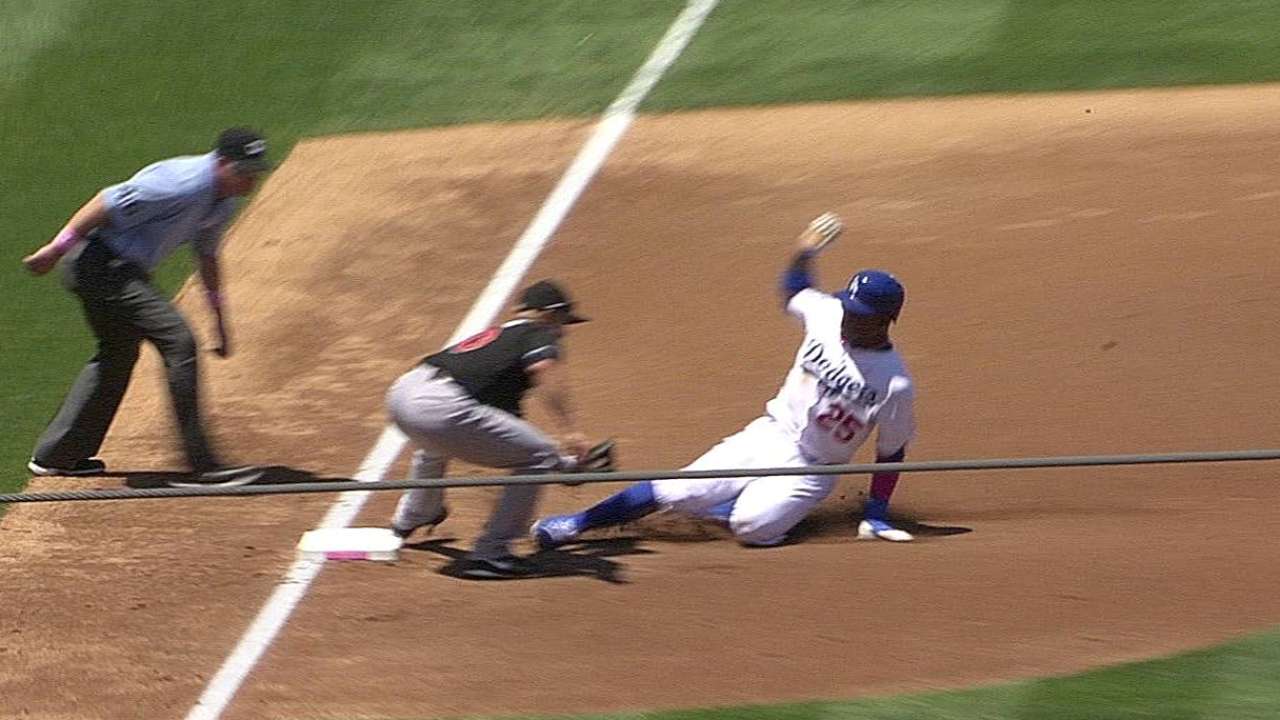 LOS ANGELES -- Tom Koehler's transition into the rotation was a smooth one, as the 27-year-old did his part to keep Sunday's series finale close. What plagued the Marlins on Mother's Day is the same thing that afflicted them since they arrived on the West Coast.
A lack of offense spoiled any chance of the Marlins taking the weekend series at Dodger Stadium.
Chris Capuano allowed one run in 6 1/3 innings, and Scott Van Slyke homered and added another RBI in the Dodgers' 5-3 victory against the Marlins.
Justin Ruggiano's home run in the sixth inning was the only offense the Marlins could manage off Capuano, though Adeiny Hechavarria hit a two-run double in the ninth.
"It's the same stuff we've been talking about all year," manager Mike Redmond said. "We're pitching on pins and needles in 2-1 games, trying to hold them down just to give ourselves a chance to make a rally, whether it be the ninth, eighth or seventh, whatever it is. That's tough. That's tough on your bullpen and tough on your offense."
Since routing the Phillies, 14-2, on May 5, the Marlins dropped five of six at San Diego and Los Angeles, managing 11 runs. Most of them came in Friday's 5-4 series-opening win against the Dodgers.
The Marlins were limited to one run until Hechavarria's two-out, two-run double off Brandon League in the ninth inning.
"It was nice to see us rally back in the ninth off their closer and put a couple of runs on them," Redmond said. "I've talked about it before, this is a resilient group. These guys keep battling. We had every opportunity in that game to quit when we were down. Our players are not like that. They keep fighting. We don't have a lot of wins, but nobody is quitting out there. I'm proud of that."
The Marlins finished their road trip with a 3-7 record after they split four games to open the swing in Philadelphia.
Marcell Ozuna added two singles and had an outfield assist for the second straight game. But for the most part, Sunday was an uphill climb.
After falling behind by two runs, the Marlins closed the gap to 2-1 on Ruggiano's home run. It was the seventh home run for Miami's center fielder, all coming on the road.
Koehler made his first start of the season, replacing Wade LeBlanc in the rotation after making six relief appearances. Koehler opened the season at Triple-A New Orleans, where he made three starts.
The right-hander kept the Marlins in the game, throwing five innings with 79 pitches, 50 for strikes.
The Dodgers collected seven hits and two runs off Koehler, who struck out one and walked one.
Like they have throughout the series, the Marlins found themselves playing catchup.
In all three games, the Dodgers grabbed the lead early. On Sunday, they did so courtesy of Van Slyke's home run to lead off the second inning. The Dodgers recalled the son of former big leaguer Andy Van Slyke on Friday from Triple-A Albuquerque, where the younger Van Slyke hit nine homers in 34 games.
"That home run was actually off a guy I had faced a lot over the last two or three years," Koehler said of Minor League at-bats against Van Slyke. "I kind of sped up his bat with a cutter right there. He did a good job of staying on it."
Van Slyke's big day came with his dad and mom, Lauri, at the park.
"I just wanted to prove to the Dodgers that I still had some value and I could help them win," Van Slyke said. "It was pretty fun. I hit the home run and I was just smiling around the bases because the first thing that came to mind was Mother's Day and she got to see a home run."
The Dodgers tacked on another run in the fourth inning on Nick Punto's sacrifice fly to center. Skip Schumaker, who had three RBIs in the Dodgers' 7-1 win on Saturday night, doubled with one out and moved to third on Tim Federowicz's single.
The Marlins had chances off Capuano in the first inning, stranding runners at the corners, and in the fourth inning, when they repeated the act.
Capuano was lifted with one out in the seventh inning after Derek Dietrich's double. Again, the Marlins were turned away. Reliever Kenley Jansen put out the potential rally by striking out Hechavarria and pinch-hitter Chris Coghlan.
The missed chances came back to haunt Miami, because in the seventh inning, the Dodgers scored three runs and put the game away.
Punto and Juan Uribe singled to open the inning off Jon Rauch. Carl Crawford lined an RBI single, and Andre Ethier lifted a sacrifice fly. Van Slyke's RBI single capped the inning.
"Capuano gave us a heavy dose of changeups," said Ruggiano, who had two hits. "I think one at-bat I saw six changeups. When they're good changeups, they're tough to hit. When he leaves them up, we hit a few. He mixes pitches well, but I think we should have done a little better against him today.
"It was a crazy series. I was out there in the outfield, they'd get a hit that would go past our glove by about a foot. And the next inning, they'd come out on defense and take a hit away from us."
Joe Frisaro is a reporter for MLB.com. He writes a blog, called The Fish Pond. Follow him on Twitter @JoeFrisaro. This story was not subject to the approval of Major League Baseball or its clubs.