Bullpen unable to hold McCarthy's stellar effort
D-backs fall in 10 after right-hander tosses eight shutout innings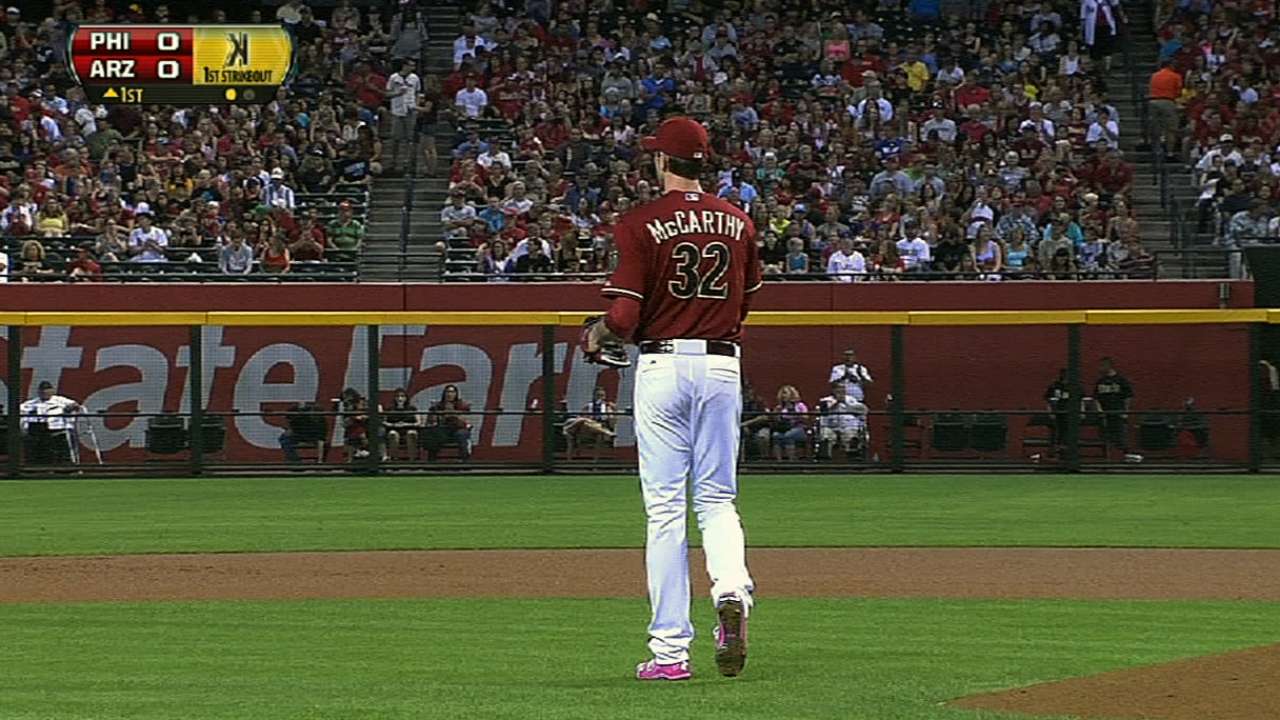 PHOENIX -- After Brandon McCarthy completed eight scoreless innings Saturday on just 88 pitches, no one could blame him for being upset with the decision to pull him in favor of the bullpen, especially considering how disappointing the relievers have been in close games this season.
But even after watching Heath Bell and Matt Reynolds cough up the lead and later the game, McCarthy chose not to second-guess the move, which eventually led to the Phillies' 4-2 victory over the D-backs on Sunday in front of a Mother's Day audience of 32,785 fans.
"That's their job to tell you if you're going back out or not," said McCarthy, adding that there was no discussion between him and the coaches after the eighth. "No conversation, they came up and said you're done, that was it."
Postgame, D-backs manager Kirk Gibson admitted he considered leaving McCarthy in the game, but after talking it over with catcher Miguel Montero and pitching coach Charles Nagy, he opted to go the other way.
"We thought it was the best thing to do, it just didn't work out," said Gibson, who declined to specify what the trio discussed. "That was my decision. I did what I thought was the right move and it didn't work out."
Montero didn't want to go into specifics either, but he agreed with his manager's decision saying, "That's why we have a closer."
In part, McCarthy blamed himself for not being able to attempt a complete game, citing his rough start to the season before Sunday in which he served up at least eight hits in his first seven outings as his ERA ballooned to 6.75
"It's an inning that I'd always like to go back out [for], but the last few weeks things haven't been smooth, so I haven't been a guy that has been counted on," he said. "I'd like to get that reputation back where if I'm in that situation, it's a no-brainer that I'd go out for the ninth."
In McCarthy's place, Bell came on in the ninth with a two-run cushion looking to record his fourth save since taking over as closer for the injured J.J. Putz. Instead, he ended up costing McCarthy the win, blowing the club's MLB-leading 11th save of the season by giving up a pair of runs on four hits as the Phillies tied the game at 2.
"He missed his spots," Gibson said. "He left the ball out over the plate against good hitters."
Upon entering the dugout after being pulled for Brad Ziegler with two outs in the frame, Bell slammed his glove on the bench out of frustration.
"I know I have to clean it up a little bit, I have to do better," Bell said. "McCarthy pitched one heck of a game and we couldn't get him a win. I'm sure the guys were most upset about that."
After the D-backs went down quietly in the ninth, the Phillies won the game in the 10th on a two-run single off the bat of Ryan Howard, who was 0-for-18 before the hit. Both runs were charged to Matt Reynolds, snapping his scoreless-appearances streak at 19.
"We were trying to go in on him," Reynolds said of the at-bat against Howard. "It was down, but it just caught too much of the plate. He went down and fished it out of there. That's the way it goes."
The defeat left McCarthy with a no-decision after working eight scoreless innings for the first time since tossing a shutout in September 2011.
"He pitched an outstanding game, it's a tough pill to swallow when you're the bullpen and you can't come through and finish the job for him," Reynolds said. "It's tough for him too, that's the best game he's thrown all year and he doesn't get the win out of it."
The no-decision didn't seem to bother McCarthy though, he was just upset the team lost.
"The disappointment is with us not getting the win, I really don't care if I don't get a win," he said. "It's an inconsequential stat, it has no effect on me."
Heading into Sunday, opponents had hit five home runs off McCarthy over his previous five outings. On Sunday, however, the Phillies rarely put the ball in the air against the 29-year-old as McCarthy recorded four flyouts against 10 groundouts, including two that started double plays. The right-hander also never reached a three-ball count on any hitter, only missing the strike zone 22 times out of his 88 pitches.
"That's more the way that I normally am," McCarthy said. "I settled in early, got comfortable and didn't throw more pitches than I had to."
The D-backs provided all the run support they would offer McCarthy in the first inning, when they jumped on Phillies starter Kyle Kendrick for two runs. Gerardo Parra began the afternoon with a leadoff homer, the second of his career. Later in the inning, A.J. Pollock drove a two-out RBI single to center, plating another run and putting the D-backs ahead, 2-0.
Eric Chavez looked like he was going to add another run in support of McCarthy in the third, but Domonic Brown reached over the left-field wall and stole a home run from the third baseman.
"You score two in the first and you don't score the rest of the game, that's asking a lot of your pitcher," Pollock said. "He did such a great job holding them the whole game, but for us, we're disappointed we couldn't scratch across even one more run."
Tyler Emerick is an associate reporter for MLB.com. This story was not subject to the approval of Major League Baseball or its clubs.