Beltre, Rangers blast Astros behind Tepesch
Slugger plates four, Texas homers thrice, hurler rebounds in Houston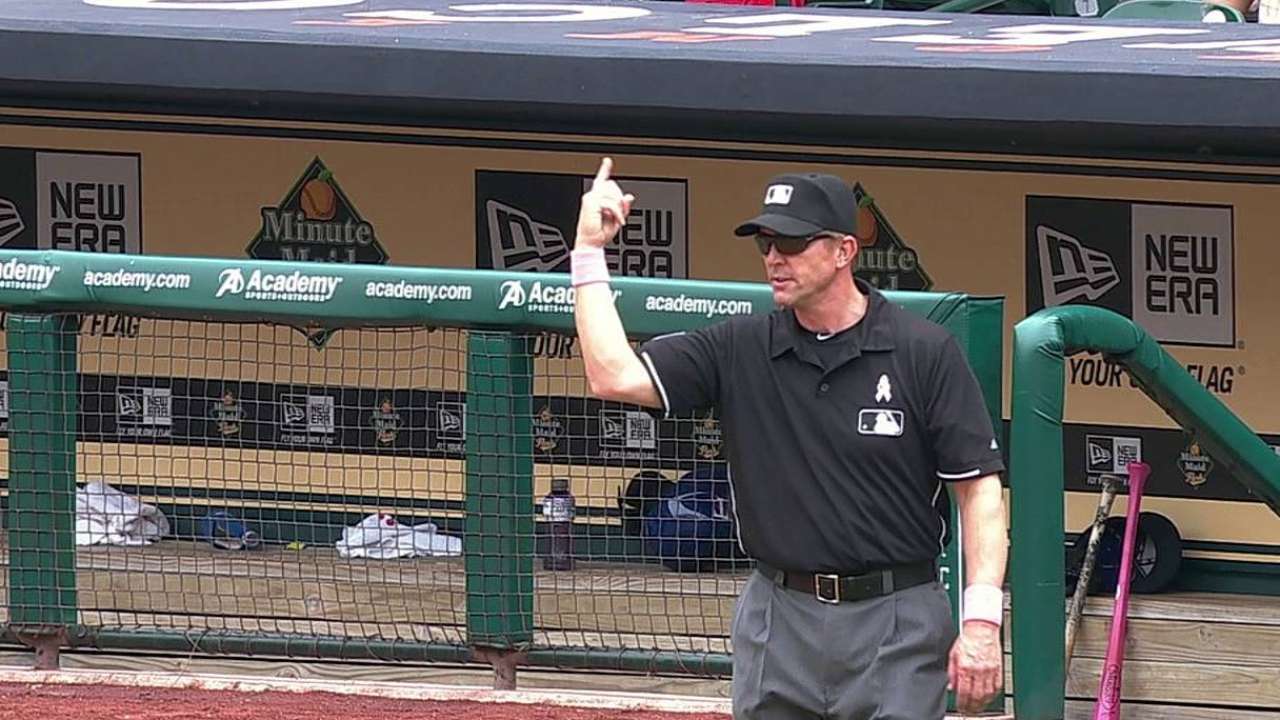 HOUSTON -- With the cavalry temporarily stalled in the Minor Leagues, Rangers starter Nick Tepesch pointed himself back in the right direction on Sunday afternoon. A major outburst by his offensive teammates helped him do that.
Tepesch held the Astros to one run over six innings while his teammates were bludgeoning their way to a season high in runs with a 12-7 victory at Minute Maid Park. The Rangers have now won four straight games and 15 of their last 22.
"Tepesch did a good job. ... He threw the ball over the plate and executed the game plan very well," Rangers manager Ron Washington said. "He had a good sinker working today, and his breaking ball had bite. He did a lot of good things today. Hopefully he got back on track."
Adrian Beltre had four hits, including a three-run home run, to lead the Rangers' offense. But rookie infielder Leury Garcia really had a blast in just his fourth start. He had three hits, four runs scored and his first Major League stolen base while filling in for Ian Kinsler at second base. The Rangers, with their third sweep of the season, have now won 19 of their last 23 games against the Astros.
"No matter who we're playing, we're trying to win," Beltre said. "The Astros may not be playing the best ball, but they got guys over there who want to win. We had to come here and produce and we did. It's always nice to sweep, whether it's the Astros, Angels or Oakland. It's not easy just because it's the Astros."
This was Tepesch's seventh Major League start, and he had lost his last two while allowing 11 runs in 10 2/3 innings. That had people wondering how fast Colby Lewis and/or Martin Perez could complete their medical rehabilitation assignments.
But Tepesch regained the fastball command that had eluded him in two previous starts. He limited the Astros to four hits and one walk while striking out a season-high eight batters. Tepesch is now 3-3 with a 4.03 ERA on the season.
"It was mainly about my fastball command and staying consistent with it," Tepesch said. "I thought it was pretty good today. It's something to build off and take into the next start, keep that same focus."
Lewis, on the other hand, made just one start on rehab assignment last Thursday and got through just two innings. He is now dealing with some triceps soreness, and the Rangers haven't scheduled his next start.
Perez, who is recovering from a broken left arm, made his second rehab start on Saturday night for Double-A Frisco and allowed eight runs in 3 1/3 innings. On Sunday, the Rangers activated Perez off the disabled list and optioned him to Frisco. That means he is recovered from the broken arm, but not ready to be an option at the Major League level. He will likely move up to Triple-A Round Rock later this week.
The Rangers will press on with Tepesch and fellow rookie right-hander Justin Grimm, who is 2-2 with a 3.45 ERA and pitches on Monday night in the opener of a three-game series against Oakland. The two rookies are battling to help the Rangers win games and defend their spots in the rotation.
"That kind of goes as an outside thing that I don't want to focus on," Tepesch said. "The main thing is sticking to who I am as a pitcher and doing what I can to help the team win."
The Astros have been searching for starting pitching help, but the Rangers were rough on Jordan Lyles, who was making his third start after being recalled from Triple-A Oklahoma 10 days ago. He lasted four innings, allowing eight runs on 11 hits and three walks.
Lance Berkman had an RBI double in the first to give the Rangers a 1-0 lead and David Murphy's two-run home run finished off a four-run rally in the third. The Rangers added three more in the fourth as the flustered Lyles even balked in a run.
"He just didn't have his fastball command," Astros manager Bo Porter said. "Against a ballclub like the Rangers -- they're a good-hitting team anyway -- you fall behind in the count and you put fastballs in the zone, they're going to do pretty much what they did today."
Edgar Gonzalez took over for Lyles in the fifth, but gave up a leadoff home run to Leonys Martin. Beltre finished it off with his three-run home run, which started out as a double and then graduated to four bases after an official review by the umpires. Replays showed the ball hit above the line on the left-field wall.
Mitch Moreland followed with a single, which was insignificant except it meant that every Rangers starter had a hit on Sunday afternoon. That's not too bad considering that Kinsler, Nelson Cruz and catchers A.J. Pierzynski and Geovany Soto were all out of the lineup. Robinson Chirinos, in his first start at catcher for Texas, contributed a double.
"Garcia was the one guy I didn't expect to have a big day today because he hasn't been in there very much," Washington said. "But he went up there and had a good game. That's what you like to see from your extra guys."
The Rangers hit nine home runs in three games at Minute Maid Park this weekend after hitting just 14 in their first 19 road games this season.
T.R. Sullivan is a reporter for MLB.com. Read his blog, Postcards from Elysian Fields, and follow him on Twitter @Sullivan_Ranger. This story was not subject to the approval of Major League Baseball or its clubs.