Series sweep puts Tampa Bay back above .500
Following Hernandez's solid start, Rays win fifth straight game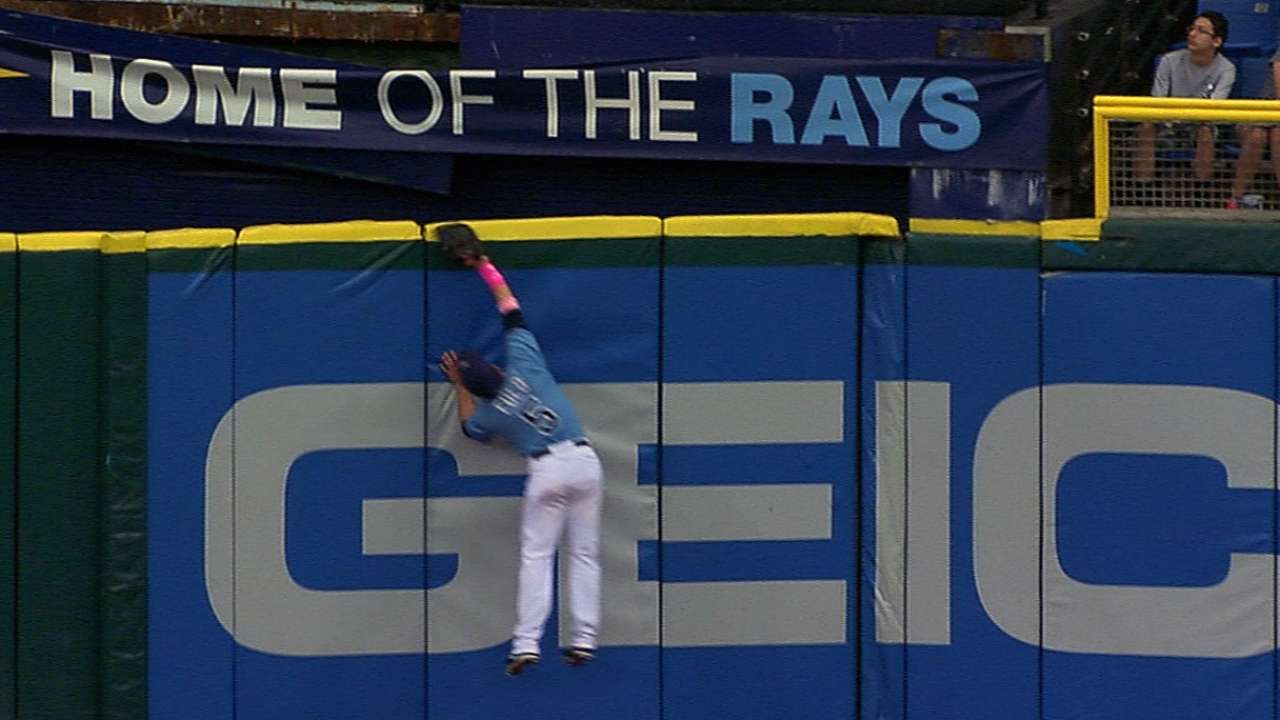 ST. PETERSBURG -- After the Rays' walk-off win Saturday night made them a .500 club for the first time since early April, manager Joe Maddon talked about what came next: that gradual climb, in increments of five, to where they want to be at the end of the season.
"Getting back to .500 is always difficult in this game when you're below," Maddon said Sunday. "You don't become satisfied, ever, with that."
So before they could worry about getting five games up, the Rays had to get back to one game above .500. They did that with a 4-2 victory Sunday afternoon against the Padres at Tropicana Field, their fifth straight win, which pushed them to their first winning record since April 6.
"That's huge for us," outfielder Matt Joyce said. "We needed it. We definitely needed something like this, for things to go our way and pick up some big wins. We're excited about the way things are going and looking forward to continue it into the next series."
While Sunday's win lacked the drama of Saturday's game, it was more of what several Rays called a familiar formula. There were no massive leads blown, no dramatic comebacks and no walk-off homers by Evan Longoria. There was just a solid pitching performance by Roberto Hernandez, solid defense with a few spectacular plays, three more clean innings from the bullpen and some key RBIs from the bottom of Tampa Bay's order.
"It was definitely more of a blueprint for what we expect to do," said center fielder Sam Fuld, who made a leaping, highlight-reel grab at the wall in the first inning. "It's nice when we can tack on some extra runs and not have to win every game by one or two runs, but, inevitably, that's going to be how we win a lot of our games."
It was how they won Sunday, giving Hernandez a one-run lead in the first inning on Jose Molina's sacrifice fly and another in the sixth with back-to-back RBI hits from Sean Rodriguez and Yunel Escobar. James Loney added an insurance run in the eighth, crushing his third homer of the season to right-center field off Padres reliever Dale Thayer.
Meanwhile, Hernandez breezed through the first three innings as he put together his second straight quality start. He gave up two runs on five hits and two walks while striking out four over six innings. The veteran right-hander allowed one run in the fourth, when Yonder Alonso tied the game with a single that scored Chase Headley, then served up a go-ahead solo homer to Padres second baseman Alexi Amarista in the fifth.
But that was all San Diego could manage against Hernandez, and Tampa Bay's bullpen took care of the rest.
"We just could not really mount any sustained offense today," Padres manager Bud Black said.
Lefty Jake McGee made his second straight perfect appearance in the seventh, setup man Joel Peralta struck out two in the eighth and closer Fernando Rodney picked up his sixth save in the ninth. Their scoreless outings ran the bullpen's shutout streak to 13 2/3 innings, perhaps signifying a turnaround after an often ugly start.
"[McGee] cannot throw the ball any better than he is," Maddon said. "Neither can Fernando. Neither can Peralta. The whole group looks really good to me right now."
That extends beyond the bullpen, as the Rays bounced back from two tough losses against the Blue Jays to finish this homestand by running out to their longest winning streak of the season. Their offense has been pacing the Majors for the past few weeks. Their defense remains a strength, as evidenced by Escobar's play at shortstop Sunday, Fuld's grab and Joyce's ninth-inning, over-the-shoulder catch in right field.
They have not been perfect, obviously, as they have lacked consistency in the starting rotation, and the bullpen is still not far removed from several disastrous outings. But they have talked a lot about picking one another up, and, for at least the past five games, they have seen contributions from just about everyone, including RBIs on Sunday from their fifth through eighth hitters.
"We've been playing well, different guys, all around," Loney said. "When you have a great team, that's what you need."
"It's nice to have some momentum," Fuld said. "Any time you can sweep any team ... it's great. We've just got to build on it and not make too much of it. It's still early."
Maddon, like Fuld, was not quite ready to say the Rays had officially turned a corner. The only reason their winning streak reached five, and not one, was because they managed to come back from yet another blown lead Saturday night. But if they can pitch like they did Sunday, that upward climb from .500 should not be all that steep.
"To come back and win really some difficult games against Toronto and against San Diego ... that really speaks to the group itself," Maddon said. "The hitting continues. The defense has been there. But now the pitching's going to start coming back to us, and then, heads up."
Adam Berry is a reporter for MLB.com. Follow him on Twitter at @adamdberry. This story was not subject to the approval of Major League Baseball or its clubs.