Another lead escapes Padres in series finale
Amarista homers, but host Rays come back off Stults in sixth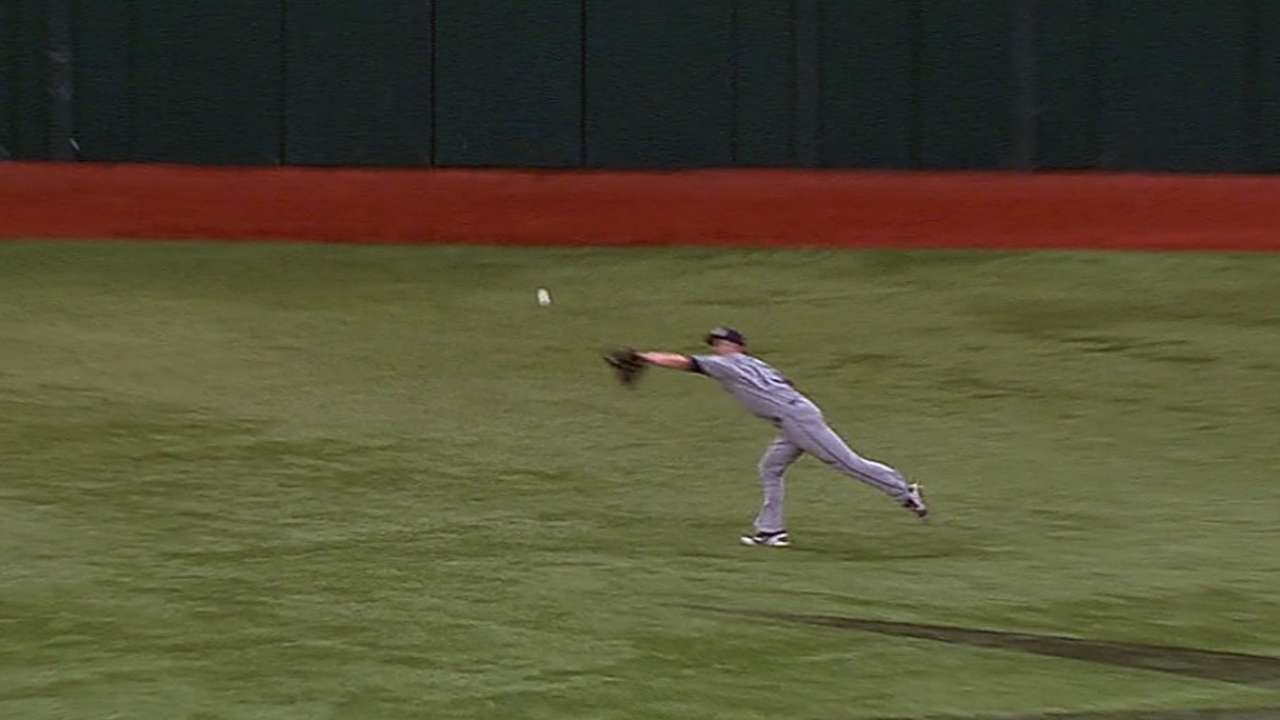 ST. PETERSBURG -- The tipping point for the entire weekend came with one out in the ninth inning Sunday, when Padres center fielder Chris Denorfia, who had a rough day at the plate, hitting into a double play and striking out, mashed a ball high and deep to right field.
Tampa Bay outfielder Matt Joyce drifted back, turned, looked lost and then, with his back facing the infield, had the ball drop into his glove just as he reached the warning track.
"I guess I took one away from them, and it's only fair they take one away from me," said Denorfia, who had made a diving catch in center field in the eighth inning.
Yes, it was that kind of weekend for the Padres.
For the third time in as many days, the Padres fell to the Rays, the latest a 4-2 decision Sunday in front of a crowd of 17,396 at Tropicana Field.
And for the third time in as many days, the Padres were reminded of the minute differences between winning and losing.
"Three, well-played, close games that didn't go our way," Padres manager Bud Black said. "We get a couple of pitches back, we win two of three games."
Don't be mistaken: Black's view was not a Pollyanna take on a lost series for the Padres (16-21), who are off Monday before opening a two-game series Tuesday in Baltimore.
The Padres had leads in the fifth inning or later in each of the three games they played against the Rays (19-18), who have won their last five games. For one reason or another, the Padres were unable to close out a victory.
On Friday, reliever Dale Thayer spiked a throw to first base on a bunt play, which paved the way for the Rays to score four runs in the seventh inning of a 6-3 victory.
On Saturday, the Padres got a pinch-hit grand slam by Jesus Guzman in the seventh inning and took a lead into the ninth inning before closer Huston Street yielded a walk-off, two-run home run to Evan Longoria in the bottom of the ninth inning for an 8-7 loss.
"With the exception of Friday, I thought we played pretty well," Padres right fielder Will Venable said. "Saturday and Sunday it was like, hang with 'em. The plays they made, the clutch hitting -- things just didn't go our way."
In the final game of the series, the Padres had a 2-1 lead going into the bottom of the sixth after Yonder Alonso had an RBI single in the fourth inning and Alexi Amarista hit a solo home run in the fifth.
San Diego pitcher Eric Stults (3-3) did not have his best stuff Sunday but allowed only one run through the first five innings.
He got a double-play ball to end the first. He loaded the bases with one out in the second but yielded only a sacrifice fly by Jose Molina. Then, Stults really dodged a bullet in the fifth.
Sam Fuld tripled to begin the inning but remained anchored there after he held, as Guzman made a sliding catch of a sinking liner in left field for the first out. After walking Kelly Johnson, Stults got a ball in on the hands of Ben Zobrist, who bounced into an inning-ending, 5-4-3 double play.
"He battled his command a little," Black said. "It looked as though he wasn't making his pitches. But he competed, battled."
Stults ran out of luck in the sixth, as Longoria doubled and moved to third base on a fly ball from James Loney. On a 3-1 count, Stults threw a changeup low and away to the right-handed hitting Sean Rodriguez, who reached out and poked a bloop single into center field to tie the game.
"I felt like I made a pitch in the location I wanted," Stults said. "He didn't put the best swing on it, but he put it in no man's land. Give him credit."
Stults departed at that point, having walked five and allowed three runs on five hits in 5 1/3 innings with two strikeouts.
"Today, to walk five, that's not my game," he said. "Today was a struggle for me. I didn't have a real good feel for my pitches."
Reliever Brad Brach, who entered the game for Stults, did not either. He uncorked a wild pitch that sent Rodriguez to second base with Yunel Escobar as the plate. Escobar then took a fastball the other way to right field for an RBI double and a 3-2 lead. Loney later added a home run for the final margin.
"It was frustrating, because I know I have to keep that guy [Rodriguez] off second, especially with the game tied," Brach said. "Just one of those things where I yanked it."
The Padres finished with two runs on six hits and struck out nine times, giving them 38 strikeouts in the three-game series.
"We didn't put the ball in play enough in this series," Black said.
Corey Brock is a reporter for MLB.com. Keep track of @FollowThePadres on Twitter. This story was not subject to the approval of Major League Baseball or its clubs.