Gio flirts with perfect game, but 'pen can't hold lead
Southpaw flawless through five frames, but plans go awry after his exit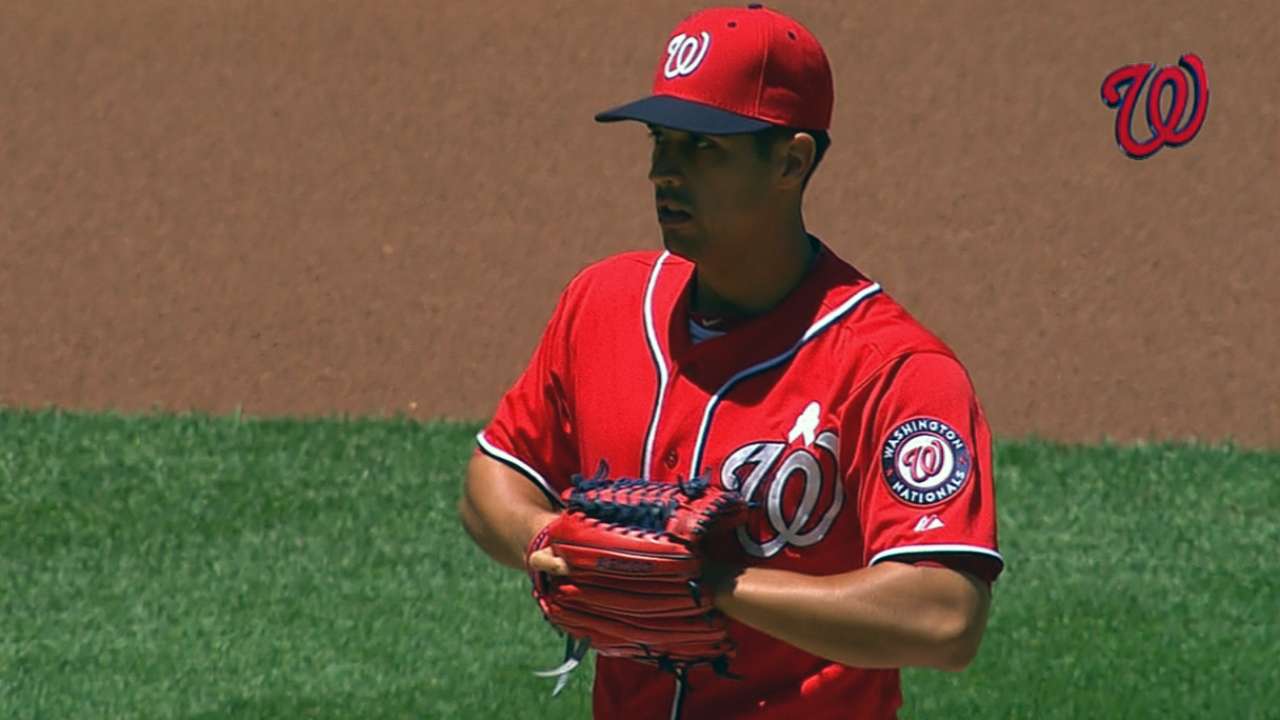 WASHINGTON -- Gio Gonzalez took a perfect game into the sixth inning on Sunday afternoon against the Cubs and made it out of the seventh with no runs on the board and a season-low pitch count of 86.
With the Nationals leading by one run, manager Davey Johnson elected to pinch-hit for Gonzalez. Once the lefty was out of the game, nothing went right for Washington.
The Cubs tied the score against Drew Storen in the eighth inning and pushed across the go-ahead tally in the ninth off Rafael Soriano, with the help of an unusual throwing error charged to catcher Kurt Suzuki. That gave Chicago a 2-1 victory in the rubber game of a three-game series in front of 38,788 at Nationals Park.
"It's just the way I manage," Johnson said of his decision. "You can chalk it up to me. You don't like it, chalk it up to me. It didn't work out."
The loss left the Nationals with two straight after a five-game winning streak and dropped them to 20-17 as they head out on a 10-game West Coast road trip that starts Monday at Dodger Stadium.
Ryan Zimmerman's first-inning RBI double provided the only scoring for Washington, which managed just five hits and went 1-for-9 with runners in scoring position while stranding eight runners. Those struggles left the Nationals' pitching staff with little margin for error.
That was no problem for Gonzalez, who got a no-decision despite giving up only two singles, walking one and striking out six. It was the left-hander's first scoreless outing since his season debut on April 3 against the Marlins. Since giving up a leadoff home run in his last start at Pittsburgh and loading the bases with no outs, Gonzalez has allowed one run in 13 innings.
"I thought he pitched well," Suzuki said. "He was aggressive, threw a lot of strikes with his fastball, got his curveball working early on in the game, changeup middle parts of the game and at the end he had everything working, so it was a good outing by Gio."
But Johnson, looking to add runs and take advantage of a rested bullpen, removed Gonzalez for Chad Tracy to lead off the bottom of the seventh. Tracy struck out to start a 1-2-3 frame against Cubs reliever Kyuji Fujikawa.
"I don't question Davey's job," Gonzalez said. "He's a great manager. He knows what he's doing. It's one of those tough situations. You have to learn to roll with the punches."
Storen entered to start the eighth and gave up a leadoff single to Dioner Navarro, who had broken up Gonzalez's perfect game to start the sixth. With pinch-runner Travis Wood on third two outs later, Starlin Castro hit a game-tying single up the middle. After another single by Cody Ransom, Storen got Anthony Rizzo to ground out to end the threat.
"You've got to get the first guy out," Storen said. "That's the main thing. But you make the pitch, get the grounder you want and the ball hits three feet in front of the plate and gets through the middle -- it's just, hang with them."
Bryce Harper walked to lead off the bottom of the inning against James Russell but was stranded at first.
Alfonso Soriano and pinch-hitter Julio Borbon started the ninth with consecutive singles off Rafael Soriano. One out later, with Welington Castillo batting, the Cubs went for a double steal.
Suzuki caught the pitch, sprang out of his crouch and fired toward third, but his throw hit enough of Castillo's bat to veer off course and well wide of the base, into foul territory. Soriano scored the go-ahead run. The play was not deemed to be interference, because Castillo remained still in the batter's box.
"It's the first time I've done something like that, let alone saw it," Suzuki said. "It's just one of those things where a freak thing happened."
Castillo, a catcher himself, said Suzuki tried to get the interference call, but to no avail.
On his way into third, Soriano said he was surprised to see Suzuki's throw sail.
"Suzuki is a great catcher," Soriano said. "I said to myself, 'I want to go to third.' I was surprised when the ball hit the bat. It was a huge break for us."
Kevin Gregg retired the Nationals in order for the save, with Suzuki getting ejected by home-plate umpire John Tumpane after taking a called strike three for the second out.
The last two innings put a damper on what looked to be a special day for Gonzalez. He needed only eight pitches to retire the side in order in the first and made it through five perfect innings on 56 pitches.
Navarro started the sixth with a slow roller between third base and shortstop. Ian Desmond ranged to his right to make the stop but had no chance to throw out Navarro. After a nice ovation from the crowd, Gonzalez got two outs before walking Castro and giving up a single to Ransom. Cubs third-base coach David Bell decided to hold Navarro to load the bases, and Gonzalez got Rizzo in a 1-2 count before inducing a groundout to first base.
The Nationals had given Gonzalez a 1-0 lead in the first, when Denard Span dropped a leadoff single into left-center field off Cubs starter Scott Feldman and scored on Zimmerman's double off the right-field wall two batters later.
But the Nationals missed a chance to blow open the game early after loading the bases with two outs. Danny Espinosa flew out to left field to end the inning, and Washington eventually left six runners in scoring position on a day of missed opportunities.
"We can't get down on ourselves," Span said. "We won five in a row and lost two in a row -- that's still winning five out of seven. We'll be fine. We're just gonna move on. You give credit to Chicago. They came in and did what they had to do, but we've gotta move on and we have a big task at hand on the West Coast."
Andrew Simon is a reporter for MLB.com. Follow him on Twitter @HitTheCutoff. This story was not subject to the approval of Major League Baseball or its clubs.