Cubs rally to take rubber match in Washington
Soriano scores go-ahead run in ninth on double steal, errant throw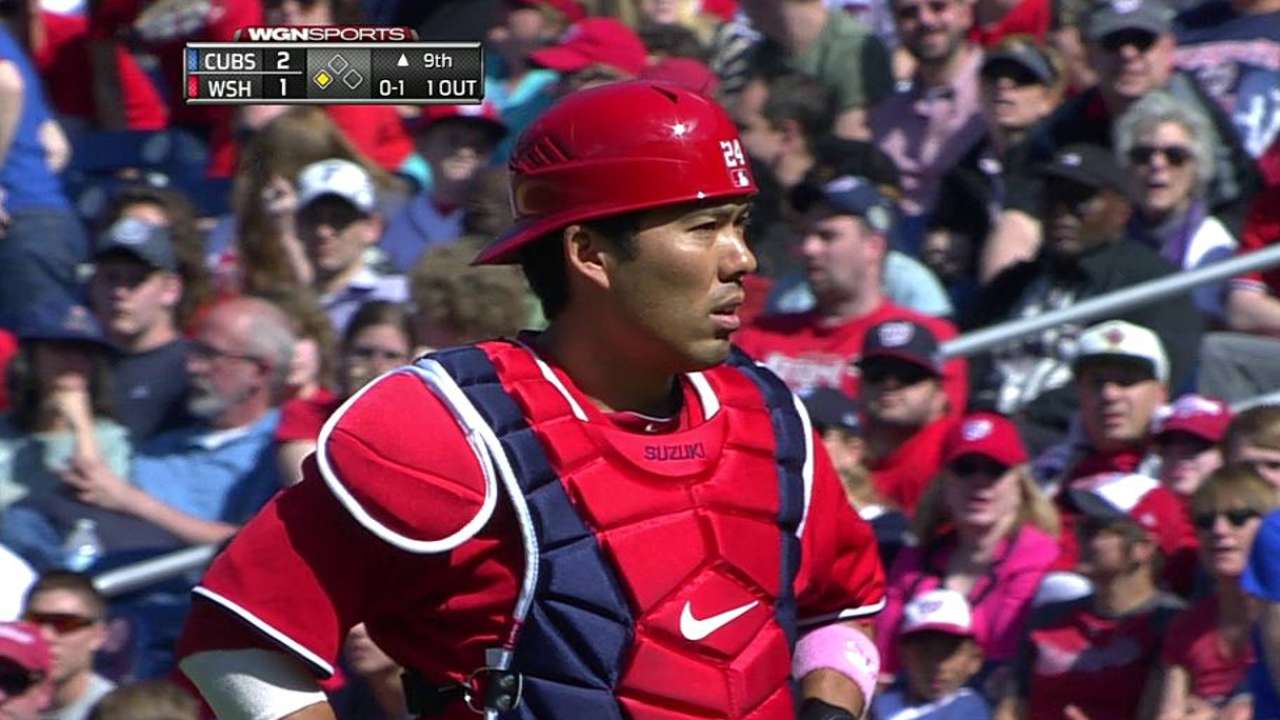 WASHINGTON -- All Welington Castillo had to do was stand still, and that was enough to help the Cubs beat the Nationals on Sunday afternoon.
Alfonso Soriano stole third and scored the game-winning run on a strange throwing error by catcher Kurt Suzuki during Castillo's at-bat in the ninth to lift the Cubs to a 2-1 come-from-behind victory over Washington at Nationals Park.
"Everything worked perfect for me and for the team," Soriano said.
And for the Cubs. With the game tied at 1 in the top of the ninth, Soriano singled off Rafael Soriano and moved up on pinch-hitter Julio Borbon's single. One out later, both runners broke on a double steal on the first pitch to Castillo. Suzuki's throw to third deflected off Castillo's bat and sailed into foul territory, and Soriano scampered home with the go-ahead run.
"That's the way you draw it up, that's what you're supposed to do," Cubs manager Dale Sveum said of Castillo's stance. "You're supposed to make the catcher get around you and don't let the catcher get a throwing lane."
Suzuki tried to get home-plate umpire John Tumpane to call interference on Castillo.
"I didn't move," Castillo said. "The only thing I said was I told the umpire, 'It wasn't interference, I didn't move.' The umpire said, 'I see you, I see that you didn't move.'"
Said Suzuki: "[The ball] hit it. It's the first time I've done something like that, let alone saw it. It's just one of those things where a freak thing happened."
It was a rough day for Suzuki, who was ejected in the ninth when he was called out on strikes.
"The catcher always takes it personally," Castillo said. "I understand his situation."
Soriano isn't going to swipe 40 bases as he used to do earlier in his career, but he can still be effective if he gets his timing right.
"I'll steal when the team needs it," Soriano said. "I feel I can do it. I had a good jump. I don't want to steal 30 or 40 bases, but I want to try to steal some bases when the team needs it."
It was a huge break for the Cubs, which have been few and far between this season.
"I was surprised when I saw the ball [sail]," Soriano said. "Suzuki is a great catcher. I said to myself, 'I want to go to third.' I was surprised when the ball hit the bat. It was a huge break for us."
James Russell picked up the win in relief, and Kevin Gregg picked up the save, his sixth in as many save situations. It was the 23rd game out of 37 to be decided by two runs or less for the Cubs, who were able to rally the last two games and beat stellar starters Stephen Strasburg and Gio Gonzalez -- both of whom were stingy.
"That showed a lot about the players," Sveum said of his team. "The first night, having [Jeff] Samardzija on the mound and things falling apart, and to come back and win both games against two of the best pitchers in baseball showed me a lot about these guys to do something like that."
The Cubs trailed, 1-0, in the eighth when Dioner Navarro singled to lead off against Drew Storen and moved up on a sacrifice by Darwin Barney. Navarro was replaced by pinch-runner Travis Wood, who advanced to third when pinch-hitter David DeJesus popped up for the second out.
Wood then scored on Starlin Castro's single to tie the game. Cody Ransom singled but Anthony Rizzo grounded out to end the inning.
For the first five innings, it looked as if the Cubs would be bringing back some very clean, unused pink bats from their Mother's Day game. The lack of offense was a complete reversal after the first two games of the series, when they reached double-digits in hits -- totaling 22, including 13 doubles.
Gonzalez gave up two hits over seven scoreless innings, needing just eight pitches to get through the first. All told, he retired the first 18 in a row before Navarro was safe on an infield single that shortstop Ian Desmond knocked down. Two outs later, Castro walked and Ransom singled to load the bases. Both Navarro and Ransom used pink bats, part of Major League Baseball's efforts to celebrate Mother's Day and raise awareness for breast cancer. But Gonzalez got Rizzo to ground out to first baseman Adam LaRoche.
Chicago starter Scott Feldman did not factor in the decision for the first time this year. He began the season 0-3, but had won his last three starts heading into Sunday's game. Sveum complimented the right-hander's command, saying it's taken a little longer for Feldman to get a feel for his pitches.
"He's throwing the ball wherever he wants," Sveum said. "You just hope it continues."
Feldman had a rough first. Denard Span doubled to lead off, and one out later, Bryce Harper walked to set up Ryan Zimmerman's RBI double off the right-field wall. Feldman needed 29 pitches and faced seven batters that inning.
"It looked like he was struggling, but it was more pitching around guys who were hot and who you didn't want to beat you," Sveum said. "He obviously settled down and pitched well again."
"I didn't have the greatest feel in the first," Feldman said. "I was just trying to stay out of the big inning and not let certain guys beat me. Zimmerman hit that ball really well, and luckily it only went for a double today and not a homer. ... Today, two runs was enough."
Feldman had seen Desmond for the last two days, and he didn't want to deal with his hot bat.
"It seems like he's seeing the ball really well right now and putting some good swings on it," Feldman said. "For me, that was the guy I wasn't going to let beat me today. They have a great lineup, and it's tough to pick your poison. The way he's been swinging, he was the guy for me today. I wasn't going to give in."
The Cubs won their first series in Washington since 2010.
"Hopefully, this translates into more wins," Feldman said of the last two games. "We can start believing in each other even more and know we can compete on a high level with a great team over there and get a series win."
Carrie Muskat is a reporter for MLB.com. She writes a blog, Muskat Ramblings, and you can follow her on Twitter @CarrieMuskat. This story was not subject to the approval of Major League Baseball or its clubs.