Sale aces Angels with dominating one-hitter
Lefty perfect until one out in seventh; Ramirez, Rios deliver RBIs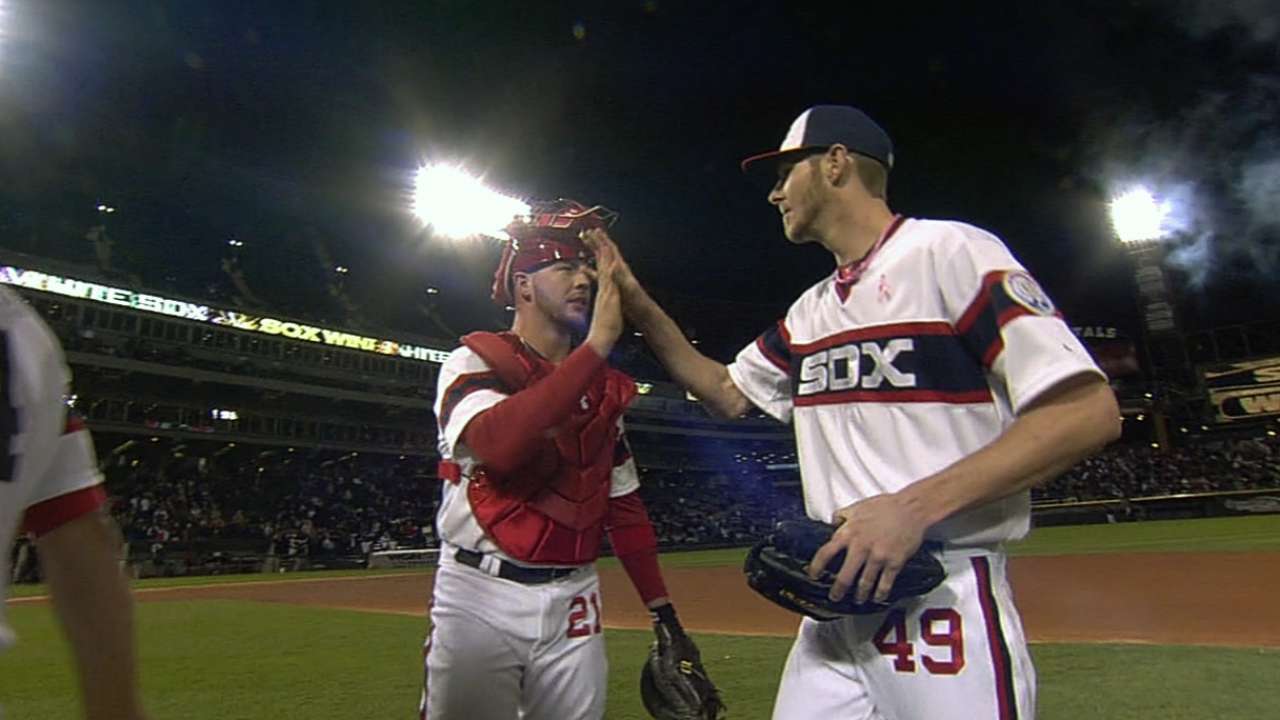 CHICAGO -- A mere 14 pitches thrown over two innings, and just 27 needed to complete three unblemished frames.
Only one play over the first six innings even resembling a hit and just one three-ball count that could interrupt perfection.
As White Sox starter Chris Sale moved quickly and forcefully toward baseball immortality during his team's 3-0 victory over the Angels before 22,088 Sunday night at U.S. Cellular Field, one thought danced through his mind. It had nothing to do with how the 24-year-old would celebrate the fourth perfect game in franchise history.
"There's no way this is going to happen," said a smiling Sale, drawing a laugh from the media assembled in the U.S. Cellular Conference Learning Center after the southpaw faced one batter over the minimum in his first shutout.
"I said it early, if it was meant to be, it would have happened," Sale said. "It just didn't happen. No big deal."
Maybe Sale can be so nonchalant about coming one hit and one Alexei Ramirez ninth-inning error away from perfection because he takes no-hit stuff to the mound almost every time he pitches. Then again, maybe the perfect game being broken up with one out in the seventh by a single up the middle from Mike Trout, one of the game's top young talents, makes the brush with greatness easier to handle.
Ultimately, though, Sale is focused on one thing and one thing only -- giving the White Sox a chance to win every fifth day. He accomplished that goal last Monday in Kansas City after a less-than-efficient start and did the same Sunday night. In both cases, the ace helped prevent the White Sox from enduring a three-game sweep.
"Honestly, I didn't wake up this morning and say, 'I want to throw a perfect game or a no-hitter,'" Sale said. "I come to the ballpark every day when I'm pitching and just want to keep my team in the game and win this game. That's the most important part at the end of the day."
"That's a tough assignment," said White Sox manager Robin Ventura of Sale serving as the streak stopper. "He understands how it's been going, so you need a guy that can go out and put together a game like that and give you a chance."
Trout grounded a 2-0 fastball up the middle against Sale (4-2), coming one batter after Ramirez took away a hit from Alberto Callaspo by ranging behind second to glove his grounder and then making a perfect spinning throw to first baseman Paul Konerko. The crowd gave Sale a standing ovation after the single, with Albert Pujols stepping out of the box to let Sale soak in the adulation for a moment.
While the perfect game or no-hitter certainly wasn't a given, it was apparent early on that the Angels (14-23) were in for a tough night.
He went to a 3-0 count on Brendan Harris to start the third, but came back to retire him on a ground ball to third baseman Jeff Keppinger. Howie Kendrick also hit a long drive to right with two outs in the second, but Alex Rios made a nice running catch in the corner. Sale fanned seven and faced one batter over the limit, with Chris Iannetta being erased in the ninth by a double play.
"I don't think they had a chance against him tonight, seriously," said Rios of Sale.
"Everybody has good nights," Angels right fielder Josh Hamilton said. "Sometimes they have phenomenal nights."
Even with Sale's brilliance, one problem remained for the White Sox (15-20). They couldn't score against C.J. Wilson (3-2).
Casper Wells doubled in the second with two outs, but was thrown out at the plate by Hamilton on Tyler Flowers' single. One-out walks to Konerko and Dayan Viciedo set up a White Sox rally in the fourth, but Mark Trumbo made a diving catch on Keppinger's liner to left and Hamilton tracked down Wells' drive to right.
Ramirez got to third in the sixth via a single and two stolen bases, but was stranded there when Keppinger flew out. It wasn't until the bottom of the seventh, after Trout broke up the perfect game, that the White Sox scored via Ramirez's two-run, two-out single and Rios' double.
Sale's 19 batters in a row retired were the most recorded by a White Sox starter during the 2013 season. Jose Quintana had retired 18 straight over two starts on April 12 and 17. With Sale's fastball command and changeup forming a formidable combination, along with a few devastating sliders mixed in for good measure, Ventura was able to enjoy his 100th career victory as a manager.
Just eight outs kept this night from being perfect for Sale, Ventura and the White Sox.
"Thought we were going to get it, but that's a pretty good lineup over there," said Flowers of Sale's first career shutout and second complete game. "It wasn't a bad pitch to Trout either. It was a pretty well located sinker down in the zone. Just tip your hat on that. He threw the ball outstanding all day."
"It was a really well-pitched game," said Wilson, who allowed three runs over 6 2/3 innings. "And Sale just had video-game stuff tonight."
"He's one of the best in the game. There's no doubt about that," said Sale of Trout. "If you are going to give it up, you might as well give it up to him."
Scott Merkin is a reporter for MLB.com. Read his blog, Merk's Works, and follow him on Twitter @scottmerkin. This story was not subject to the approval of Major League Baseball or its clubs.