Lutz's first HR backs terrific Arroyo in sweep
Prospect knocks three-run shot as righty throws 6 2/3 scoreless frames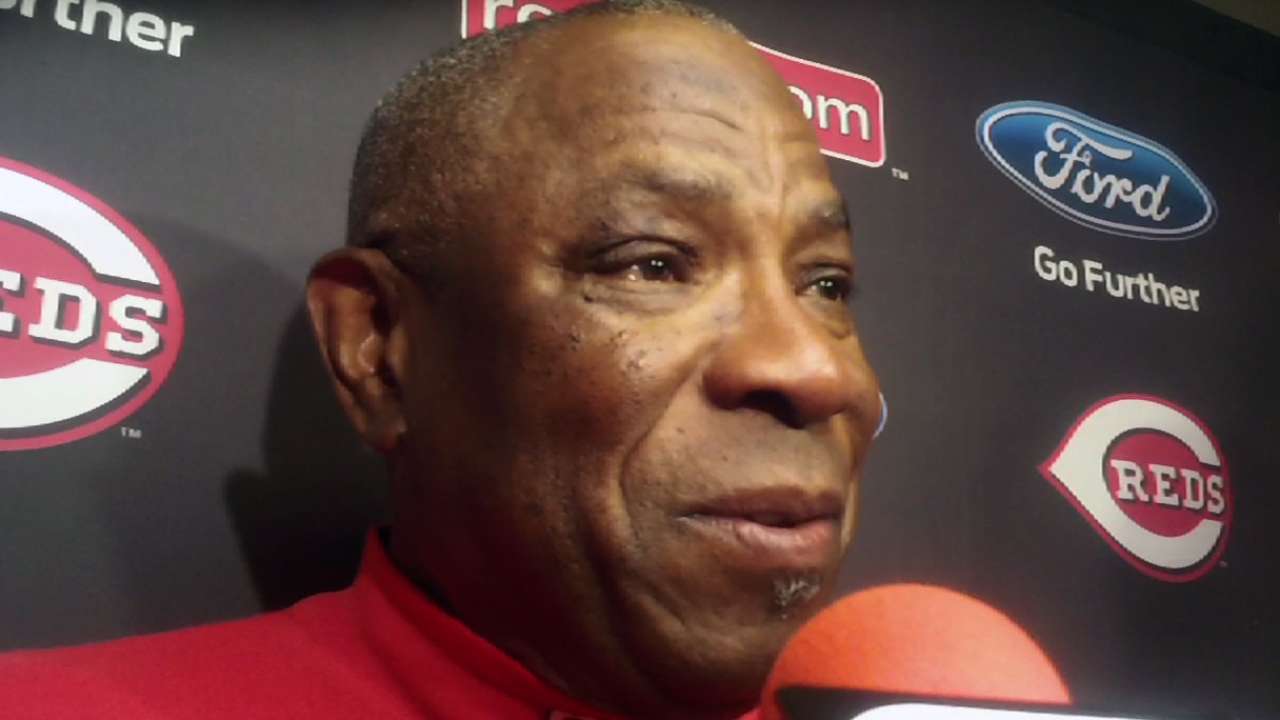 CINCINNATI -- Mother's Day is recognized in Germany, too, so Reds rookie outfielder Donald Lutz made sure to call his mother, Marlen, at home about an hour before Sunday's game vs. the Brewers.
"It was pretty funny when I called her [to say] Happy Mother's Day," Lutz said. "She said, 'What's wrong with your voice?' Because I've seen sick. She said, 'Make sure you take your vitamins.'"
Lutz, the first German-developed player to reach the Majors, had more than enough strength to help power the Reds to a 5-1 win over the Brewers for a three-game series sweep. In the bottom of the second inning against Wily Peralta, Lutz hit his first Major League home run.
"That was a big home run by big Lutz," Reds manager Dusty Baker said. "His first home run, so we were just afraid to slap hands with him, because he's got some heavy hands."
To begin the bottom of the second inning, Brandon Phillips and Jay Bruce hit back-to-back singles. With one out, the left-handed Lutz pulled a 0-1 Peralta fastball up and in and sent it quickly to right field.
Auf Wiedersehen, baseball.
Lutz's drive hit the foul pole, giving the Reds a 3-0 lead.
"That's the pitch we wanted," Brewers catcher Martin Maldonado said. "We talked about that in the meeting, and then tried to throw a perfect pitch, and he got a good swing on it. It's weird. Especially to keep it fair -- that's a good piece of hitting right there. The funny part was, as soon as he hit it, I thought it would be foul. But it didn't go. That's the game, right there."
Called up from Double-A Pensacola on April 29 when Chris Heisey went on the disabled list, Lutz is hitting .316 in nine games. Until the homer, all of his hits were singles. A big 6-foot-3, 251-pound 24-year-old, he wasn't stressing over not hitting one out -- even if he might be on borrowed big league time, as Heisey is close to returning from a strained hamstring.
"Obviously, it's a big one and helped us win the game and stuff," said Lutz, who played hockey as a teenager before being turned on to baseball by his brother Sascha. "It wasn't like 'OK, I have to hit one now. I told everybody whenever it happens, it happens.' I already had more singles here than I had in the Minors the whole six weeks."
After the ball hit the pole and bounced back on the field, a fan picked it up from the dirt near the wall. The Reds were able to work out an exchange with the fan to get Lutz the ball as a keepsake. Eventually, Lutz will give the ball to his mom, who watched the game from Germany, according to her son.
For Reds starter Bronson Arroyo, the homer helped him gain command of the game on a day when he wasn't feeling his best.
"You don't want to keep zeros on the board early in the game," Arroyo said. "We popped three [runs] up there, and it makes the offense feel good and it doesn't feel like a one-day thing after putting up 13 yesterday. I think it helped us a lot."
Poor Brewers defense gave Cincinnati another run in the third inning. Joey Votto was on first base with a one-out single when Phillips bounced back to the mound. Given an easy shot at an inning-ending double play, Peralta made an error throwing to second base that left everybody safe. Next was Bruce, who grounded a potential double-play ball to second base. Shortstop Jean Segura's throw to first zipped into the camera well behind first base, letting Votto score.
Arroyo had no such issues as he and the Reds kept Milwaukee in check much of the day. A one-out walk to Segura in the first was erased when catcher Ryan Hanigan threw him out trying to steal for the third out. Arroyo gave up Yuniesky Betancourt's leadoff double in the second inning and retired the side in order with two called strikeouts.
In the fourth inning, Segura hit a leadoff double and Betancourt lofted a soft one-out single before Arroyo escaped by getting Maldonado to ground to shortstop for the inning-ending double play.
Arroyo pitched 6 2/3 scoreless innings overall and allowed five hits with one walk and five strikeouts to snap a personal three-start losing streak. It also snapped a nine-game streak without a quality start for the Reds rotation.
"I was laboring every inning," said Arroyo, who threw only 87 pitches. "It probably didn't look like that. After the sixth, I told them those 65 pitches felt like 90 and to just be aware of that to have somebody ready to go. I knew I was getting away with some pitches I normally wouldn't, and that game could get out of hand quicker than you thought."
In the seventh inning against Brewers reliever Mike Fiers, pinch-hitter Xavier Paul sent a 2-0 pitch to right field for a home run. It was the fourth homer as a pinch-hitter in Paul's career.
In the eighth inning, a beach ball found its way onto the warning track in left field, and Lutz called for a timeout. He twice tried to whack the ball back into the seats before it floated back onto the field.
Finally, Lutz just gave up and handed the beach ball to a bat boy.
"I should have just stomped on it and put it in my pocket," Lutz said with a smile.
Fortunately for the Reds, Lutz hits baseballs better than he disposes of beach balls.
Mark Sheldon is a reporter for MLB.com. Read his blog, Mark My Word, and follow him on Twitter @m_sheldon This story was not subject to the approval of Major League Baseball or its clubs.