Peralta uneven, bats quiet in loss to division foe Reds
Righty allows four runs in eighth straight loss to an NL Central rival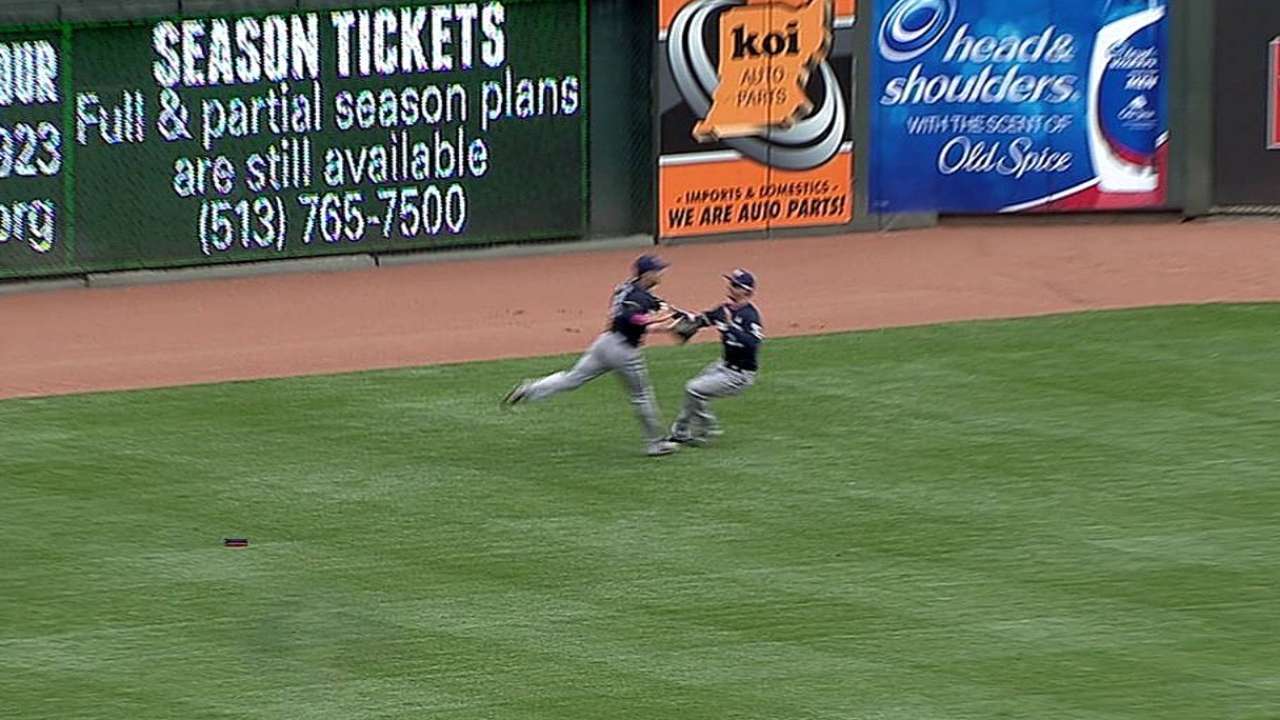 CINCINNNATI -- Ach du lieber -- good heavens! -- the Brewers are in trouble if they can't beat the best teams in their own division.
The first German-developed Major Leaguer hit his first career home run on Sunday, and Donald Lutz's three-run shot off the foul pole sent the Reds to a 5-1 win over Wily Peralta and the Brewers to cap a three-game Cincinnati sweep.
Milwaukee fell five games under .500 with its ninth loss in 10 games, including eight straight losses against National League Central rivals. Over the past 11 days, the Brewers have been swept by the Cardinals in four games and the Reds in three.
"No doubt, they're going to be our competition along with Pittsburgh -- we know that Pittsburgh is good also," said manager Ron Roenicke, whose club flew to the Steel City on Sunday night for a four-game series. "Yes, we need to play well against those teams knowing that's who we're going to have to beat if we're going to win this division."
So far, not so good. Milwaukee is 7-11 against divisional opponents, but that includes a 5-1 mark against last-place Chicago.
Is it time to worry about these Brewers?
"I've seen what we've done the last couple of years. I still know we can put together good stretches," Roenicke said. "At this time of the season, it doesn't take much. It takes one nice stretch, whether it's for one week or a couple weeks, and you're right back in it."
Pitching, particularly starting pitching, has been the team's chief culprit during the skid, though Peralta (3-3) fared reasonably well on Sunday aside from one powerful swing by Lutz. Peralta lasted six innings and allowed five hits and four runs, one of which was unearned because of his own throwing error in the third inning.
By then, the Reds already had a lead. After Brandon Phillips and Jay Bruce singled to start the second inning, Lutz hit his one-out home run on a high-and-tight, 94-mph fastball from Peralta for a 3-0 Cincinnati lead.
There was universal consensus in the Milwaukee clubhouse: Lutz hit a very good pitch.
"That's the pitch we wanted," catcher Martin Maldonado said. "We talked about that in the meeting, and then tried to throw a perfect pitch, and he got a good swing on it. It's weird."
He added: "Especially to keep it fair -- that's a good piece of hitting right there. The funny part was, as soon as he hit it, I thought it would be foul. But it didn't go."
"I think he hit a great pitch," said Peralta, who would throw the same pitch again. "I don't think he's going to hit that one again. Two times in a row, I don't think so. ... That made the difference in the game."
The next inning, Peralta had a chance to initiate an inning-ending double play, but rushed his throw and fired the baseball low, wide and into the outfield for an error that left runners at the corners and one out. Bruce followed with a potential double-play grounder to Rickie Weeks, but shortstop Jean Segura's relay to first was wild and another run scored.
"Things are not going well for us," Roenicke said. "The other teams are doing everything right, and we're not playing well."
Xavier Paul extended the lead to 5-0 in the seventh with a solo home run off recently-recalled reliever Mike Fiers.
The Brewers' bats went silent Sunday against Reds starter Bronson Arroyo, who scattered five hits and a walk in 6 2/3 scoreless innings with five strikeouts. He improved to 3-4 this season and 14-10 in 30 career starts against Milwaukee.
"I didn't have a whole lot of stuff. I was grinding from inning one," Arroyo said. "Eighty-six, 87 [mph] was the top end for me. The wind was blowing at my back down on the field, and up top it was blowing out. It's a terrible mix for me, because you can't make the ball move down on the field. But if they hit it, it's going to take off."
The Brewers were 2-for-12 with runners in scoring position and scored their only run on a Jonathan Broxton passed ball in the eighth inning.
Some of their best opportunities came early, but Arroyo retired three straight batters after Yuniesky Betancourt's double leading off the second inning, and he retired Maldonado on an inning-ending double play with runners at the corners and one out in the fourth.
If the Brewers were searching for positives, there was Peralta, who -- thanks to his error -- was credited with a quality start for the fourth time in his last five outings. For the second straight start, he said, his mechanics felt sound, and his offspeed offerings were sharp.
"The last two outings, he's been more focused," Maldonado said. "Like I told you guys before, he can be as good as anybody in this game. He's calm 'down the hill,' good secondary stuff. I think he threw the ball great."
Adam McCalvy is a reporter for MLB.com. Read his blog, Brew Beat, and follow him on Twitter at @AdamMcCalvy. This story was not subject to the approval of Major League Baseball or its clubs.