Slumping Royals drop finale to Yankees
Club has lost six of seven contests after a four-game win streak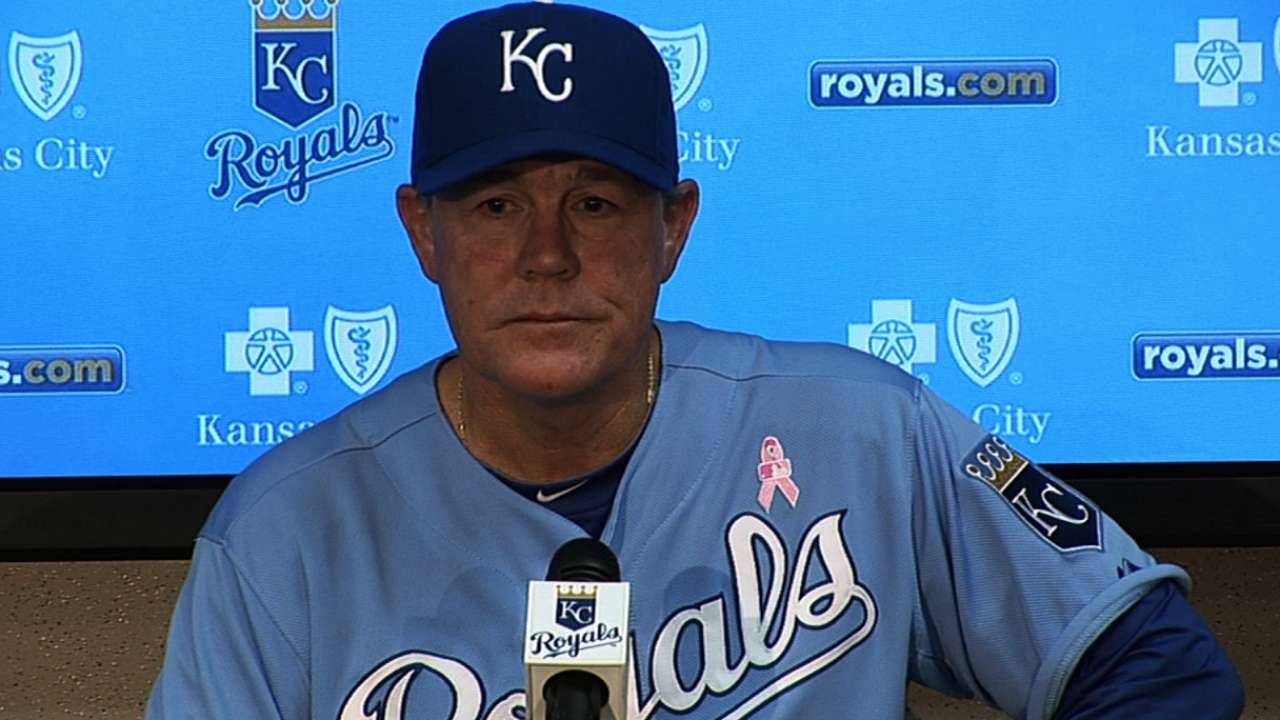 KANSAS CITY -- Mariano Rivera was saluted for his contributions to the game, Robinson Cano was booed for his snubbing of Billy Butler and the New York Yankees generally brought Kauffman Stadium to life over the weekend.
But, hoo boy, were the Royals happy to see them get out of Dodge.
The Yankees completed a three-game sweep of the Royals with a 4-2 victory on Sunday as a Mother's Day crowd of 29,515 populated sun-splashed Kauffman Stadium. Hiroki Kuroda notched the win for the Yanks, and Cano and Vernon Wells pounded home runs.
The series, which constituted the entire KC homestand, drew a total of 84,946 spectators even though the Yankees' lineup is without such big names as Derek Jeter, Alex Rodriguez, Mark Teixeira and Curtis Granderson, all on the disabled list.
"It doesn't matter about the names," said Ervin Santana, the Royals' losing pitcher. "If you do the little things, you're going to win games. That's how it is."
The Yankees, doing the little things, have won five straight. The loss was the sixth in the last seven games for the Royals, the slide coming just after a four-game winning streak.
So now the Royals are in a position of trying to brush off their first lengthy spin of the season with optimistic talk.
"It's the ebb and flow of a Major League season," manager Ned Yost said. "You have ups and you have downs and you've got to be able to weather the downs. You've got to stay positive and you've got to continue to keep working. We could very easily go on the road and turn it around and have a big road trip. That's what we're looking forward to doing."
The Royals headed off on a nine-game trip to Anaheim, Oakland and Houston.
"Experienced players don't panic in these situations because they've been through it," Yost said. "That's the worst thing you can do. You just keep plugging away. So our veteran players are guys that have been through it and are there to help and coach the younger players through these situations, just like the coaching staff does, just like I do. They play a big part in it."
Sure enough, right after the game there was battle-tested pitcher James Shields, resplendent in his traveling suit, facing the TV cameras with calming words.
"It's still early in the season," Shields said. "Bottom line, today we were going into the day a game and a half back. We're still right in the hunt. But it's a long season. I've experienced 11 games back going into September and making the playoffs. So anything can happen. There's no panic here."
Santana, who also has postseason war scars, boiled it down to this: "Just turn the page, just keep playing with the same mentality and just play hard."
The Royals remained 1 1/2 games out in the American League Central, trailing Cleveland and Detroit. The Yankees, 10 games over .500, are a game ahead of Baltimore in the AL East.
The Bronx Bombers trailed briefly on Sunday.
Jarrod Dyson, off the bench and batting leadoff for the first time this season, opened the Royals' first inning against Kuroda with a double past first base and down the line. Alcides Escobar bunted him to third and Dyson scored on Alex Gordon's sacrifice fly to center.
Santana avoided the first-inning pitfall that has sometimes plagued him this season, but he ran into trouble in the Yankees' third.
Chris Stewart singled and, after two were out, Cano belted a two-run homer to right field. So now Royals fans, already angry with Cano for leaving Butler off last year's All-Star Home Run Derby team, had another reason to be peeved.
Cano has a way of generally annoying KC fans. In 33 games in Cowtown, he's batted .320 (41-for-128) and hit four home runs with 20 RBIs.
"I don't necessarily think this is a home run park here, in a sense, especially when you come early [in the season]," Yankees manager Joe Girardi said. "He's just a really good hitter. Maybe he likes the barbecue."
It was Cano's 10th homer this season and he continued his long-ball success against Santana. This was his sixth homer in 39 career at-bats against the right-hander, although Cano shrugged that off.
"I never had that in my mind that I had success against anybody or even struggle or anything like that," Cano said. "Just go out there, it's a different ballgame."
Wells, who had never homered off Santana in 25 previous at-bats, decided that looked like a good idea. So he followed with a blast to left field for a 3-1 Yankees lead. And that held, although each team would score another run before the end.
Rivera, on his farewell tour, was saluted by the Royals before the game and proved to be an imposing presence right to the end of his Kansas City stay.
In the ninth inning, he pitched past a leadoff single by Eric Hosmer, induced a double play and proceeded to notch his 15th save this season, the 29th straight over the Royals and the 623rd of his career.
"As a fan, it was an awesome experience to see the presentation at the beginning of the game and, as a baseball player, it was an honor to face him," Hosmer said. "I grew up watching him. I remember being with my parents watching them win the World Series. It was a dream come true to face him and just to be on the same field with him in his last year."
Dick Kaegel is a reporter for MLB.com. This story was not subject to the approval of Major League Baseball or its clubs.