Yankees roll to fifth straight win, sweep Royals
Cano, Wells belt consecutive homers to set the tone for solid Kuroda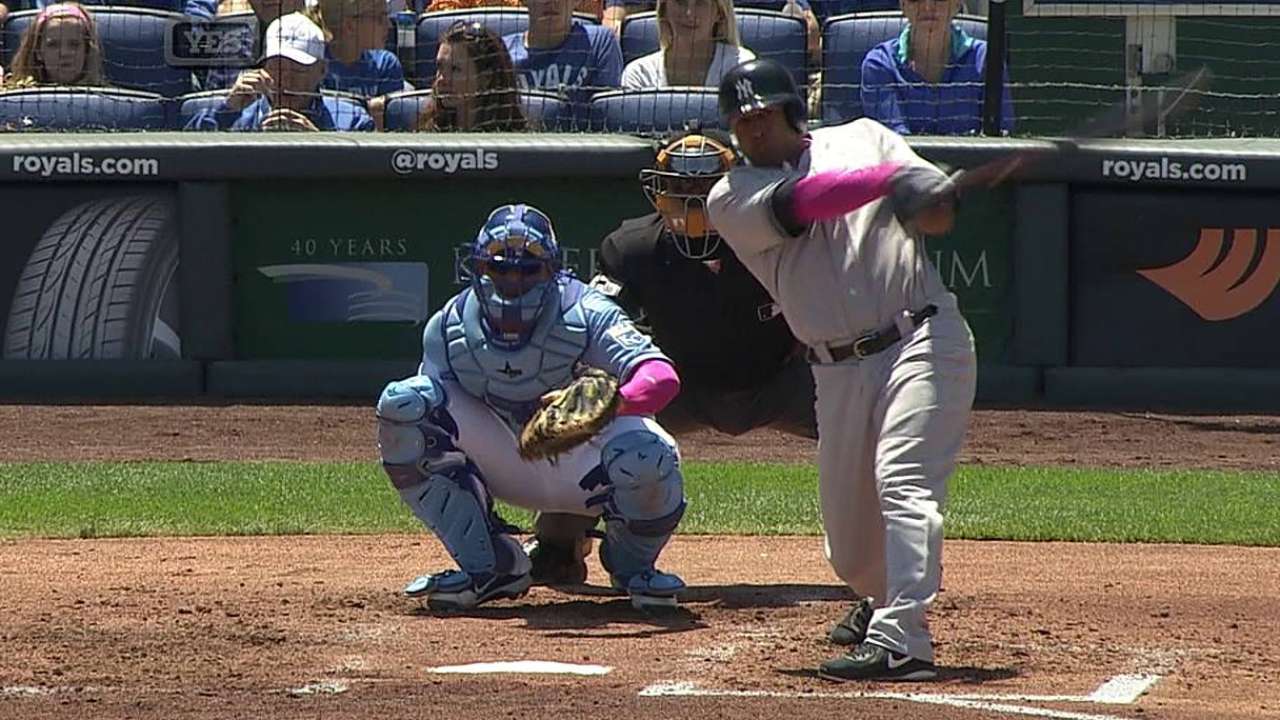 KANSAS CITY -- Robinson Cano said that as he stands at home plate, the swirling winds and distant outfield gaps of Kauffman Stadium make it a challenging location to collect home runs.
Cano and Vernon Wells didn't seem to have much trouble on Sunday, blasting back-to-back blasts to lead the Yankees to a 4-2 victory over the Royals, securing a series sweep and their fifth consecutive win.
"I just go to the plate with a [mindset] that I'm trying to go there and get a pitch that I can make good contact," said Cano, who owns a team-leading 10 home runs. "This is a tough place to hit homers."
Hiroki Kuroda pitched into the eighth inning to win for the third time in four starts, and Wells stroked three hits while homering in consecutive games as the Yankees improved to 10 games above .500 at 23-13.
It would be fair to say that the Yankees are pleased by the way they have exceeded expectations thus far, considering how many injuries they have absorbed, but Wells said that they also recognize there is plenty of time left on the clock this season.
"I think you like being in this situation, but at the same time, this game has a funny way of slapping you across the face at any point in time," Wells said. "We'll go out and have the same mentality -- to continue to get great starting pitching and score enough runs to support those guys."
Royals starter Ervin Santana permitted four runs in 6 1/3 innings. Using a pink Mother's Day bat, Cano blasted a two-run shot over the right-field bullpen in the third inning, and Wells followed by clearing the left-field wall with his ninth home run.
Wells tacked on a fifth-inning RBI single to support Kuroda, who improved to 5-2 with a 2.31 ERA as he completed 7 2/3 innings of two-run ball.
The right-hander said that he didn't have his best stuff because his slider and split-fingered fastball were not as effective as he would have liked.
"I don't feel like I was particularly good today, but as always, [Chris] Stewart called a great game," Kuroda said through an interpreter.
Alex Gordon connected for a first-inning sacrifice fly, and Alcides Escobar logged an eighth-inning RBI groundout against Kuroda, who scattered six hits while walking one and striking out one.
"I thought he was pretty good," Stewart said. "He wasn't spot on, but other than that, I thought he was pretty good. He was throwing his two-seamer really well in the zone, getting a lot of ground-ball outs, throwing his offspeed when he needed to."
Kuroda is generally a cool customer on the mound, but he flashed his temper with home-plate umpire Laz Diaz in the eighth inning.
"I've never seen that from Hiro," manager Joe Girardi remarked. "But every competitive guy has that in him."
Asked about the exchange, Kuroda replied, "I don't remember," drawing laughter.
"It was the heat of the moment during the game, so I was kind of fired up, which is something I don't like to do," he said.
It appeared that Kuroda thought a 2-0 pitch to Gordon should have been ruled a strike, but instead the 3-0 count changed the way he had to go after Gordon, who then doubled.
"I thought it was a strike, but they missed it. It happens in the game," Stewart said. "It's just unfortunate that the guy got a double after that, and Hiro couldn't get that last out. But we got the win, so that's all that matters."
Wearing bright pink spikes in honor of Mother's Day, David Robertson entered to get the final out of the eighth, and Mariano Rivera pitched a scoreless ninth inning, getting a key double play as he notched his 15th save in as many chances this season.
"I've been having the opportunities," Rivera said. "The guys have been doing a tremendous job, from the rotation to the bullpen to the offense. On top of that, we've been playing great defense."
The Yankees opened play on Sunday in sole possession of first place in the American League East for the first time in 2013, and are now 22-9 (.709) since April 7 as they head to Cleveland for a makeup doubleheader on Monday.
"These guys have gotten it done, different ways, different guys every night," Girardi said. "The pitching has been very, very good. We've continued to lose players during the season. These guys have done a great job."
Bryan Hoch is a reporter for MLB.com. Follow him on Twitter @bryanhoch and read his MLBlog, Bombers Beat. This story was not subject to the approval of Major League Baseball or its clubs.