Offense can't overcome Diamond's rough outing
Twins held scoreless for only second time; Mauer extends streak to 11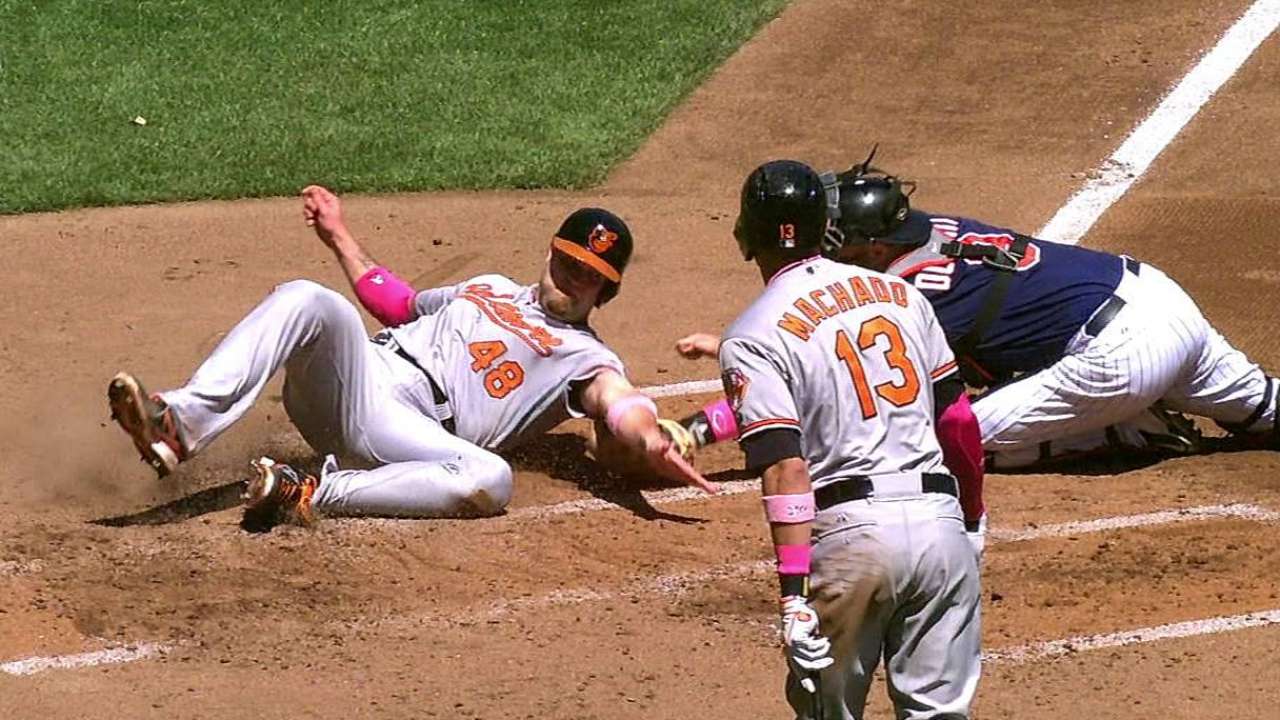 MINNEAPOLIS -- As a groundball pitcher who doesn't throw a sinker, Scott Diamond relies on his location to be effective.
Diamond, who throws a four-seam fastball that cuts instead of the typical two-seam fastball used by groundball pitchers, knows he has to keep the ball down in the zone, but he simply had trouble doing that against the Orioles on Sunday.
Diamond saw his streak of four straight quality starts come to an end, as he turned in his worst outing of the season and was outdueled by Wei-Yin Chen in a 6-0 loss to Baltimore on Mother's Day.
The left-hander said he spoke with pitching coach Rick Anderson and catcher Ryan Doumit about the importance of keeping the ball down against Baltimore, but had trouble executing his pitches on a windy day at Target Field.
"That was our game plan going in," Diamond said. "I talked to Andy and Doumit before the game and they told me, 'If you keep the ball down, you'll be fine against these guys.' In the pen, I was locating better and everything felt good. But once I got onto the mound, I couldn't get as good a grip as I wanted and I ended up pushing everything."
Diamond, making his sixth start of the year, gave up a season-high six runs on nine hits and three walks over 5 2/3 innings. He was particularly hurt by the long ball, as he served up three homers despite entering the game having given up just two on the year.
"It's very unusual for him," Twins manager Ron Gardenhire said. "He's normally pretty spot-on. But as you could see today, the ball was just up."
The Orioles got out to an early lead against Diamond, scoring twice in the first on a two-run blast from Chris Davis to straightaway center field. It was the 11th homer of the year for Davis.
Baltimore kept adding runs from there, as they scored a run in all but one of the six innings that Diamond was on the mound.
Chris Snyder had an RBI single in the second before Adam Jones launched a solo shot in the third. The Orioles went down in order in the fourth, but they scored again in the fifth on an RBI groundout from Davis with the bases loaded. Steve Pearce hit Baltimore's third homer with a solo blast to lead off the sixth.
"That was a big blow for us," Orioles manager Buck Showalter said about the early homers. "It's just, OK, jump out there and give Wei-Yin a little bit of a cushion. He was basically pitching with his fastball today. I thought we were fortunate. We made some good defensive plays behind him. Getting back out there and getting some zeros on the board, the momentum kind of went from there."
Minnesota's offense was shut down by Chen, who threw five scoreless innings before exiting with a right oblique strain. Chen scattered five hits and didn't walk anyone, while striking out three.
"He's a good pitcher," said third baseman Trevor Plouffe, who went 1-for-4. "He moved the ball in and out and changed speeds. He has a slow windup with a quick arm, so a little bit of deception there."
Baltimore relievers Tommy Hunter, Darren O'Day, Brian Matusz and Pedro Strop combined to hold the Twins scoreless for just the second time this year.
"It was a tough loss today," said Joe Mauer, who served as designated hitter. "It's a good ballclub over there. Just really couldn't get anything going today. Against good teams you've got to play well, and we didn't play very well today."
It snapped a six-game streak of scoring at least five runs for the Twins, who dropped the three-game series with the Orioles. But Mauer and Justin Morneau both kept their hit streaks alive, as Mauer went 2-for-3 with a double and a walk to extend his streak to a season-high 11 games, while Morneau went 1-for-3 to stretch his streak to eight games.
"Offensively, Joe had his day and stayed hot and Morneau blasted one off the wall, but other than that not a lot happened," Gardenhire said. "It was just one of those games where they jumped us early and basically controlled the game."
Rhett Bollinger is a reporter for MLB.com. Read his blog, Bollinger Beat, and follow him on Twitter @RhettBollinger. This story was not subject to the approval of Major League Baseball or its clubs.