Birds ride three jacks to series win, lose Chen to injury
Davis, Jones and Pearce go deep; southpaw strains right oblique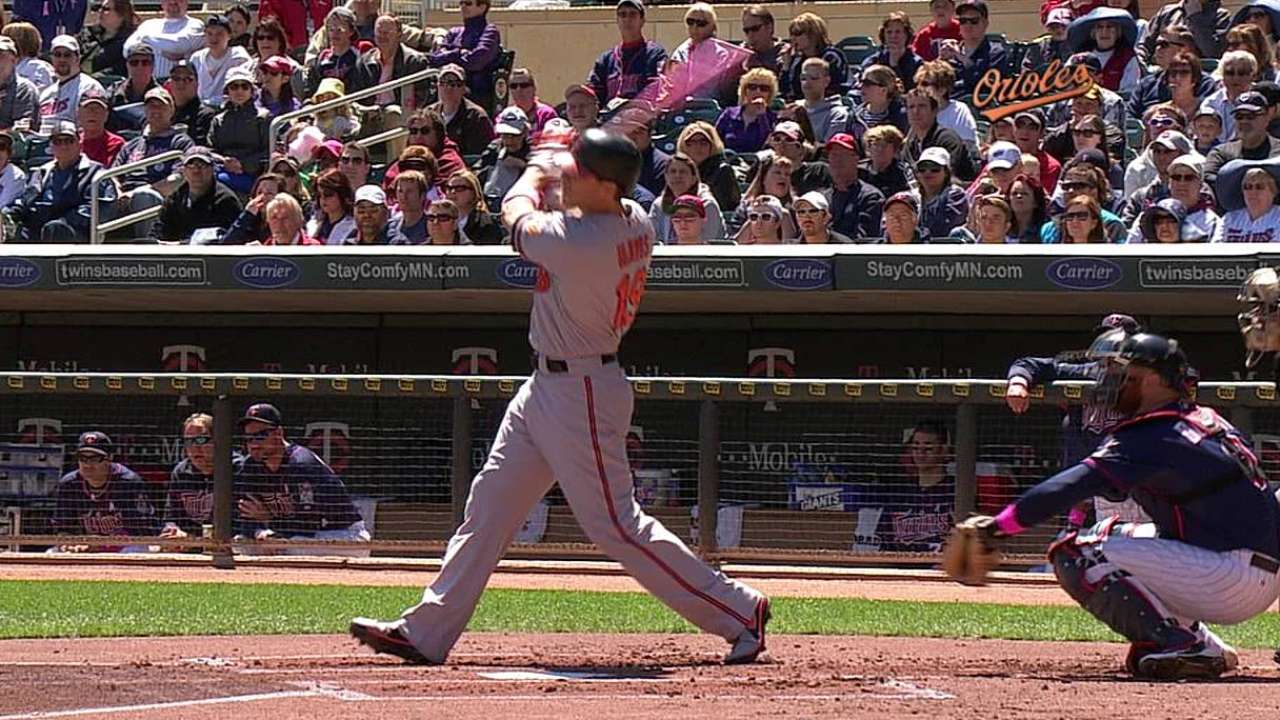 MINNEAPOLIS-- The Orioles won Sunday's game, but they may have lost their most consistent starter.
Left-hander Wei-Yin Chen exited the series finale against the Twins with a right oblique strain after tossing five scoreless innings, putting a damper on another impressive Baltimore road win. This one, a 6-0 victory, gives the Orioles their ninth series victory in the first 12 series of the year, running their total to six consecutive series wins or splits against the American League Central.
"I don't even want to think about it," Orioles first baseman Chris Davis, who homered and drove in three runs, said of the potential to lose Chen for an extended amount of time. "That's one thing we are really trying to get squared away is our pitching staff. Trying to get some guys in here, throw some innings, eat up some innings and take some pressure off our bullpen. That's what he was doing today. So I don't even want to go there with that."
But the good vibes that went along with another double-digit hit effort and a trio of homers was lost when Chen walked off the mound, grabbing his side following Eduardo Escobar's groundout to end the fifth. Oblique strains almost always require a trip to the disabled list and Chen -- the only Orioles pitcher to start 20 games last year -- has been arguably the team's best starter.
"I don't think that happens," Chen, through interpreter Tim Lin, said of going on the DL. "It's not that serious to me. I think it's just a cramp and we'll see what's going to happen tomorrow. We will re-evaluate tomorrow, and hopefully it's just a cramp."
Orioles manager Buck Showalter echoed that optimism and wasn't ready to count out Chen, who said postgame he wasn't in any pain.
"You guys know the experience with this, what the percentages probably lay with, but I try not to get into that [glass] half-empty thing," Showalter said. "I'm expecting something good, and we'll go from there and make the adjustment if we don't.
"We know we need one starter [on the roster]. Just hope we don't need two more."
Tabbed to help right the ship Sunday due to back-to-back four inning starts that resulted in a roster move to help the overworked bullpen, Chen -- who had quality starts in five of seven games coming in -- threw only 73 pitches and looked poised to go the distance. The 27-year-old lefty never had a clean inning, but used some good defense behind him, including key assists from Nick Markakis and catcher Chris Snyder to keep the Twins off the board.
"He was bouncing a lot of breaking balls and we really had to work in and out with the fastball," Snyder said. "He threw a couple good changeups. He'd get deep into counts, but when it came time to make a pitch, he made a pitch."
"We heard him yell [in pain] after the fifth inning," Twins manager Ron Gardenhire said of Chen, who first felt the injury after the second strike to Escobar. "I don't know exactly how he got hurt. He was moving the ball in and out. He's deceptive. He's kind of a short-stepper with a lot of arm action and moving."
Chen, who has been victim to poor run support since joining the Orioles last year, got plenty of offense Sunday afternoon as the Orioles jumped out to a two-run lead and never looked back.
The O's, who scored 14 runs in the first two games of the series, knocked around Twins starter Scott Diamond for six earned runs over 5 2/3 innings. Davis started things off, blasting a 3-1 pitch over the center-field fence for a two-run first inning homer that traveled an estimated 442 feet. Snyder, who threw out Brian Dozier at second base in the top of the first inning, pushed the lead to three with an RBI single in the second.
Diamond, who turned in his worst start this season, hung a 2-1 pitch to Adam Jones with one out in the third inning and Jones lined it over the fence to push the lead to four. Davis' groundout scored Markakis in the fifth -- extending his team-leading RBI total to 37 -- and Steve Pearce added the sixth run off Diamond with a solo homer to start the sixth.
Red-hot Manny Machado showed no signs of slowing down, collecting three hits for his 12th multihit contest in his last 19 games. The 20-year-old is hitting an incredible .406 over that stretch.
"I'm not even paying much attention to it. I don't look up there and see what I'm hitting," said Machado, who -- according to the Elias Sports Bureau -- is the first player under 21 to collect three consecutive multihit games since the Pirates' Rennie Stennett in 1971. "I'm just going up there and trying to help this team win whatever way. Just trying to hit the ball and catch the outs."
Orioles reliever Tommy Hunter pitched a scoreless sixth inning to follow Chen, and Darren O'Day, Brian Matusz and Pedro Strop finished the game to seal the club's 23rd win of the season. Baltimore, which has played a large chunk of its games on the road, will head home for an eight-game homestand starting Tuesday.
"We've just got so many bridges to cross, but you look at the schedule when the season starts, you look at this stretch and you know it's going to be a challenge, especially the teams we're playing," Showalter said. "Minnesota beat us two out of three at our place. They're lethal offensively.
"It should be a good off-day for our guys. We should get back at a decent hour and I'm happy for them there. They deserve it. Been a real grind for them for the last three weeks."
Brittany Ghiroli is a reporter for MLB.com. Read her blog, Britt's Bird Watch, and follow her on Twitter @britt_ghiroli. This story was not subject to the approval of Major League Baseball or its clubs.