Punchless Cards fall to Rockies in finale
Freese breaks up no-hitter in seventh, but offense, Garcia falter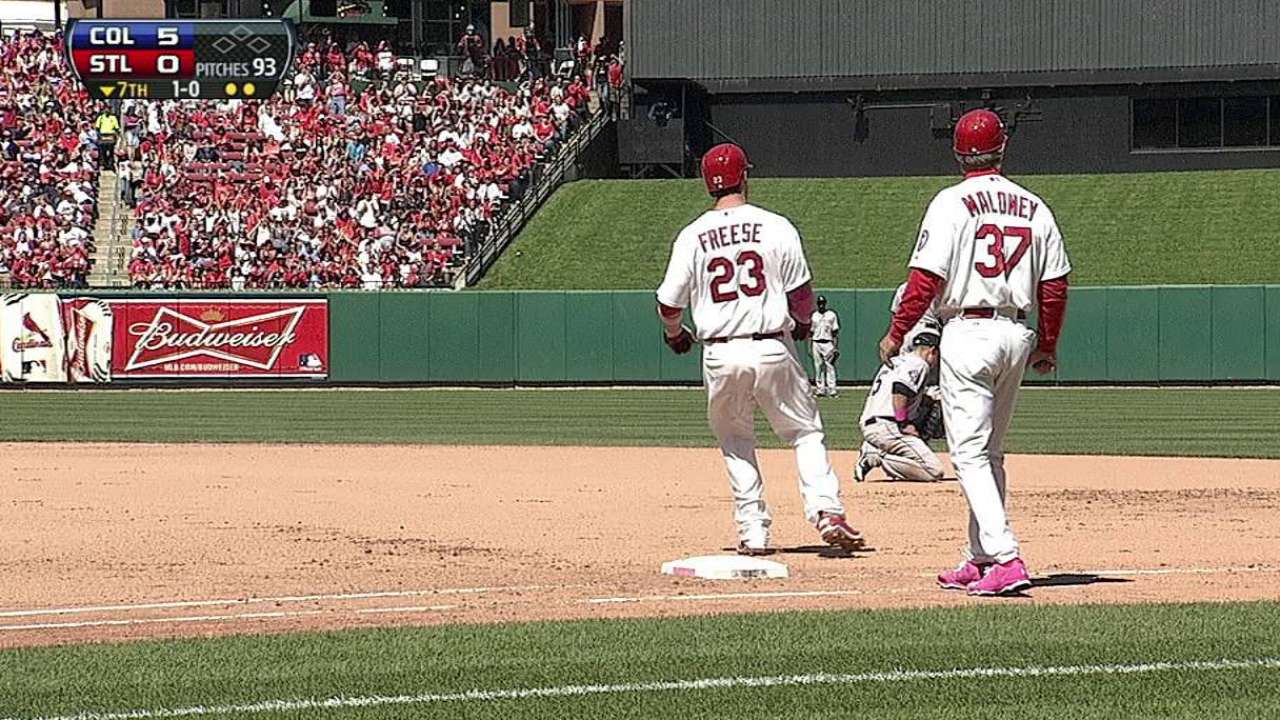 ST. LOUIS -- The St. Louis Cardinals found out what it's like to be on the other end of a pitching gem Sunday afternoon.
Left-hander Jorge De La Rosa allowed just two hits over seven shutout innings and Troy Tulowitzki ripped a three-run homer to lead the Rockies to an 8-2 win in front of 40,881 at Busch Stadium.
The Cardinals, who had a three-game winning streak snapped, won the first two games of the series by 3-0 scores on masterful shutouts by Adam Wainwright and Shelby Miller. Wainwright gave up two hits. Miller surrendered one and struck out a career-high 13 batters.
But Cardinals left-hander Jaime Garcia was not able to keep the eye-popping run going. He gave up a season-high five earned runs on eight hits over six innings.
"Those were definitely pretty tough acts to follow," St. Louis manager Mike Matheny said. "But lately, we've been running up against guys that are throwing the ball well."
It was De La Rosa's turn to shine on the mound in the series finale. He did not allow a hit until David Freese singled with two outs in the seventh. The hot shot on the ground barely eluded a diving Jordan Pacheco at first. Jon Jay followed with a double down the left-field line, but Pete Kozma lined to first to end the threat.
De La Rosa struck out seven and walked three.
In addition to the homer by Tulowitzki, Garcia also gave up a two-run homer to Charlie Blackmon in the sixth that pushed the lead to 5-0. Tulowitzki, who was hitless in his first seven at-bats in the series, slammed a 394-foot homer in the third to get the Rockies' offense started.
"It was supposed to be a changeup down and away," Garcia said of the pitch to Tulowitzki. "But it stayed up."
St. Louis pitchers had held the opposition scoreless for 25 2/3 innings before the Tulowitzki homer.
"I made a couple mistakes and I paid the consequences," Garcia said. "They have a really good lineup.
Garcia, working on six days rest, fell to 0-3 with a 10.53 ERA lifetime against the Rockies. He was coming off one of his strongest efforts of the season. He allowed just one run over eight innings in a 10-1 win at Milwaukee on May 5.
The Cardinals drew three walks over the first five innings, but were unable to push a runner into scoring position. Matt Carpenter drew a leadoff pass in the first, but Carlos Beltran, Matt Holliday and Allen Craig all came up empty.
"They've got a very good lineup," De La Rosa said. "They swung at very good pitches."
Carpenter was impressed with De La Rosa's ability to change speeds.
"He had a real good changeup," Carpenter said. "He was tough, and when we did square up, we'd hit them right at somebody."
Catcher Yadier Molina had his 11-game hitting streak snapped. It was the longest run by a Cardinals player this season.
The Cardinals scored twice in the ninth to avoid their fourth shutout of the season. Matt Adams drove in Daniel Descalso with a one-out single. Pete Kozma followed with a sacrifice fly that brought in Ty Wigginton. Descalso began the inning with a broken-bat double to left. Wigginton followed with a pinch-hit single.
The Cardinals had few offensive highlights, although Freese went 1-for-3 and hit the ball hard. After an early-season 0-for-16 skid, he appears to be rounding back into form. He has four hits in his last 12 at-bats and improved to 3-for-9 on the current 10-game homestand.
"He's taking better swings, he's more patient," Matheny said. "He's getting some confidence up there too."
Jay's double in the seventh extended his hitting streak to nine games. He is 14-for-31 (.438) in that span. His career-best hitting streak is 12 games.
The Cardinals open a four-game series against the New York Mets Monday at Busch Stadium.
Garcia, Jay, Wigginton, Descalso and Shane Robinson used pink bats in the contest to raise breast cancer awareness and also as a tribute for Mother's Day.
Steve Overbey is a contributor to MLB.com. This story was not subject to the approval of Major League Baseball or its clubs.