De La Rosa spins gem to take finale vs. Cards
Left-hander loses no-hit bid in seventh inning on Freese's single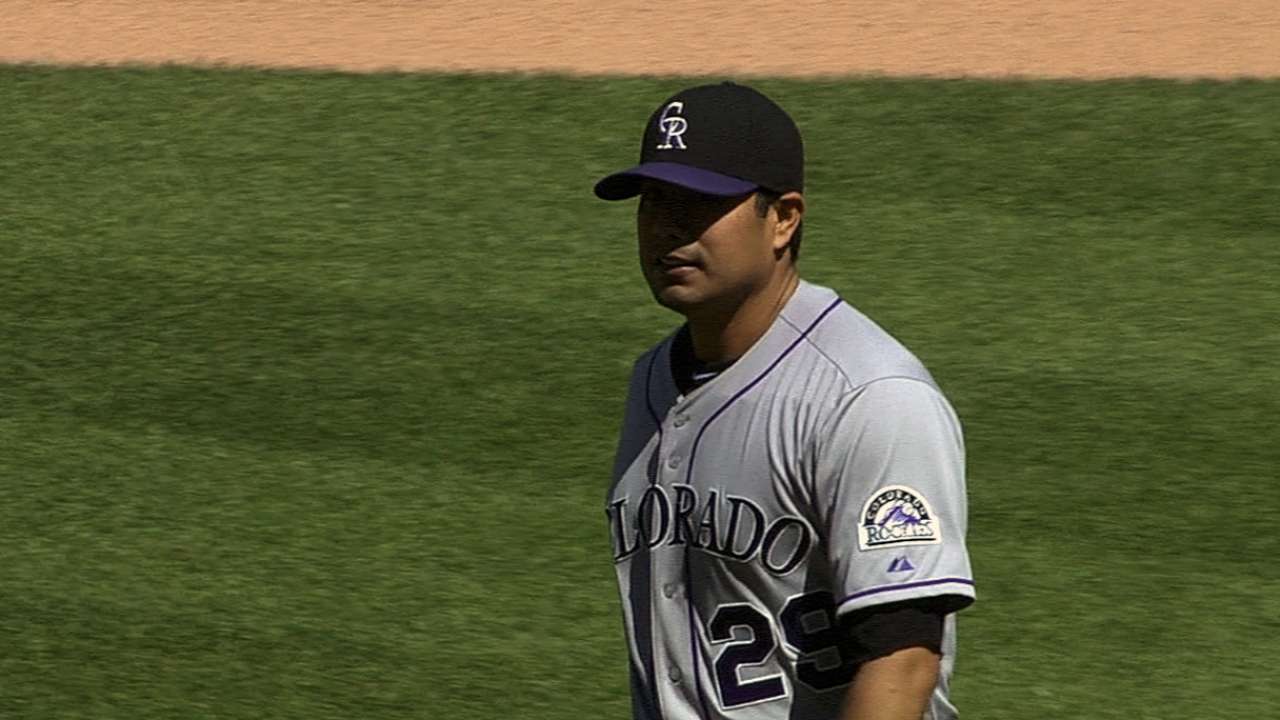 ST. LOUIS -- Rockies left-handed pitcher Jorge De La Rosa, knowing he was going to be out of town and away from his wife and young twin boys on Mother's Day, celebrated the holiday before the weekend road series with the Cardinals.
But Sunday afternoon, he came close to giving his wife, Martha, a special gift.
De La Rosa held the Cardinals hitless until David Freese singled in the seventh and gave up just two hits in seven innings as the Rockies went on to win, 8-2, at Busch Stadium in front of 40,881.
The Rockies ended their losing streak at four games behind the work of De La Rosa, who struck out seven and walked three. Not a bad thing to talk about when he called his wife and the twins, Bernabe and Matias, born Jan. 7, 2010.
"We had our Mother's Day when they came to Denver," said De La Rosa, whose family lives in Scottsdale, Ariz. "But talked again today and celebrated again."
The stellar pitching by De La Rosa overshadowed a long-overdue breakout by the Rockies' offense.
On Friday night, the Cards' Shelby Miller gave up an Eric Young Jr. single to open the first, then retired 27 straight in a 3-0 victory. On Saturday afternoon, the Cards' Adam Wainwright held the Rockies hitless until Nolan Arenado singled with one out in the eighth. Wainwright finished with a complete-game one-hitter in a 3-0 Cards victory.
Troy Tulowitzki's three-run homer in the third inning off Cards starter Jaime Garcia ended the scoreless streak of the normally productive Rockies offense at 28 innings.
"We hadn't scored in a while, and had gotten a big hit in a while, so to hit a three-run homer to put us on the board and get us up in the game, it definitely was a big hit," Tulowitzki said. "I think it took the pressure of Jorge so he didn't feel like he had to be perfect, even though he was really close to being perfect."
Manager Walt Weiss said of Tulowitzki's homer, "Sometimes in this game, individually and also collectively, you get to the point where you feel like it's almost impossible to score again, or get a hit. That broke the ice for us."
Charlie Blackmon, called up from Triple-A Colorado Springs on Sunday when the Rockies placed outfielder-first baseman Michael Cuddyer on the 15-day disabled list with a neck injury, hit a two-run homer off Garcia in the sixth inning.
An announcement in the stadium mistakenly called Sunday's game Blackmon's Major League debut. It wasn't. He was with the Rockies in 2011 and last season. The homer was his fourth in the Majors. But, believing it was his first, the Busch fans cheered Blackmon.
"I had always heard that St. Louis has great fans, and I saw that in the Minor Leagues when I played in Memphis [against the Triple-A affiliate]," Blackmon said. "It was really something to see the fans cheer an opposing player. Even if it wasn't my first home run, they thought it was."
Reid Brignac added a two-run, pinch-hit double off Cards reliever Carlos Martinez, and Dexter Fowler singled in a run in the eighth.
De La Rosa threw six scoreless innings at home against the Yankees while winning his last start and followed that with even better work Sunday.
The only no-hitter in Rockies history was thrown by Ubaldo Jimenez at Atlanta, a 4-0 victory on April 17, 2010. Otherwise, De La Rosa's performance on Sunday was tied for the longest that a Rockies starter has gone without a hit. Jason Jennings threw 6 2/3 hitless innings on Aug. 1, 2002 at Pittsburgh.
"He's dominated some good lineups in this league," Weiss said. "When he's commanding his stuff, he's one of the tougher left-handers in the National League."
Weiss usually watches pitch counts closely -- especially with De La Rosa, who underwent Tommy John elbow surgery June 3, 2011 and was limited to three starts last season. However, Weiss would have had some difficult decisions had Freese not broken up the bid with a two-out, hard single past diving first baseman Jordan Pacheco, which was followed by a Jon Jay double before De La Rosa worked Pete Kozma into a liner to Pacheco.
"There were some balls hit hard, but he controlled the game," Cardinals manager Mike Matheny said.
De La Rosa finished with 100 pitches, 60 strikes. It was the most he had thrown in a game since May 13, 2011 against the Padres, when he threw 102 two starts before suffering his injury.
"Every time I pitch, I start feeling stronger," De La Rosa said. "I feel very good, but not in the last inning. I started feeling a little tired. It was a long time since I threw that many pitches. Anyway, it was a good game. We won."
Before Sunday, when second-year catcher Wilin Rosario handled the game, De La Rosa had been paired with veteran catcher Yorvit Torrealba, who meshed with him during Spring Training.
"It was the same thing with Wilin -- he called a good game," De La Rosa said. "He caught me in Spring Training and did a good job. He watched videos of the way I pitched, and I didn't shake him off much."
Thomas Harding is a reporter for MLB.com. Read his blog, Hardball in the Rockies, and follow him on Twitter @harding_at_mlb. This story was not subject to the approval of Major League Baseball or its clubs.