Valverde blows save, Tigers fall in rubber game
Two-out rallies in ninth, 10th innings cost Detroit series win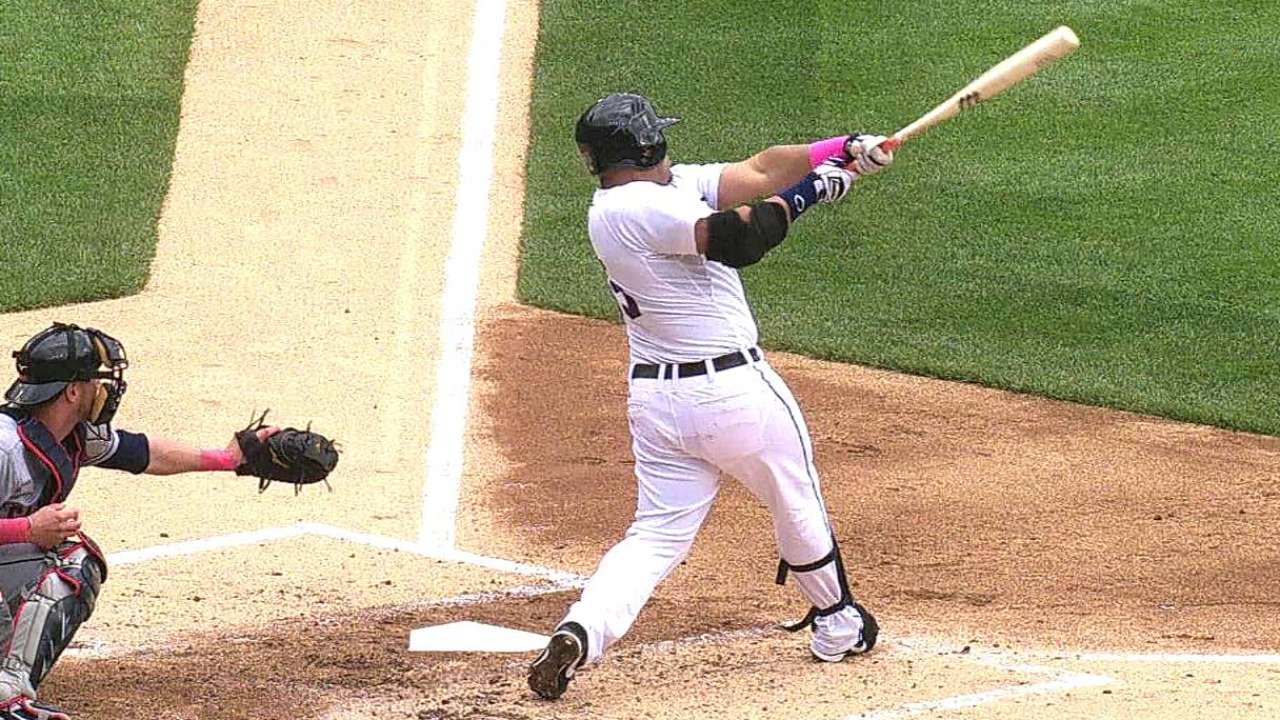 DETROIT -- Jose Valverde has given up his share of well-hit fly balls and watched Tiger outfielders run them down for outs since his return. But his first hit allowed this season turned out to be an opposite-field line drive into short left field.
In a results-oriented business, it was costlier than anything else put in play against him. That's the nature of the closing job. The nature of that job in Detroit assured that his first blown save would be a big one.
His manager, Jim Leyland, was anticipating that to be the talk as soon as the Tigers' 4-3 loss to the Indians on Sunday ended.
"This will focus a little bit about Valverde not closing it out," Leyland said. "But in reality, it's just one of those days in Major League Baseball that happens."
Leyland credited the Indians for getting the clutch hits that his team couldn't after Brayan Pena's second-inning homer and Omar Infante's fourth-inning sacrifice fly. And Pena and Darin Downs credited Mark Reynolds for the 10th-inning single that put Cleveland ahead for the first time all day.
Still, the Tigers were a strike away from taking the weekend series, having carried a 3-2 lead from the fourth into the ninth. The rally allowed Cleveland to escape town with the series win, taking two out of three games to pull even with Detroit for first place at 20-15. After the Tigers' series-opening rout Friday night, the Indians answered by hitting Justin Verlander on Saturday before getting to Detroit's closer on the way out of town.
In the results-oriented job, one that changed hands a couple weeks ago with Valverde's return, Cleveland's comeback was going to hurt more. It's not going to change his role, not even close, but that doesn't mean it didn't hurt.
"I think I'm doing my job. I throw a good pitch," Valverde said of Michael Brantley's game-tying single. "Nothing I can do. You have to credit the hitter, too."
Brantley's two-out hit, however, proved costly because of the two walks that preceded it.
Valverde had five hitless innings in as many outings since rejoining Detroit. His lone baserunner was a one-out, four-pitch walk last week in Houston, and he retired the next two hitters to overcome it.
His fastball has had good days and bad days, both with velocity and command, but he'd gotten the job done up to this point. Once Michael Bourn pinch-hit to start the ninth and drew a walk, Valverde was destined to find trouble.
"He walked the leadoff guy in the ninth. That's usually the kiss of death," Leyland said. "But he's done that before and gotten out of it."
Bourn stole second easily, but stayed put while Valverde recovered with fastballs topping out at 95 mph to strike out Lonnie Chisenhall and induce a Yan Gomes foul popup to first base.
Once Valverde had pinch-hitter Jason Giambi in a 2-2 count, the crowd of 35,260 rose to its feet. His 2-2 pitch missed low, loading the count for an offering off the corner.
Giambi, still working the strike zone at age 42, didn't offer.
"That was a very hard and tough at-bat from Giambi," Pena said. "For me, that was the key in that inning. A guy like Giambi, you don't want to get beat and you don't want to get hurt from his pull side, so you're just making sure he doesn't hurt you. He did a tremendous job battling in that at-bat."
The walk not only extended the game, it brought the lineup back to the top with Brantley, who took advantage of a 1-1 fastball left up.
"Brantley did a good job, stayed inside the ball and hit one the other way," Leyland said. "But usually, walking that first guy in a one-run game is very tough."
Said Valverde: "It's a couple pitches that went up, a couple pitches went down. I think I made some good pitches. I threw my sinker exactly where I wanted to. You have to remember, this guy is a good player, too. There's nothing you can do about that."
Valverde kept the game tied by striking out Jason Kipnis on his 29th pitch of the inning, all of them fastballs, sinkers or cutters. None were his splitter, a pitch he's been throwing on occasion but struggled to throw early on in chilly weather, conditions similar to Sunday, when it was 46 degrees.
"You guys have to remember, I don't have a Spring Training," Valverde said. "This is my Spring Training right now. So far, I've thrown four or five innings. I'll be OK."
Leyland sounded much the same when evaluating Valverde.
"My personal opinion is he's done a pretty good job since he's been back," he said. "And you've got two outs with a chance to close it out today and the guy put a good swing on the ball and stayed inside it. Overall so far, I think he's thrown the ball well."
Joe Smith held the tie in the bottom of the ninth, and Asdrubal Cabrera's leadoff double started the go-ahead rally in the 10th. After Nick Swisher's dribbler advanced Cabrera to third, Downs intentionally walked Carlos Santana to face Bourn, whose grounder gave Jhonny Peralta enough time to throw out Cabrera at the plate.
Downs (0-1) induced bad swings on back-to-back changeups to Reynolds, putting him in an 0-2 hole, and was hoping for the same on his 1-2 pitch. Reynolds sent a ground ball under Cabrera's diving attempt at third, allowing Santana to score.
"I was just trying to get something up in the zone," Reynolds said. "He started me off changeup, changeup. He left a third one kind of a little more up than the other two, and I was able to squeeze it through the hole."
Jason Beck is a reporter for MLB.com. Read Beck's Blog and follow him on Twitter @beckjason. This story was not subject to the approval of Major League Baseball or its clubs.