Indians rally behind pinch-hitters Bourn, Reynolds
Regulars come off bench, help Tribe tie, win game with two-out magic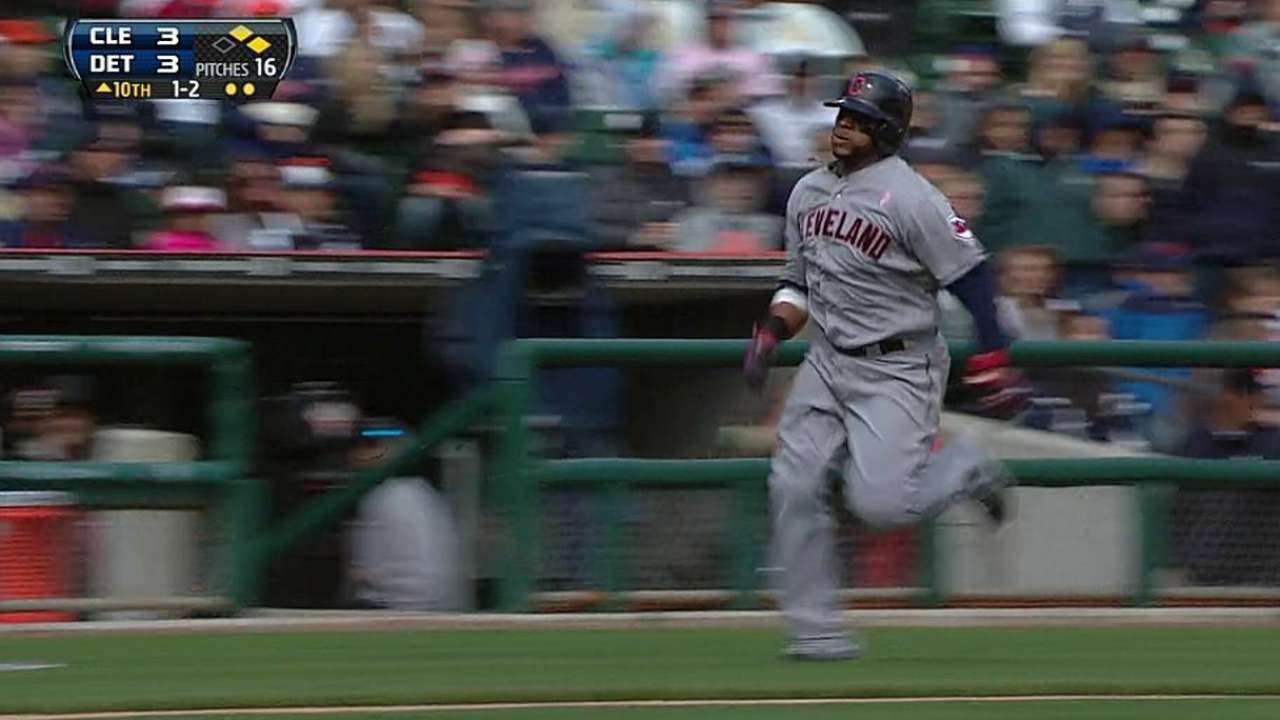 DETROIT -- Mark Reynolds grabbed a bat, emerged from the visitors' dugout at Comerica Park and caught everyone's attention on Sunday afternoon. The Indians slugger was sporting pink spikes bright enough to be spotted from the top of the Ambassador Bridge.
Cleveland manager Terry Francona took one look at the shoes and only one thought came to mind.
"You better get a hit with those things on," Francona said. "I know it's a good cause, but those were ugly."
Reynolds made his mama proud, delivering a decisive run-scoring single that sent the Indians on their way to a 4-3 comeback victory over the Tigers on Mother's Day. The base hit with two outs in the 10th inning concluded a late Cleveland rally that sealed a series win in this three-game set in the Motor City.
After being routed on Friday night, the Tribe defeated Justin Verlander on Saturday and took down the Tigers' bullpen on Sunday. Cleveland was in last place in the American League Central on April 28, but after 12 victories in 14 games, the Indians (20-15) and Tigers are now tied for first place in the division.
The Indians, however, are not putting too much stock in a series win in May.
"Everybody took Friday night in this locker room really easy," Tribe left fielder Michael Brantley said. "It's just a game. It's one game. We knew we had two more. There's no panic in here. We trust in each other and it's a long season. This is just the start of it. There's going to be a lot of big games, hopefully, until the end."
Following the win, Reynolds sat in front of his locker with his bright pink shoes resting by his feet. They were sent to him for use on Mother's Day, when teams around Major League Baseball don pink gear and swing pink bats in an effort to raise awareness for breast cancer. Reynolds plans on sending his game-changing spikes to his mom, Tammy.
Reynolds joked that the shoes were the only reason Francona held the slugger out of the starting lineup for Sunday's game in Detroit. In reality, the infielder had not gotten a day off since April 6 and Cleveland has a doubleheader with the Yankees on Monday.
Reynolds still blamed the spikes.
"That's why Tito didn't play me," Reynolds said. "Because I was wearing the pink shoes."
No matter the color of his spikes, Reynolds has been delivering key hits for the Indians all season.
Reynolds is batting .291 with 11 home runs, 32 RBIs and a .996 on-base plus slugging percentage. He has hit .389 (14-for-36) with runners in scoring position and .500 (7-for-14) with runners in scoring position and two outs. That's a nice bat to have available on the bench.
With runners on first and second base, Reynolds settled into the batter's box to face Detroit left-hander Darin Downs. Reynolds pulled a 1-2 changeup to the left side, and the ball skipped through into left field for a single. Carlos Santana, who drew an intentional walk and moved to second on a forceout, scored easily on the play.
"I thought it was a good pitch," Tigers catcher Brayan Pena said. "It was down. Especially a power guy like him, you're always trying to keep the ball down, trying to get him to hit a ground ball, not to lift anything up. It just got the hole and it was a base hit."
That was the final blow in a rally that had its roots in the ninth inning.
With Detroit clinging to a 3-2 lead, Michael Bourn (also initially out of the starting lineup) entered as a pinch-hitter and led off with a walk against closer Jose Valverde. Bourn stole second and -- after veteran Jason Giambi worked a clutch two-out, pinch-hit walk -- he came home when Brantley slashed a pitch into left field for a game-tying single.
After Cleveland claimed the lead in the 10th, Francona called on relievers Rich Hill and Cody Allen to handle the home half of the frame, because closer Chris Perez was out with mild right shoulder stiffness. The left-handed Hill retired Prince Fielder and Victor Martinez and the right-handed Allen struck out pinch-hitter Matt Tuiasosopo to earn his first career save.
An inning earlier, sidearmer Joe Smith held Detroit down with some help from his defense. With no outs and a runner on first, Torii Hunter chopped a pitch back up the middle, where Smith stabbed at it for a tough catch. He then threw to Asdrubal Cabrera's right at second base, forcing the shortstop to reach back for the grab, before spinning in the wrong direction and still getting the relay to first in time for a double play.
Smith then retired Miguel Cabrera on a flyout to right.
"He's very athletic," Francona said of Cabrera. "He got the throw that had a ton of movement, and it was offline. Not only does he keep his foot on the base, but he turns the double play. The timing of the play makes it an even better play."
Cleveland broke through in the third, when Jason Kipnis delivered a two-run double to account for the Tribe's only damage in six innings against righty Rick Porcello.
"That was as much a team effort as you're ever going to see," Francona said.
It began with starter Zach McAllister, who limited the damage of eight hits allowed and three walks, holding Detroit to three runs (two earned) over six innings. He yielded a two-run homer to Pena in the second and, in the fourth, a throwing error by third baseman Lonnie Chisenhall helped the Tigers to a go-ahead run.
It could have been much worse, but McAllister worked free of a handful of tough situations. Most notably, the big right-hander induced an infield popup from Miguel Cabrera and followed with a strikeout of Fielder to escape a one-out, bases-loaded jam in the fourth.
"I battled. I didn't feel like I had my best stuff," McAllister said. "I was definitely happy with the way I battled against a good team like this."
McAllister was also a fan of Reynolds' pink spikes.
"I liked them," McAllister said with a laugh. "Flashy."
Jordan Bastian is a reporter for MLB.com. Read his blog, Major League Bastian, and follow him on Twitter @MLBastian. This story was not subject to the approval of Major League Baseball or its clubs.