Lack of offense looms in Harvey's no-decision
Ike falls short in crucial at-bat with Mets in position to strike late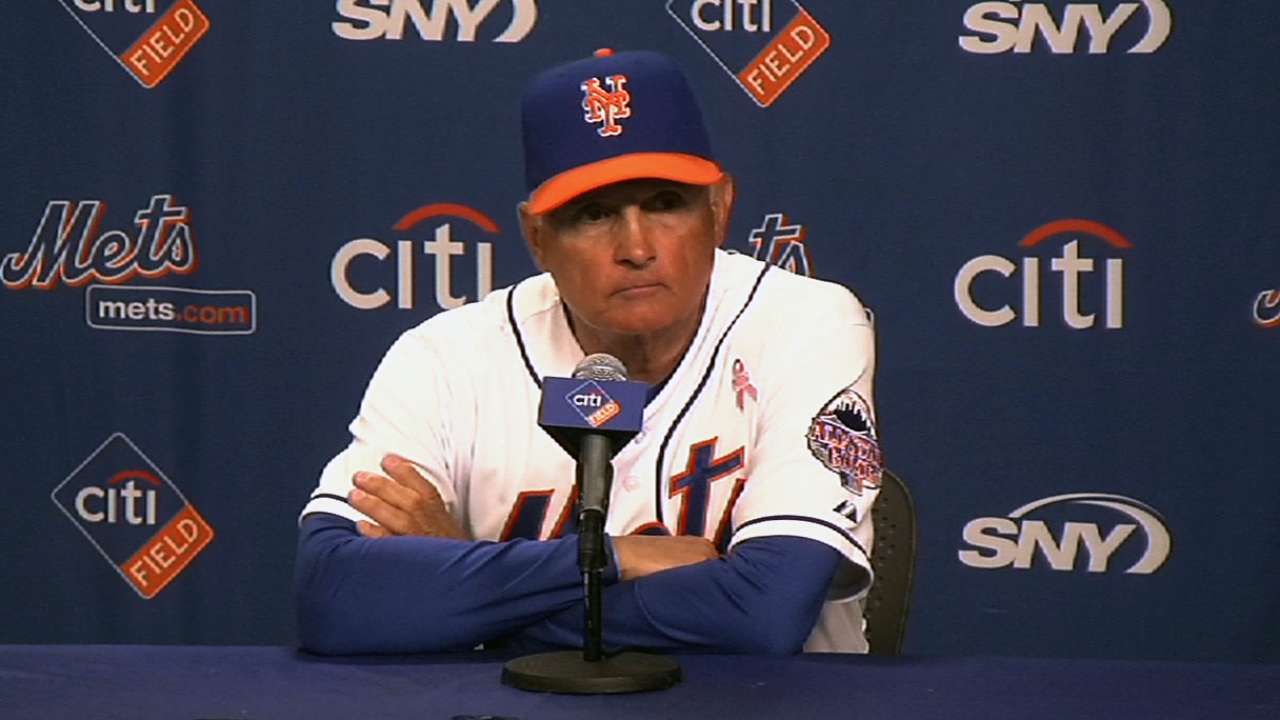 NEW YORK -- The onus officially fell to Ike Davis in the aftermath of Saturday's loss to the Pirates. Needing offense, Mets manager Terry Collins laid out a plan to stack his best run producers in the middle of his lineup. What Collins left unsaid, Davis put into words a day later, when his latest critical strikeout led to Sunday's 3-2 defeat to Pittsburgh.
"I have to produce more," Davis said, "or I won't play at this level."
In bumping Davis back to the cleanup spot, Collins increased the odds that opportunities might come. Hours later, in the eighth inning Sunday, such a moment appeared as if scripted.
Second baseman Daniel Murphy, who had been slumping even worse than Davis, sparked the rally with a one-out double in a one-run game. He moved to third on a wild pitch, prompting the Pirates to walk David Wright with the game on the line.
That put runners on the corners and brought Davis to the plate, one swing away from a happy flight to St. Louis. Instead, the first baseman swung through a fastball, fouled off a curve and swung at another breaking ball in the dirt, whiffing for a second out.
"I definitely let the team down, for sure," Davis said. "It's an at-bat that I have to come through."
The Mets still had a chance to tie the game, but Lucas Duda's rocket-fueled grounder bounced off the first-base bag and into Brandon Inge's glove, allowing the Pirates to escape. A quick ninth inning put a stamp on the loss, the Mets' 11th in their last 15 games.
"We're getting hit now with a two-headed monster: we're not hitting and we're not pitching," Collins said. "Certainly we've got to get it going, and there's no secret formula how to do it. You've got to go out and work your butt off and execute."
Pitching, at least on this day, was not the Mets' problem. Though starter Matt Harvey showcased something less than his best swing-and-miss stuff, he rebounded from two early walks and a Clint Barmes homer to give the Mets seven innings of two-run ball. Harvey noted that he felt "just a little off rhythm" all afternoon, and the Mets lauded his ability to keep them in the game regardless.
"He did his job," Collins said. "He can't do all the hitting for us."
Indeed, for just the second time in Harvey's seven starts, the Mets could not parlay his efforts into a win. Collins made a vow in the eighth inning that if the Pirates put a runner in scoring position, he would bring closer Bobby Parnell into the game. They did, and he did, but Parnell served up a go-ahead single to the first batter he faced, Pedro Alvarez.
That was all Parnell allowed, giving Davis his shot in the eighth.
The result was a quiet plane ride to Missouri, where the Mets' scuffling offense will meet the Cardinals' vaunted pitching for four ominous games. Perhaps Sunday's truest words rolled off the tongue of Duda, who noted that "you can't win games if you don't score."
The problems run up and down New York's roster, from Murphy's slump to Duda's inconsistency to John Buck's tale of two seasons. But the key to everything is Davis, who reported to Spring Training healthy, optimistic and ready to forget his disastrous first half of 2012.
When Davis began last season in a 2 1/2-month funk, the Mets pointed to his ongoing recovery from a major left ankle injury, as well as the Valley Fever scare that upturned his Spring Training. Mostly for those reasons, they opted against demoting Davis to the Minors when his slump reached its nadir. The former first-round Draft pick rewarded them handsomely, producing at elite levels from mid-June through September.
This year, those excuses are gone, though Davis does possess another crutch. He can lean on last summer, when he so suddenly and completely emerged from his funk.
"He got that callous from it," said outfielder Mike Baxter, whose game-tying hit in the seventh inning temporarily brightened the Mets' outlook. "He knows that it will turn. And that's what's great about Ike."
Baxter described Davis as constantly upbeat despite his slump. Yet it was a noticeably morose first baseman who appeared in the clubhouse after Sunday's game, wondering -- like everybody else -- when his fortunes might change."
"It's my job," Davis said. "I don't like doing horrible at my job."
Nor do his teammates, who sit a season-low six games under .500. This is a club searching for answers, though the Mets do know one thing for certain: if their season is to suddenly and unexpectedly change course, Davis will need to be the engine behind it.
"He's going to have to reach down inside and grind out at-bats," Collins said. "I asked if he was up to it and he said, 'Absolutely. Sign me up.'"
Anthony DiComo is a reporter for MLB.com. Follow him on Twitter @AnthonyDicomo. This story was not subject to the approval of Major League Baseball or its clubs.