Lucky bounce helps secure victory for Pirates
Pittsburgh does just enough against Harvey, Mets' bullpen to take set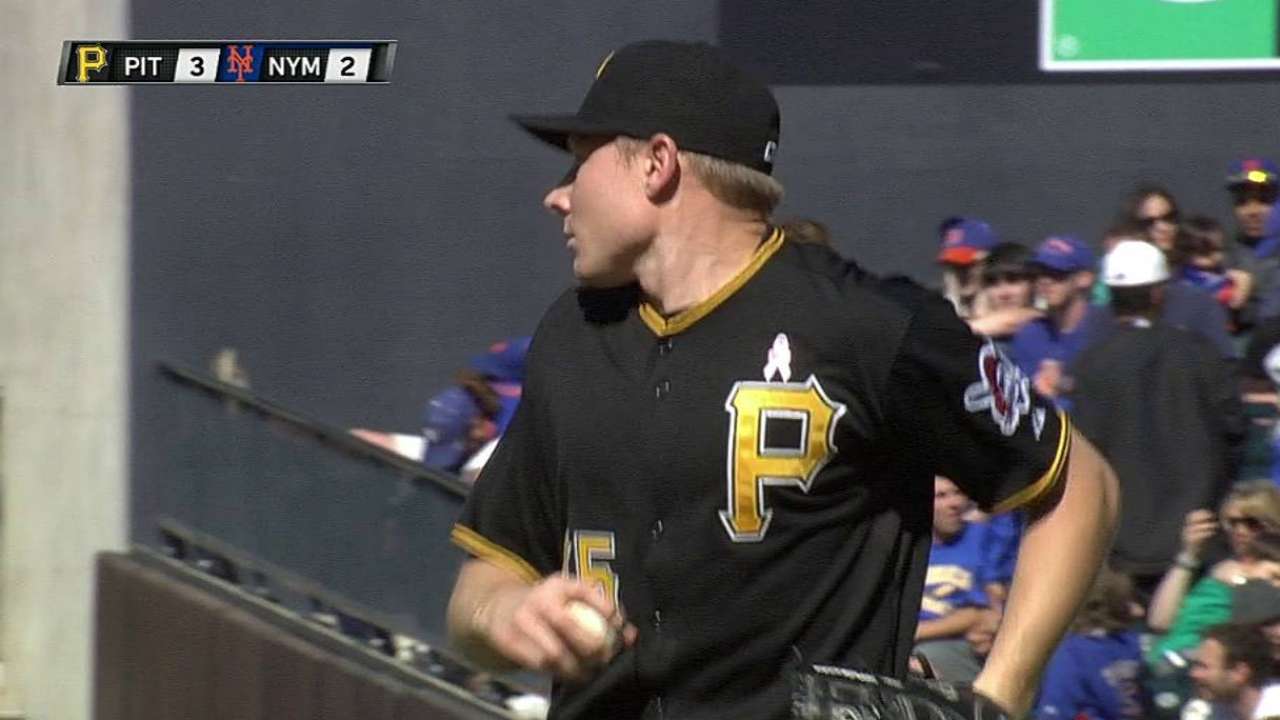 NEW YORK -- It is a baseball truism, Clint Hurdle said, that once a ground ball strikes a base, it is destined to become a base hit. No other result can come about. No other had in all the years he had played, coached, managed or observed. So when a ground ball hit by Lucas Duda struck first base with two out in the bottom of the eighth inning Sunday, the Pirates manager cursed the fickle nature of the game. With his team leading by one, he feared two-run trouble.
When the ricochet put the baseball at least as high as an elephant's eye, Hurdle turned his attention to two Mets baserunners who had been at second and third base before Duda swung. He assumed the game would be tied and that David Wright would score a go-ahead run from second on a play unprecedented in the manager's memory.
But much more was involved in that play and the Pirates' 3-2 victory it secured Sunday. The fortuitous ricochet in the eighth that smothered the Mets' last flicker of resistance was a flashing neon image in the visiting clubhouse as the winners showered, dressed and packed for home. Not only had they won for the third time in four games in a ballpark that had been such a challenge for them, but they had found an ally in the unseen hand that often decides the outcome of ballgames.
"It's always been a hit," Hurdle said, "any time a ball hits a base."
Later, after fate had released its grip on the Pirates' throat, after his team had survived the uncommon and almost unimaginable, after it had beaten the Mets again, Hurdle was forced to reassess.
"When it hit the bag," he said, "they were lucky. ... Then we were luckier."
Second baseman Brandon Inge, one of those alert, right-place, right-time guys, waited like a punt returner for the ball to drop, five feet beyond the infield cutout and seven from the right-field line. He handled it, shouted to his pitcher to cover and threw a 25-foot fastball to reliever Mark Melancon. Duda was out.
"It was a fight against time and gravity," Inge said, characterizing his throw as "a bullet right to the middle of [Melancon's] chest."
"Yeah, that throw was a little hot," Melancon said.
And now the Bucs qualify for the same modifier. After the first game of the series Thursday, they had lost four of five games and 13 of 16 games at Citi Field. Now they have won three straight, a season high, for the second time, put their record five games over .500 for the third time and put their road record at 11-9, third best in the National League. Moreover, they play their next 10 games at home, three each against two last-place teams, the Astros and Cubs.
"We're making some genuine progress," Inge said.
Obscured somewhat during this modest streak has been the Pirates' starting pitching. With Jeanmar Gomez providing five effective innings Sunday in his third spot start, the Bucs' rotation allowed four runs in series, one each game. Its ERA in the last five games is 1.84. It might have been lower had Gomez pitched beyond the fifth, he was having his way with the Mets' inadequate batting order. But he developed stiffness in his right calf after he was struck by a hot ground ball by Wright in the first. That grounder produced an out, too -- another fortuitous bounce -- though nothing comparable to the one seven innings later.
After Inge's play, the rest was left to Jason Grilli who earned his 15th save in 15 opportunities.
All the late developments obscured the projected storyline for this one. The Pirates were introduced to the latest New York City pitching phenom Sunday. From 60 feet, six inches, they shook hands with Matt Harvey, who had struck out 12 and allowed one baserunner in nine innings in his preceding start and who has essentially displaced Stephen Strasburg as the young pitcher in the NL to gush about.
The Pirates bruised Harvey a bit but didn't beat him. The decisive run, driven in by Pedro Alvarez, was built against Scott Rice, Brandon Lyon and closer Bobby Parnell. It scored with two out in the eighth, one inning after Harvey's start ended. He surrendered five hits, two walks and two runs. He remains unbeaten through eight starts after demonstrating as much spine Sunday as he had demonstrated precision and stuff in the previous appearances. His ERA is 1.44.
One of the runs against Harvey was the result of a pink bat Mother's Day swing by Clint Barmes in the third. Hardly the slugger, Barmes has two home runs this season; the other was against Strasburg.
Something was amiss with Harvey early. He allowed three hits, two walks, two runs and hit a batter before his first strikeout. Alvarez hit a booming double in the second inning, two batters before Barmes hit his home run to lead off the third. Gomez followed with a well-struck, sinking line drive to center that was caught twice by rookie Juan Lagares. Then Harvey walked Starling Marte and allowed a single to left by Travis Snider that advanced Marte to third. Marte had been running on the pitch.
Harvey seemingly pitched around McCutchen to load the bases. Garrett Jones then drove in Marte with a sacrifice fly to right that put the Pirates ahead, 2-1. Harvey retired Jordy Mercer to end the inning. And his first strikeout didn't come until the fourth batter of the fourth. It was Gomez.
The Mets spared Harvey a loss by tying the game at 2 in the seventh inning against winning pitcher Justin Wilson, Gomez's second successor. Wilson had been summoned to replace Vin Mazzaro in the sixth with one runner on base and left-handed Ike Davis due to bat. Wilson struck out Davis and then Duda to begin the seventh. But a walk to John Buck, a wild pitch and a soft opposite-field single to left by Mike Baxter put the Mets even.
They had every intention of adding a third run in the eighth, and went about it the right way -- a one out double by Daniel Murphy, a passed ball, a walk to and stolen base by Wright. Then Duda pulled a pitch, Hurdle cursed, Inge moved into position and. ...
And, in the words of Melancon: "We got a nice bounce."
Marty Noble is a national reporter for MLB.com. This story was not subject to the approval of Major League Baseball or its clubs.