Dempster struggles, offense quiet in loss to Jays
Right-hander surrenders three homers, with bullpen allowing two more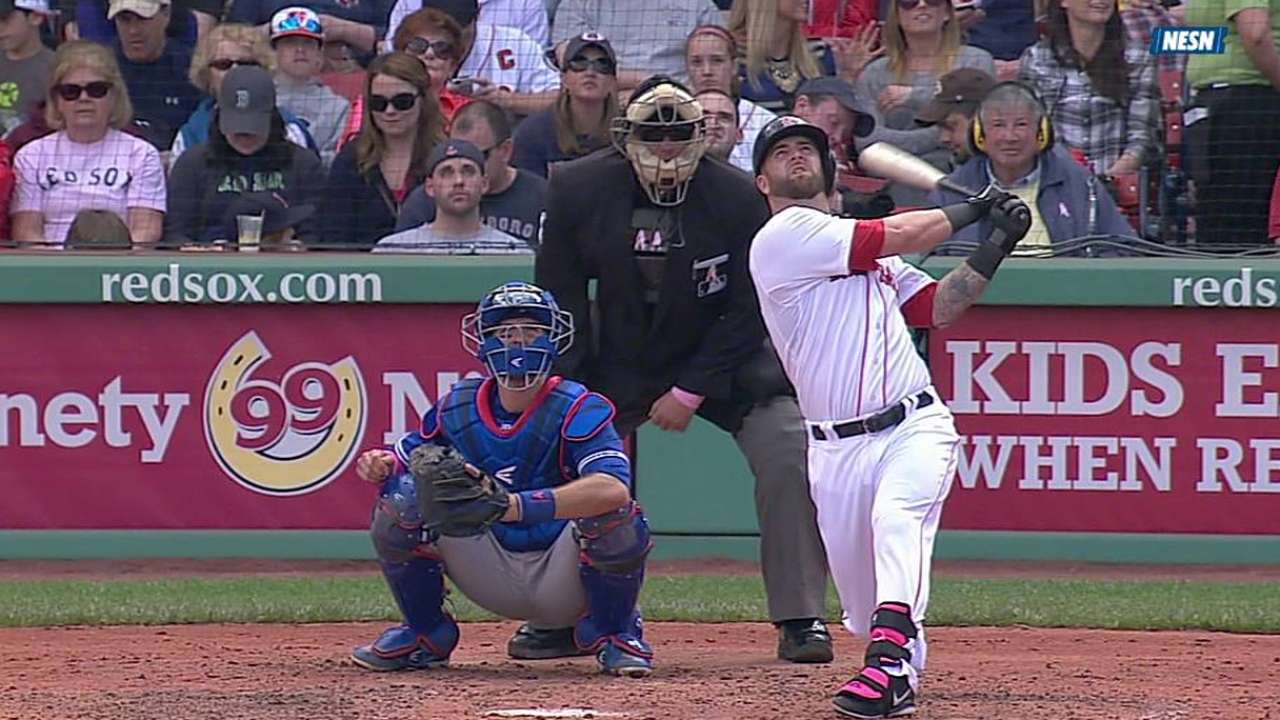 BOSTON -- April flowers have brought May showers for the suddenly cold Red Sox.
After his team was beat up by the Blue Jays on Sunday en route to a 12-4 defeat, its eighth loss in the last 10 games, manager John Farrell thinks the Sox have used up all of their luck.
"As much as we cashed in in the month of April, it may be cliché, but things are evening out," Farrell said.
The Red Sox, who held at least a share of the top record in the Majors as recently as May 8, have dropped three straight series and fallen to 22-16 on the season.
Being swept by the Rangers, who entered Sunday tied for the best record in the Majors, seemed like a blip on the radar. Losing the next two series -- to a Toronto team with a struggling pitching staff and free-swinging offense and a Minnesota team that strikes out fewer batters than anyone in the Majors -- might seem more like a radar-jammer.
"Just keep grinding -- that's all you can do," said catcher Jarrod Saltalamacchia.
The key in this series was supposed to be keeping the ball down in the strike zone. The Blue Jays, who lead the Majors in homers, with 51, also rank in the bottom third in batting average, at .237.
Between starters Jon Lester and Clay Buchholz, the Red Sox didn't allow one ball to leave the yard.
Between Junichi Tazawa giving up the eventual game-winning shot on Saturday, Sunday starter Ryan Dempster allowing three homers and relievers Andrew Miller and Clayton Mortensen each serving one up later in the game, the Blue Jays hit six homers in the last 10 innings of the series.
Dempster, who hadn't allowed more than one home run in a game all season, posted his worst start in a Red Sox uniform. He lasted just five innings, allowing six runs on seven hits and a walk.
"I've just got to do a better job," Dempster said. "They were two sliders that just hung up in the zone. I didn't have the slider I normally have. I didn't have it today. It's unfortunate."
Because he is one of the softer throwers in the Majors, Dempster's location and pitch mix become that much more important. His first miss came in the third inning, when Jose Bautista took an 89-mph inside fastball and jacked it over everything in left field.
Then, in the fourth, Emilio Bonifacio, who had just one homer over his previous two Major League seasons, launched a hanging slider into the right-field bullpen. Shane Victorino's leaping effort was just short, and he flopped straight to the ground after hitting the wall. He remained in the game after a visit from the training staff but was removed in the seventh inning due to stiffness, according to Farrell.
Dempster's final mistake came in the fifth inning, when he uncharacteristically left a splitter, his signature pitch, high in the zone. Edwin Encarnacion replied with a booming swing that put the Blue Jays on top, 6-1.
It should be easy to forget one bad start from Dempster, who is striking out more batters than ever -- fanning 11.44 per nine innings -- and has a 3.75 ERA.
"I've been feeling really good this year," he said. "Even today, my arm feels good, my body feels good. I just didn't execute pitches. It's nice as you get older to continue to feel good. That's an important thing, but at the same time, you can feel as good as you want or as bad as you want, you've got to execute pitches. Hopefully, I can continue to do that on a consistent basis."
At the plate it was more of the same for an offense that's been outscored, 62-33, over the past 10 games.
Toronto starter Chad Jenkins, who entered Sunday having pitched just once this year, a five-inning start for Double-A New Hampshire, held the Red Sox to two runs over five innings.
"Honestly, I threw fastball/changeup the entire game," Jenkins said. "We stuck with those two pitches, and there wasn't really a whole lot of adjustment."
The Red Sox are hitting .163 with runners in scoring position over the last 10 games, a span in which they've left 86 on base.
"I think we have a number of guys dealing with some frustration right now," Farrell said. "There's no question about it. The key for us is to maintain our preparation and our work routine. Those are the key things that we can control."
Half of the offense on Sunday came from Mike Napoli, who hit his seventh home run of the season, and Pedro Ciriaco, who came off the bench to play first base -- the seventh position he's played in his Major League career -- and contribute his first homer of the year.
Monday will be the Red Sox's last off-day until June 3 and it comes just in time, as they'll look to regroup before playing 14 of their next 20 games on the road.
Jason Mastrodonato is a reporter for MLB.com. Follow him on Twitter @jmastrodonato. This story was not subject to the approval of Major League Baseball or its clubs.