Blue Jays ride five homers to win over Red Sox
Toronto ends seven-game road trip with well-needed series victory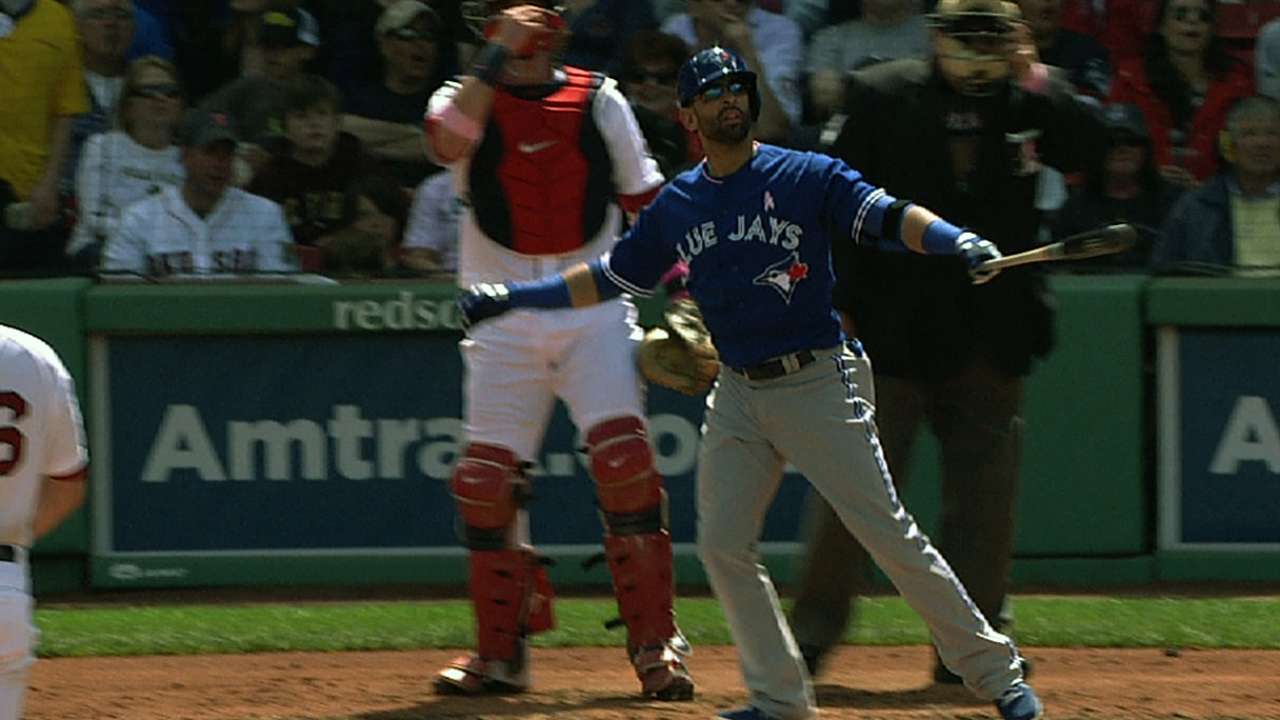 BOSTON -- It took a lot longer than anyone originally anticipated, but the Blue Jays have finally enjoyed a winning road trip.
Toronto completed its seven-game journey with a series victory over Boston. It's just the second series the Blue Jays have won this year, but with any luck, it's a sign that their fortunes are starting to change.
The Blue Jays accomplished this by matching a season high with five home runs behind right-hander Chad Jenkins, who tossed five strong innings in a 12-4 victory over the Red Sox on Sunday afternoon.
"We played good baseball, but we didn't go 6-1 [and] we didn't sweep two series," said right fielder Jose Bautista, who hit a pair of home runs. "We only played one game over .500 on the road trip, but it's a great way to bounce back, because we were playing pretty bad.
"It's good, too, to just be playing good baseball. The results are going to come just from the consistency of doing that."
Bautista enjoyed the 18th multihomer game of his career, with Brett Lawrie, Edwin Encarnacion and Emilio Bonifacio also getting in on the action. It was the most home runs the Blue Jays hit in one game since April 4, during the first series of the year, against the Indians.
Toronto's offense has been stagnant at times this year, but the home runs have always been there. The club finished Sunday's game ranked first in the Majors, with 51 home runs, despite being only 23rd in runs scored.
It was Bautista's first multihomer game since June 19, 2012, against the Brewers. He now has nine on the season, which trails the team leader, Encarnacion, by two. Bonifacio's two-run homer in the fourth was his first of the season and came as part of a three-hit day at the plate.
The barrage of support gave the Blue Jays a rare opportunity to take a deep breath and play without added pressure. The club has played in 23 games decided by two runs or fewer, and when the score has been lopsided, it usually has been in favor of the other team.
"Any time you can play a game like that and get a good cushion, [it's] great. It allows you to relax a little bit," Bautista said. "You get three or four runs ahead, that's when some guys come out and are able to take some big hacks, and we get the type of results that we got today. We got some homers after we got ahead and got some key hits, too, in some crucial moments."
Three of the five home runs were hit off right-hander Ryan Dempster. The native of British Columbia was charged with six runs on seven hits while striking out six and walking one. It's the first time he has lost to a Canadian team, having entered the game with a perfect 6-0 record versus the Expos and Blue Jays.
The rough outing also led to Dempster allowing more than four runs in a start for the first time this season. He appeared to have difficulty keeping the ball down in the zone, and the elevated pitches resulted in a big day at the plate for Toronto.
"I was missing up a lot today -- more than I normally do, for whatever reason," said Dempster, whose ERA rose to 3.75. "I couldn't really pinpoint it. I tried to get the ball back downhill to be consistent. It would be good for a few hitters, and then I'd get the ball up. I just tried to work hard, but I just wasn't good enough today."
Jenkins made his season debut despite having only one Minor League outing under his belt this year. He was promoted to the big league club after right-hander Brandon Morrow was scratched because of soreness in his upper back.
The 25-year-old allowed a solo shot to Mike Napoli in the fourth inning but other than that was relatively flawless, allowing just two runs on seven hits while striking out two. He was removed during the top of the sixth after having thrown 90 pitches, as the club monitors his workload because of an injury to his right shoulder sustained earlier this year.
With J.A. Happ and Josh Johnson on the disabled list, there's an opportunity for Jenkins to secure a spot on the Major League roster. This performance made a statement, whether he'll admit it or not.
"I thought I did a pretty good job of keeping the team in the game, and if they want to give me another [start], then fantastic," Jenkins said.
Toronto's seven-game road trip is now at an end, and the club will have an off-day on Monday before opening a two-game series versus San Francisco on Tuesday.
The Blue Jays never could have anticipated being 10 games under .500 two weeks into May, but a positive trip has the potential to become a starting point for a strong run. The Blue Jays thought they'd reached that spot before, but so far it hasn't worked out, and the hope is that this time it will be different.
"We've been waiting on that all year, and we've had a couple of stretches, even in [St. Petersburg], a couple of comeback games, and then we lost the next two -- one was kind of a heartbreaker," manager John Gibbons said.
"We've had a couple of games like that earlier on, and it really hasn't taken off. We're waiting on that, we know it's going to happen. But it's definitely been a long wait. We've got that good feeling out there now."
Gregor Chisholm is a reporter for MLB.com. Read his blog, North of the Border, and follow him on Twitter @gregorMLB. This story was not subject to the approval of Major League Baseball or its clubs.