Lee deals seven shutout innings for fourth win
Rollins racks up two RBIs; Papelbon's five-out save seals it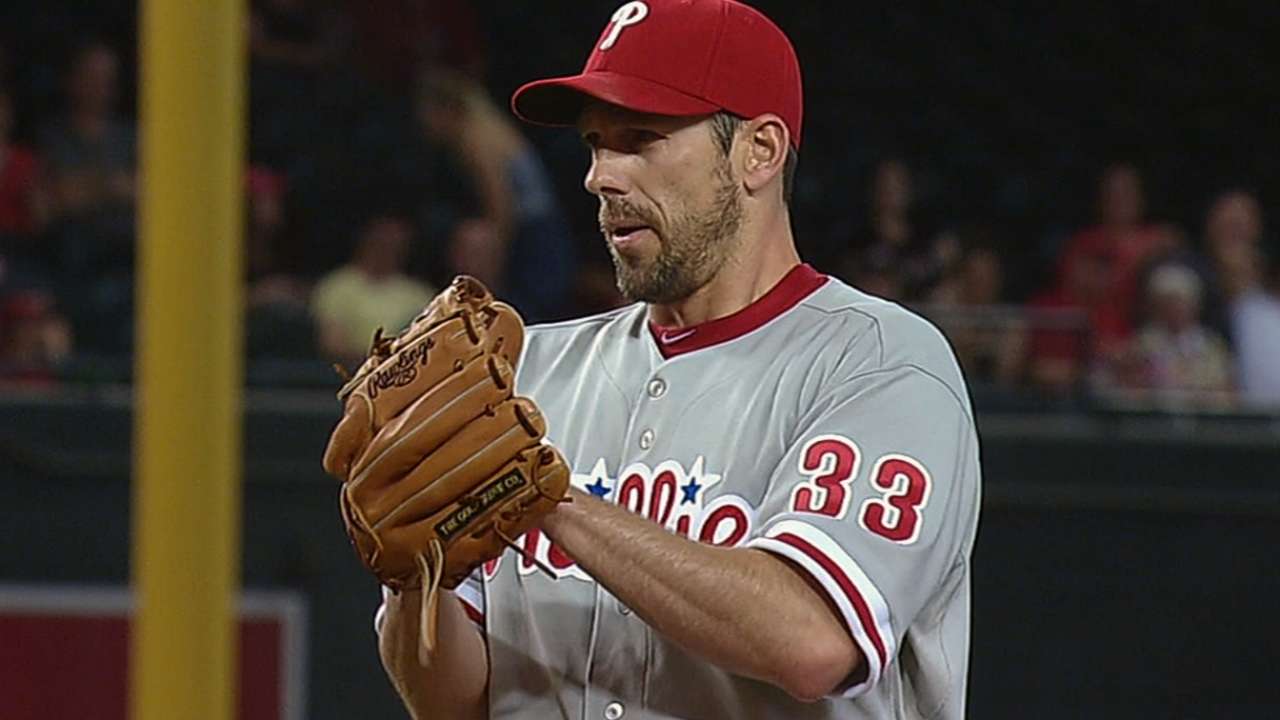 PHOENIX -- Last year was a very strange one, Cliff Lee admitted on Saturday. He didn't win his first game until July 4 and his fourth until Sept. 1.
"That's the way the game goes sometimes," Lee said after recording his fourth win of this season, a 3-1 victory over the D-backs at Chase Field.
Mark the date: May 11.
"Last year it seemed like it was my year to not get many breaks," he added. "But things like that happen. There's nothing you can really do except go out there and do your job and try to not to let it affect you."
Lee was his usual impervious self. Veteran shortstop Jimmy Rollins drove in the first two runs and Lee made them stand up.
The left-hander was masterful, holding Arizona scoreless on six hits and pitching out of a bases-loaded jam in the seventh to help the Phillies snap a three-game losing streak. Lee's record improved to 4-2 as Jonathan Papelbon contributed a five-out save, his sixth, striking out pinch-hitter Eric Hinske and A.J. Pollock with runners on second and third to end the game.
Phillies manager Charlie Manuel said that setup man Mike Adams wasn't available, so when Antonio Bastardo dug himself into a quick hole in the eighth, Manuel went right to Papelbon, who hadn't recorded a save since May 3 and only had appeared twice since then.
"I don't like him having to [give us five outs], but I did," Manuel said about Papelbon, who threw 29 tough pitches to work out of two jams. "We'll probably have him tomorrow. I don't know, we might not have him. I'll have to check with him."
Lee wasn't injured in 2012, but he went through a miserable spate of luck exacerbated by a lack of run support. The latter has continued for the Phillies during this four-game series, as Philadelphia scored just six runs, losing the first two games.
This year, Cole Hamels has had the bad fortune of little offensive support and is 1-5, including a 2-1 loss here Thursday night.
"[Lee] pitched great, that's not the last game he's going to throw that way, he's thrown a lot like that before," D-backs manager Kirk Gibson said. "He had total command of the strike zone, threw the ball wherever he wanted to, in or out, up or down. It was just a great job by him."
On Saturday, D-backs starter Trevor Cahill (2-4) matched the former American League Cy Young Award winner through four scoreless innings. The Phillies broke through in the fifth without the aid of a hit. Cahill walked two and tossed a wild pitch in the inning to put the potential lead run on third. Rollins knocked it in with a sacrifice fly.
It was Rollins again in the seventh, driving in Ben Revere from second with an RBI single off reliever Josh Collmenter. Lee contributed to both rallies with key sacrifice bunts. He had three on the evening.
He seemed more proud of that than the win.
"That's the first time I've ever bunted three times in one game," said the 34-year-old Lee, who spent much of his career in the American League pitching for Cleveland, Seattle and Texas. "I don't remember even bunting twice. It feels good to bunt a guy over and watch him score. You feel like you contributed. I feel good about executing three of three."
Nevertheless, the Phillies went into the game hitting .238 with runners in scoring position, 19th in the Majors and 10th in the National League. Rollins, the team's longtime leadoff hitter, was one the worst culprits in that category, hitting .143 with RISP coming into the game.
Their two best, Chase Utley (.400) and Michael Young (.385), were set down by Cahill for the final two outs of the third inning with runners poised to score.
"That's something I actually went home thinking about after the first night here," said Rollins, 34. "It's a position I like being in. I usually have success when I get runners on. Not so much yet this year. Tonight I did what was needed. I was put in a good position and I got a sac fly and a single."
Lee came out of the game after seven, having thrown 114 pitches. He struck out three and walked two, including second baseman Josh Wilson to load the bases in the seventh. Gibson sent up Wil Nieves, his only right-handed hitter on the bench, to pinch-hit. Phillies pitching coach Rich Dubee went to the mound to talk to Lee. There was no one up in the bullpen. It was Lee's game.
"We wanted to just to calm him down and remind him how to pitch to the guy," Manuel said.
Whatever works. On a 1-1 pitch, Nieves bounced the ball to Rollins, who threw him out easily at first.
"Sometimes he can it do all," Rollins said about Lee. "Other times he just pitches. Tonight, he did it all. He pitched seven shutout innings. He got three sac bunts down. I don't know the last time he did that. He wanted that win. He worked. He worked hard and he got rewarded."
Barry M. Bloom is a national reporter for MLB.com and writes an MLBlog, Boomskie on Baseball. Follow@boomskie on Twitter. This story was not subject to the approval of Major League Baseball or its clubs.