Mariners make late charge, but fall short vs. A's
Offense unable to cash in on scoring chances in final two innings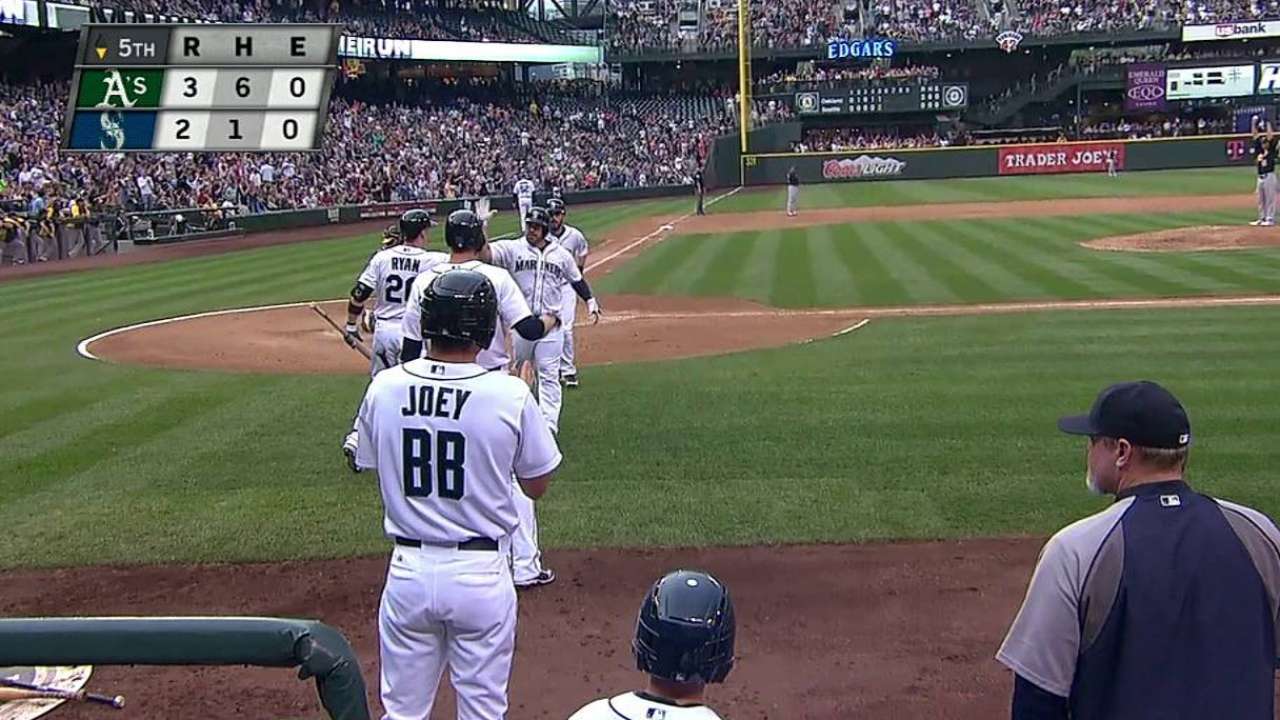 SEATTLE -- It was fitting, perhaps, that one of the runs the Mariners were able to score in Saturday's 4-3 loss to the A's came when Justin Smoak ran straight through a stop sign by the third-base coach and crossed the plate in the seventh inning.
Because at times it seemed the only thing stopping the Mariners was themselves as they stranded seven runners in the final three frames, tantalizingly unable to come up with the equalizer in a game that would have leapfrogged them past the A's into second place in the American League West if they'd been able to win it.
"We had so many opportunities those last three innings," manager Eric Wedge acknowledged. "A few guys stepped up, a few guys didn't. But I loved the fight. Guys were in it all the way to the end and made them work real hard for that win, but ultimately they got it done."
Three solo home runs by the A's proved too much for Seattle to overcome as Oakland snapped its five-game losing streak. The Mariners have still won eight of their last 12 games, but fell to 17-20 with the loss.
Brandon Maurer, pitching on 10 days' rest after skipping his last start to manage his innings, gave up three runs on six hits in five frames as his record fell to 2-5.
The 22-year-old rookie stayed away from any big innings, but allowed home runs to Josh Donaldson and Daric Barton and left with a 3-0 deficit after throwing 95 pitches.
"Frustrating," said the rookie. "Those were two balls that were very poorly thrown."
Maurer said the extended layoff might have left him over amped and affected his control as he was rushing early.
"I think the adrenaline gets me working a little quick," he said. "I felt that a little bit, not throwing for a while and then coming out tonight and being a little revved up."
Veteran catcher Kelly Shoppach said that adrenaline should be expected from a rookie, especially working on extra rest, but was just part of the growing process.
"He had really good stuff tonight," Shoppach said. "His stuff plays, his competitive nature plays. Along the way we'll start harnessing all that excitement and stuff. We've seen it at times this year when he's been what we thought he could be. Tonight he had good stuff and really battled. I've just been impressed with that. Every start out there he just competes. That's a huge step for a young guy."
Seattle finally got to A's starter Jarrod Parker with a two-run homer by Shoppach -- the first hit of the game off the young right-hander -- with two outs in the fifth to cut the deficit to 3-2.
"I almost got too caught up in not wanting to walk Shoppach on that 3-2 pitch, and he hit a good pitch," said Parker. "It was a fastball up, but it was outer third, and he just put a good swing on it. That's obviously something I'd love to have back, but we won and that's what's important."
Parker, a 13-game winner last year as a rookie, has struggled this season and came in lugging a 1-5 record and 7.34 ERA. He walked four in the first five innings, but otherwise kept hitters off base and got some defensive help from center fielder Yoenis Cespedes, who robbed Kyle Seager of a double when he crashed into the fence while making a leaping grab of a long drive in the sixth.
The Mariners chased Parker in the seventh with back-to-back singles by Smoak and Raul Ibanez. Dustin Ackley then singled off reliever Sean Doolittle to score Smoak, who ran through third-base coach Darren Brown's stop sign to cut the lead to 4-3.
"I took off on contact, and before getting to third I saw him waving me in," Smoak said. "But when I hit third and looked up, I was already past stopping. It's hard to slow me down. I don't know. It was past the stop point there.
"I saw the catcher come up the line and didn't know if we were going to have another collision at home plate or not, but I was able to sneak by there," said Smoak. "I guess I was just fast enough."
But that was the last time the Mariners touched home plate despite a series of chances. Shoppach struck out and pinch-hitter Jason Bay grounded out to strand two after Smoak scored in the seventh.
Seattle then loaded the bases with two outs in the eighth against Ryan Cook, but couldn't push across the tying run as Endy Chavez struck out after Michael Morse had done the same earlier in the inning.
The Mariners threatened again in the ninth with two on against closer Grant Balfour, but Seager grounded out to end the game.
The A's continued their home run efforts against Charlie Furbush, as Brandon Moss greeted the Mariners' reliever with a blast leading off the sixth. That was the only hit Furbush allowed in two innings, and Yoervis Medina, Lucas Luetge and Carter Capps followed with two more scoreless frames to keep the game close.
Greg Johns is a reporter for MLB.com. Follow him on Twitter @GregJohnsMLB as well as his Mariners Musings blog. This story was not subject to the approval of Major League Baseball or its clubs.