D-backs' streak snapped as late rally comes up short
Cahill effective but inefficient through five innings vs. Phillies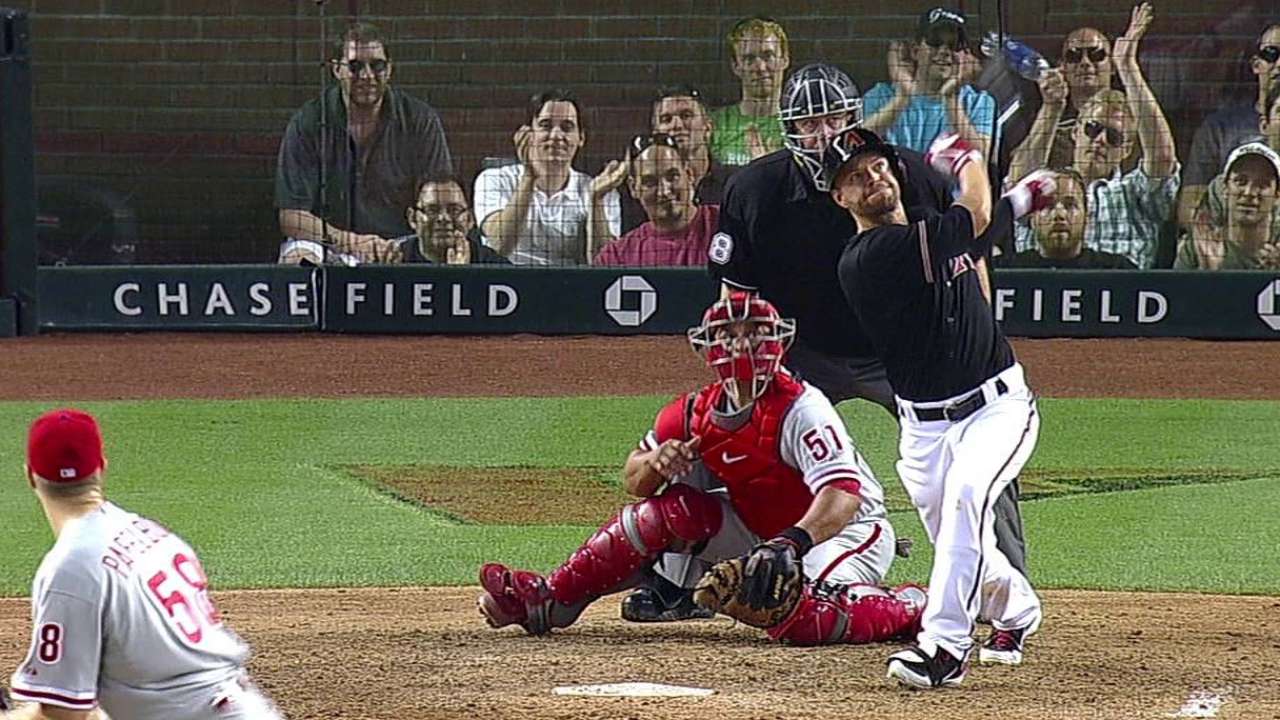 PHOENIX -- In the first two games of the series against Philadelphia, the D-backs' lineup was able to translate a few key hits and a total of five runs into a pair of victories.
On Saturday, however, the offense's slow production finally caught up with Arizona, even as Trevor Cahill kept the club in striking distance.
Unable to capitalize on their run-scoring opportunities, the D-backs' bats fell silent against Cliff Lee and the Phillies, who snapped Arizona's season-high five-game winning streak Saturday, 3-1, in front of 28,113 fans at Chase Field.
"We battled all night, we had a chance to win," D-backs manager Kirk Gibson said. "Things just didn't go our way."
Coupled with a Giants victory over the Braves, the loss dropped Arizona one game back of first place in the National League West.
For how unproductive the D-backs appeared to be through the first eight innings on Saturday, the club still managed to find itself with two chances to tie the game in the bottom of the ninth. But with runners on second and third and one out, Phillies closer Jonathan Papelbon struck out Eric Hinske and A.J. Pollock to end the game.
"We got our guys up that we wanted to get up right there," Gibson said. "You just tip your cap."
Even before the ninth inning, the D-backs' offense had plenty of chances to strike, but the club went 0-for-6 with runners in scoring position, offering no support for Cahill. The D-backs are just 1-for-21 with RISP through the first three games of the series with the Phillies, which concludes Sunday.
"We were fortunate to have a chance to win tonight," Gibson said.
Pollock, who doubled twice Saturday to lift his NL-leading total to 14, reached third base with one out in the first inning but was stranded there after Paul Goldschmidt popped out and Cody Ross flied out. The D-backs again threatened against Lee in the seventh, loading the bases with two outs, but pinch-hitter Wil Nieves grounded out to shortstop to end the inning.
Lee tossed seven shutout frames, surrendering only six hits.
"He pitched great, that's not the last game he's going to throw that way. He's thrown a lot like that before," Gibson said. "He had total command of the strike zone, threw the ball wherever he wanted to, in or out, up or down. Just a great job by him."
Saturday marked the 26th time in 37 games this season that the D-backs' contests have been decided by two runs or less. Their knack for keeping things interesting offered a silver lining, even though they failed to come all the way back.
"It says a lot about our team, I can't think of one game where we didn't have a chance," Pollock said. "We've been playing a lot of close games, hopefully we can come up with a 'W' next time."
Countering blow for blow with Lee through the first four innings, Cahill blinked first in the fifth with a couple miscues that allowed the Phillies to break the scoreless tie. After the right-hander issued a leadoff walk to No. 8 hitter Ben Revere, Lee bunted him over with a sacrifice, and a wild pitch and Jimmy Rollins' sacrifice fly put Philadelphia ahead, 1-0.
Cahill got out of the inning by striking out Ryan Howard with runners on second and third but that was the last batter he faced. Cahill (2-4) gave up just the one run on three hits, but walks (four) and inefficiency continued to be an issue for him as he pitched less than six innings for the fourth time in eight 2013 outings.
"He was just out of whack, it was hard for him," Gibson said. "It was a struggle all night."
From Cahill's perspective, his night started to go downhill once he lost control of his best pitch, the sinker.
"I couldn't get it over, I couldn't get it anywhere close," he said. "I think it was a mechanical thing. My finish and my follow-through was different every single time. I think that contributes a lot to it."
Still only down by a run in the seventh, the D-backs' bullpen allowed single runs in the next two innings to give the Phillies some breathing room.
The runs, allowed by Josh Collmenter and Tony Sipp, marked the first time in eight games the D-backs' bullpen was scored on. The seven-game shutout streak, spanning 16 innings, tied a franchise record.
"The walks hurt us, it makes it harder on yourself," Gibson said. "We tried not to let it get out of hand. It would've been good to win the game, but they battled hard."
With Lee finally out of the game, Arizona got on the board in the eighth on Ross' sacrifice fly, but that's all the offense would muster. The run did, however, extend the D-backs' stretch of not being shut out in 37 games this season. Every other team in the Majors has been held scoreless in at least one game.
Tyler Emerick is an associate reporter for MLB.com. This story was not subject to the approval of Major League Baseball or its clubs.