Tigers' rally falls short after Verlander's rocky start
Ace unable to find command as Detroit nearly pulls off big comeback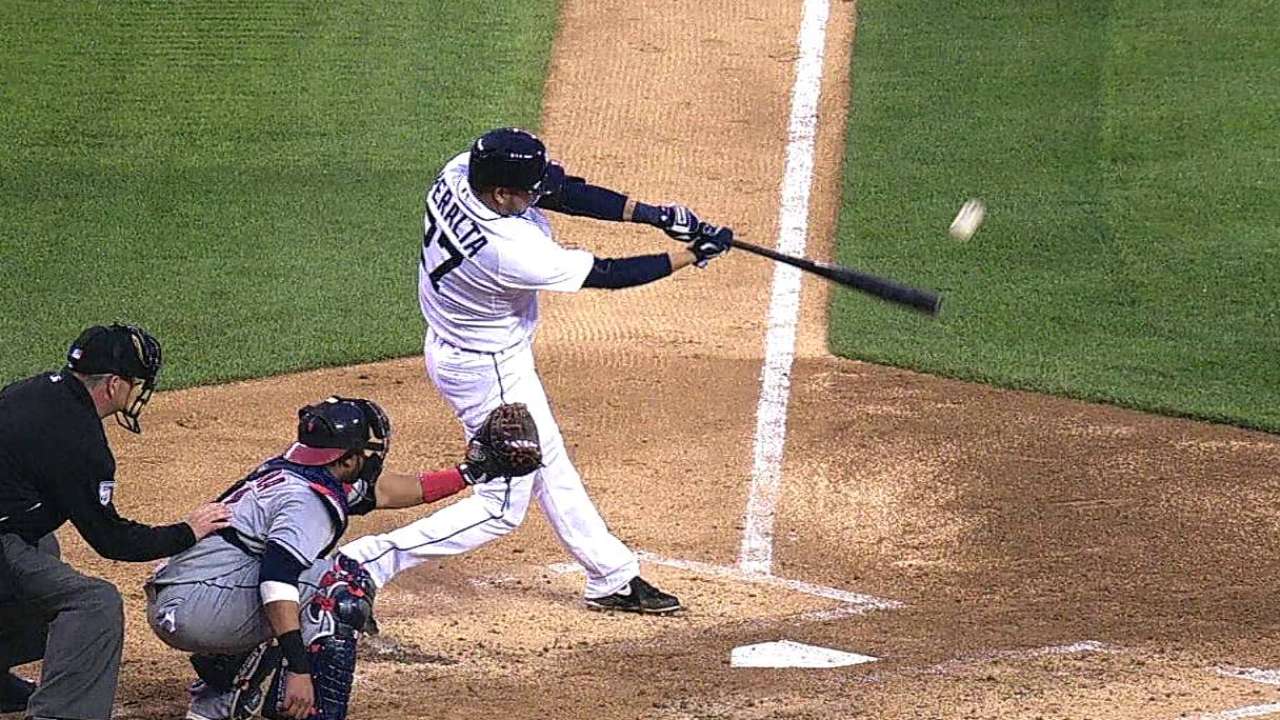 DETROIT -- Justin Verlander has arguably more above-average pitches than anybody in the game. He threw a no-hitter two years ago in Toronto throwing his fourth-best pitch, the slider. He nearly did the same in Houston last Sunday with a lot of changeups.
When he doesn't have his fastball command, though, it's a completely different challenge. As much importance as people place on him throwing 95 mph and up, it means nothing if he can't throw it where he wants.
That's how the best pitcher in baseball spent his Saturday evening.
"It was a battle the whole night for me," Verlander said after the Tigers' 7-6 loss to the Indians at Comerica Park.
It was a battle for most everyone on the field, who were in the rare position of trying to overcome a big deficit in a Verlander start. They came tantalizingly close to pulling it off, getting Miguel Cabrera to the plate in the ninth inning with the potential tying run in scoring position and the winning run at first against closer Chris Perez.
Cabrera fell into an 0-2 hole, then shrugged off three straight pitches outside to run the count full and force Perez to make a pitch. He made a fastball on the corner that induced Cabrera to ground out to third.
When Perez needed a pitch, he had his fastball. Verlander spent five innings trying to get to that point and never quite found it.
"I felt like when I needed to make a pitch, my fastball just totally evaded me," Verlander said.
Said manager Jim Leyland: "It happens to the best of them, and it happened to the best of them tonight."
In his case, Verlander says it happens once or twice a season. What he said afterwards sounded much like what a Major League scout said while watching the game. He wasn't awful and he wasn't hurt. He was just a little off.
"I felt just off-kilter, wasn't quite right," Verlander said.
When he tried to make a fastball down and away to left-handed hitters, he said, he'd yank the pitch over the middle of the plate. Against a lineup with five left-handed batters and three switch-hitters, it was a problem.
He left a fastball over the inner half to Nick Swisher in the first inning and paid with an RBI double. He missed inside on a full-count fastball to Carlos Santana and walked him to load the bases. He did the same to Jason Giambi after that and walked in another run.
By the time Michael Brantley flied out to end the inning, Verlander had thrown 35 pitches. It was a throwback to his younger years, when his quest for strikeouts in an early jam would run up his pitch count at warp speed. Verlander lasted through nights with quick groundouts and efficient middle innings.
"A lot of times when I get my pitch count up early, I'm able to locate some fastballs the next couple innings, just nice and easy," Verlander said. "Here it is, hit it on the corners, and get some quick outs. That wasn't the case tonight. I tried to do that and continued to fall behind a little bit, and had to really work to get each and every out."
Unlike some past Indians lineups, this one wasn't going to help him out of it.
"That's what we talked about before the game, was trying to make him work for everything," Cleveland manager Terry Francona said. "He's so good. He's so strong. He's so durable. He has a lot of weapons. But, to our credit, we made him work for everything."
For the game, Verlander threw 41 fastballs, but just 21 for strikes. Just two of those were swinging strikes. Most of those fastballs came in the first couple innings.
Eventually, Verlander had to find a pitch he could make. He ended up making changeups, curveballs and sliders.
It's as close to a junkballer as Verlander gets.
"After the second, I really relied on my offspeed stuff, getting ahead with the fastball and then a heavy mix of offspeed and some fastballs," he said. "I was trying to grind it out for six innings and keep us in the ballgame. Obviously I was only able to go five, but like I said, it was a battle the whole night for me."
He threw more changeups than fastballs, and for more strikes. He threw more effective curveballs, a pitch he said he'd been struggling to find all season. He retired seven of eight before a leadoff walk to Nick Swisher in the fifth and a botched rundown between first and second helped run his pitch count over 100.
Verlander (4-3) finished with 110 pitches, the first time he has reached that mark without pitching into the sixth inning since August 17, 2010. He walked five batters in five innings or less for just the third time in his career.
For him, it could've been worse.
"Really, I think the Justin Verlander of old probably gives up a hefty amount of runs there," he said. "You go back a few years, I don't know if I'm quite able to make the adjustment that I did today and heavily rely on off-speed stuff. So that's something that I can take with a good vibe."
Ubaldo Jimenez (3-2), on the other hand, enjoyed one of his best outings against the Tigers since he became a division rival in the trade with Colorado two years ago. Jhonny Peralta's leadoff home run in the third was the only blemish he allowed the first time through Detroit's order, and he used strikeouts to strand three runners in scoring position in the fourth and fifth innings.
Jason Beck is a reporter for MLB.com. Read Beck's Blog and follow him on Twitter @beckjason. This story was not subject to the approval of Major League Baseball or its clubs.