Humber can't keep it going for Bedard vs. Darvish
Righty allows big sixth; rally falls short in ninth; two HRs for Dominguez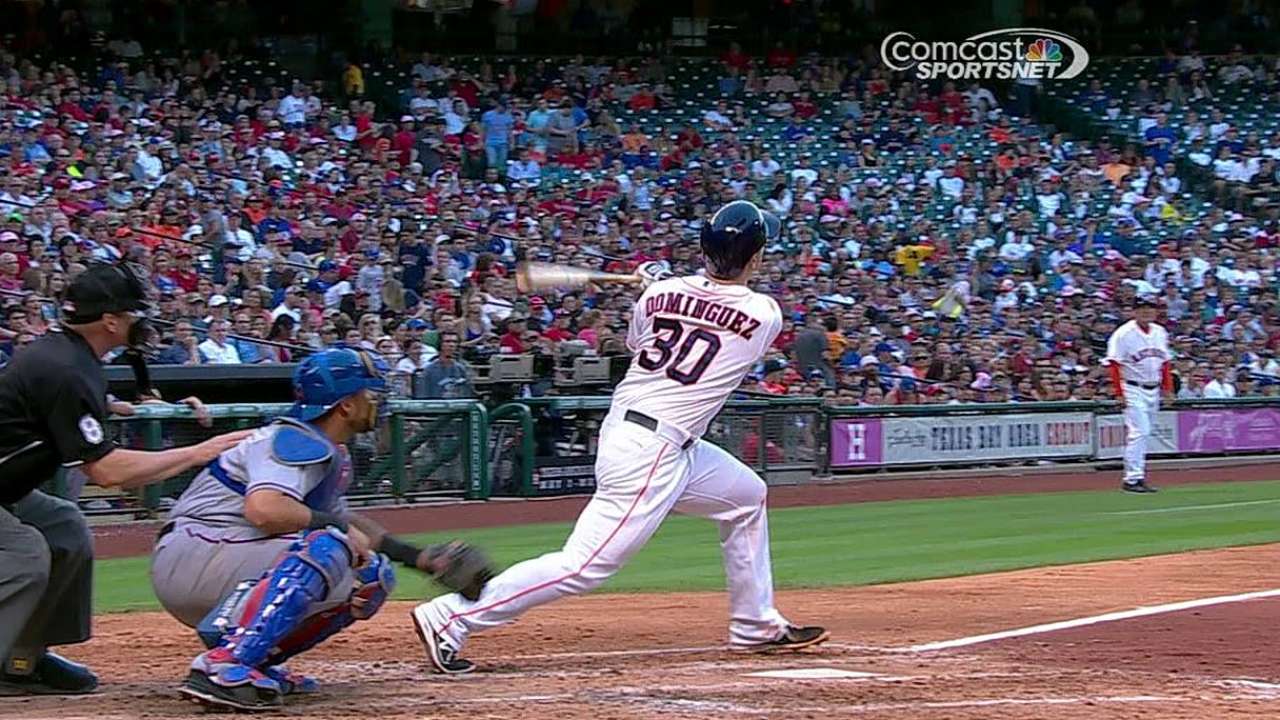 HOUSTON -- Erik Bedard put together his best start of the season for the Astros in his return to the rotation following a brief stint in the bullpen, pitching into the sixth inning and leaving the game with a lead over Rangers ace Yu Darvish.
Bedard barely had time to receive congratulatory pats on the back from teammates in the dugout before the lead vanished and the Rangers had broken open a tight game and did just enough damage to be able to hold off the late-charging Astros.
The Rangers erupted for six runs in the sixth inning, including five against scuffling relief pitcher Philip Humber, and survived a late surge to beat the Astros, 8-7, on Saturday night before 27,188 at Minute Maid Park.
"I wish we could have battled all the way back, and it speaks to the resilience of this ballclub and I don't think that's ever going to leave us," manager Bo Porter said. "It's part of who we are, but at the same time, I'm looking forward to battling back in one of these here type of games and getting that big hit and walking somebody off."
The Astros scored once in the eighth inning and three times in the ninth and had the tying run on first base when pinch-hitter Chris Carter popped out against Joe Nathan to end the game.
"Obviously, we don't want to get in those situations," Nathan said. "You have a four-run lead going into the ninth, but nothing is comfortable until the last out. We play nine innings, a lot of teams do and they showed they had some fight in them."
Darvish (6-1) worked seven innings and allowed three runs and three hits while striking out eight batters. He became the second pitcher in Major League history to record at least 300 strikeouts in his first 37 big league starts (Dwight Gooden).
Matt Dominguez hit his first two home runs of the season, coming in the third inning and fifth inning against Darvish, who fell one out shy of a perfect game when he last faced the Astros on April 2 in Houston. He retired the first seven batters he faced Saturday before Dominguez took him deep in the third.
"I didn't get to face him last time, and I was excited to face him this time," Dominguez said. "He's having a great year and is one of the best pitchers in the game. I got ahead in the count and got some pitches to hit that happened to go out of the field."
Humber, who was making his second appearance in relief since being removed from the rotation, was rocked for five runs and five hits -- four extra-base hits -- in two-thirds of an inning to suffer his eighth loss of the season (first in relief).
"It's hard, but there's a lot worse things than struggling on a baseball field," Humber said. "I feel bad as far as the team goes. I want to do the best I can for the team, but it's not about me. I'm a man, I can handle struggling. It's disappointing because you put a lot of hard work in and don't get the results you want. That's part of sports. That's why it's competition. Not everybody gets success. It doesn't happen all the time. That's why you can't take a single day for granted."
Bedard, facing the Rangers for the first time since throwing 3 1/3 scoreless innings in relief on Opening Night, held Texas to two runs and four hits in five-plus innings, while striking out seven batters. He was pulled after giving up a leadoff single to Lance Berkman in the sixth, leading 3-1.
"Bedard was tremendous and did a great job," Porter said. "I thought in the fifth, when he stepped back and bowed his neck and willed us through that inning with big pitch after big pitch after big pitch, he was outstanding tonight."
Humber struck out Adrian Beltre before things spiraled out of control. Nelson Cruz hit a two-run homer to right field. Mitch Moreland tripled and scored on a David Murphy double, and Craig Gentry's two-run triple made it 6-3. Elvis Andrus added an RBI single, and Humber was removed from the game.
"We took him out of the rotation to get him down in the bullpen and get some things straightened out, and he looked real good his first time out of the bullpen," Porter said. "Today was not so good, and we just have to see as time goes on to give him opportunities and see how it goes."
Berkman homered to lead off the seventh to push the lead to 8-3. It was his 157th career home run at Minute Maid Park, which is the most by any player.
The homer proved to be huge, considering the Astros got off the mat in the ninth and made it interesting. Trevor Crowe had an RBI single, Carlos Pena scored on a wild pitch and Marwin Gonzalez cut the lead to 8-7 on a sacrifice fly before Nathan shut the door.
"We came up just short, but it was pretty good how we battled back in the later innings," Dominguez said.
Brian McTaggart is a reporter for MLB.com and writes an MLBlog, Tag's Lines. Follow @brianmctaggart on Twitter. This story was not subject to the approval of Major League Baseball or its clubs.