Padres complete comeback but lose on walk-off
Guzman's grand slam ties game late, but two-run homer lifts Rays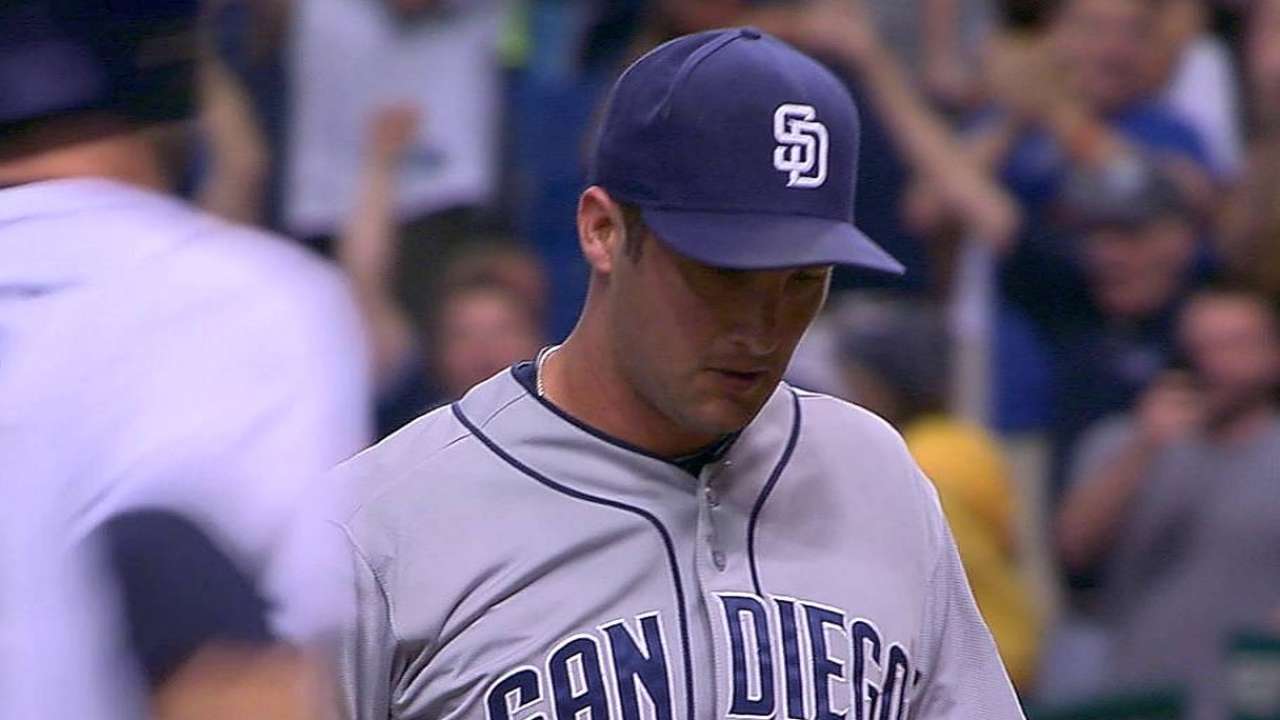 ST. PETERSBURG -- If 23-year-old Burch Smith learned anything from his big league debut Saturday -- and what a wild game it turned out to be -- it was a simple, tried-and-true lesson that is applicable to pitchers both young and old, regardless of stuff.
"I learned that I've got to execute pitches better," Smith said. "I left too many balls over the plate."
He was not the only one.
It happened to his counterpart, the Rays' Jeremy Hellickson. And, of course, it happened to Padres closer Huston Street, who was one strike away from saving a big win but instead surrendered a walk-off, two-run home run to Evan Longoria that punctuated an 8-7 victory over the Padres at Tropicana Field.
If allowing four runs in the seventh inning of a 6-3 loss to the Rays on Friday hurt some, then this one surely stung badly, as the Padres on Saturday had rallied from a four-run deficit for a 7-6 lead after scoring five runs in the seventh inning -- including four when pinch-hitter Jesus Guzman turned a Hellickson changeup into his first career grand slam.
"It was a good inning; we got some good at-bats," Padres manager Bud Black said. "And Guzie with one good swing. It was a tremendous comeback by our guys."
But it was not enough, not even as four Padres relievers combined for seven scoreless innings following Smith's allowing six runs in the second inning of his debut. Smith was officially added to the roster after starting the season with a 1.15 ERA in six starts with Double-A San Antonio.
Street got the first two hitters out in the ninth inning and jumped ahead in the count on Ben Zobrist with two dandy changeups. With the count 2-2, Street dug in and made a good pitch to Zobrist, who got just a piece of it -- sending it just off the palm of catcher Nick Hundley's glove. He catches that ball, albeit a tough one to get one's hands on, and it's game over.
"If it's an inch closer to the pocket [of the glove], we might have had it," Hundley said. "Looking back on it, there's nothing I could have done."
That's precisely how Rays' manager Joe Maddon saw it, too.
"That's going to be overlooked, but you cannot," Maddon said. "Zobrist's at-bat set the whole thing up."
The next batter, Longoria, connected on a ball up in the strike zone, sending the crowd of 18,587 home happy after it appeared that would not be the case.
"That's the fate of a closer," Black said.
For the longest time, it did not appear as if Street (0-2) would be needed, as the Rays (18-18) bolted to a 6-2 lead after just two innings.
Staked to a 2-0 lead before he made even a single pitch, Smith came out firing, peppering the strike zone with fastballs. Leadoff hitter Matt Joyce made Smith work in a nine-pitch at-bat, but Smith eventually got him to swing through a 94-mph fastball for the first out.
Working briskly, Smith caught Kelly Johnson looking at a 95-mph fastball for the second out on a called third strike. Finally, Smith sawed off Zobrist with a 96-mph fastball in on the hands, resulting in a harmless ground ball to second baseman Jedd Gyorko.
Really, Smith made his first big league inning look like a breeze.
"That first inning was the visual of what we've heard [about Smith]," Black said. "A heavy fastball, 94, 95, 96 mph, filling up the strike zone. He was aggressive with the fastball."
The second inning proved trickier for Smith, as he fell behind Longoria with two balls. He worked his way back in the count but eventually walked Longoria. James Loney then jumped on a first-pitch fastball, sending it well over the fence in right field to tie the score.
The Rays were just warming, though. Luke Scott walked, Sam Fuld singled and Jose Lobaton got one on a first-pitch fastball, spanking it to right field to load the bases. Yunel Escobar saw just two pitches, as he lined a two-run single to left field for a 4-2 lead. Finally, Smith yielded an RBI double to Joyce on the second pitch of the at-bat.
"I don't really walk a lot of guys," said Smith, who allowed six hits and two walks with two strikeouts. "I think I tried to get too fine and tried to guide the ball. I've just got to just trust it."
While Smith struggled after a strong first inning, Hellickson was doing the exact opposite. He yielded a one-out single to Will Venable in the first and then left a pitch out in a vulnerable spot to Chase Headley, who was hitting left-handed. Headley hit it over the right-field fence, his fourth home run of the season.
But then Hellickson took off -- in a good way.
In fact, Hellickson retired 16 consecutive hitters from the first inning until Carlos Quentin started the seventh with the first of his two walks. Hellickson, one out away from a nice start, could not get that elusive last out of the seventh inning, allowing the grand slam to Guzman on a full-count pitch.
Quentin later walked with the bases loaded, forcing in a run for a 7-6 lead that proved to be tenuous.
The visiting dugout erupted, as it appeared the Padres (16-20), on a night where their starting pitcher tallied only three outs, had gotten the hit to put them over the top.
"To battle back like that and to take the lead; that was a heck of a game," Hundley said.
Corey Brock is a reporter for MLB.com. Keep track of @FollowThePadres on Twitter. This story was not subject to the approval of Major League Baseball or its clubs.