Slowey's run is derailed by Dodgers
Marlins righty misses out on fifth straight quality start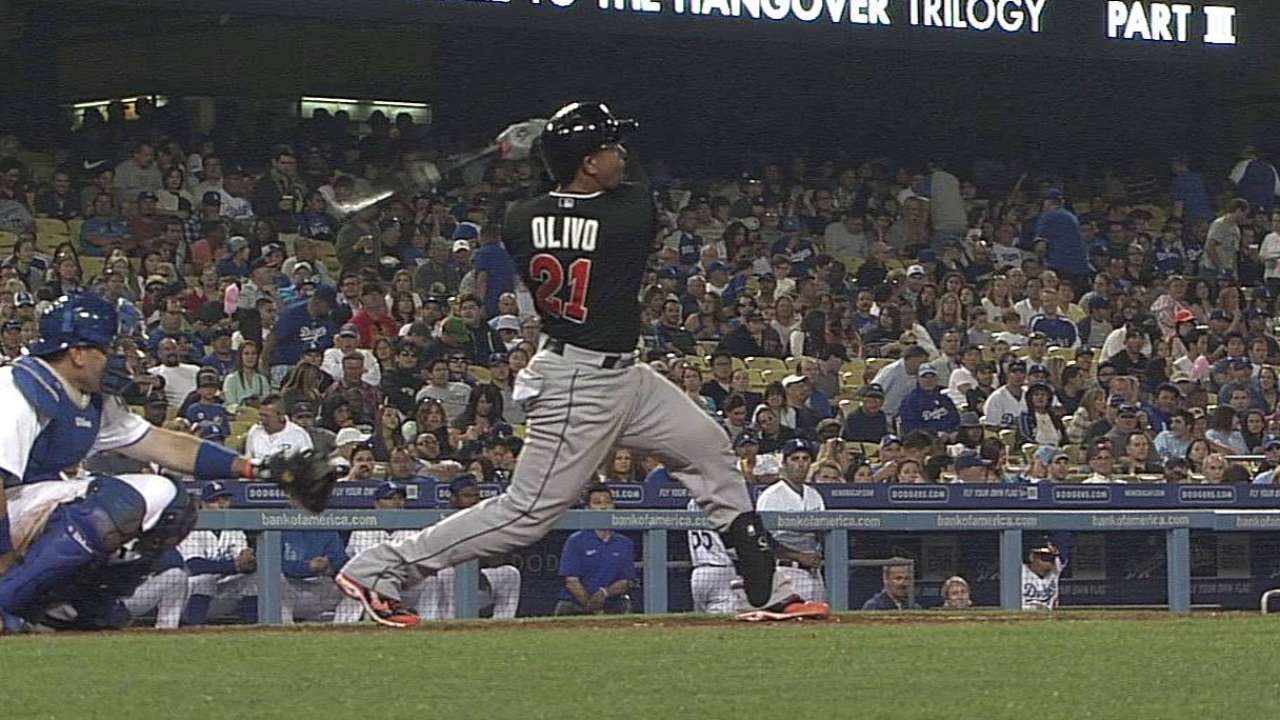 LOS ANGELES -- A steady start is what the Marlins had become used to whenever Kevin Slowey takes the mound.
Every five days, he had effectively kept his team in the game.
But after four straight quality starts, Slowey on Saturday night was tagged for five runs on 11 hits in 4 2/3 innings in the Marlins' 7-1 loss to the Dodgers at Dodgers Stadium.
Slowey entered the game with a 1.81 ERA, and in his previous three starts he had given up a total of four runs on 11 hits in 21 innings.
Dee Gordon belted a solo home run for Los Angeles, Skip Schumaker had three RBIs and Andre Ethier went 4-for-4 and scored three runs.
"Slowey has been great," Marlins manager Mike Redmond said. "Today, you could tell he was battling from the start. But he went out there and continued to compete and tried to keep us in the game. That's what he's done. He's done a great job for us. Today was a little bump in the road. Offensively, we didn't really get anything going either."
Miguel Olivo's home run to open the seventh inning was Miami's lone run off left-hander Hyun-Jin Ryu, who worked 6 2/3 innings and did his part to snap L.A.'s eight-game losing streak.
"He got everything going," Olivo said of the Dodgers' rookie. "When a pitcher has control over four pitches, you don't know what he is going to throw. He threw his pitches in every count, in every situation. That's why he did a good job. They played good defense today. You have to give credit to them today."
The Marlins on Sunday can still take two of three in the series. They're 3-6 on their three-city, 10-game road trip that concludes on Sunday.
The Marlins did match a rare team mark. Each of their three outfielders -- Matt Diaz (left), Justin Ruggiano (center) and Marcell Ozuna (right) -- had an assist. It's been done three times -- also on July 16, 2000, against Baltimore and Sept. 7, 1996, against Montreal.
The last big league team that had all three outfielders record an assist in the same game was the Angels in July 2010.
In his first seven starts, Slowey gave up as many as three runs once, on April 25 against the Cubs. The Dodgers posted three runs on eight hits on the right-hander through three innings.
"It was kind of a battle," Slowey said. "There will be those games over the course of the season, and you hope to survive it probably a little better than I did today. I made some good pitches that they were able to fight off into the outfield. And when I left the ball over the plate, they hit it pretty well. I had opportunities to get out of some innings, and work around some walks. I just have to execute a little better earlier in counts."
Los Angeles got to Slowey for a run in the second inning. Ethier doubled leading off, and he scored on Schumaker's single.
The Dodgers tacked on two more runs in the third inning. Gordon led off with a home run, his first of the season. It was the start of four successive hits allowed by Slowey. With the bases full, Schumaker reached on a fielder's choice. He lofted a soft liner to left field. Diaz raced in but was unable to maintain possession. Adrian Gonzalez scored, but unsure if the ball would be caught, Ethier was thrown out at third. Schumaker was credited with his second RBI of the game.
Schumaker also hurt the Marlins with his glove in the fifth inning. With two outs, and runners on first and second, Diaz slapped a hard ground ball to the right side. Schumaker, playing second base, made a diving stop which denied Miami a run.
With Ryu on the mound, the Marlins went with a lineup with just one left-handed hitter, Greg Dobbs.
In the fourth inning, the Marlins had a chance. Placido Polanco doubled to open the inning, and he moved to third on Ruggiano's groundout to third. But Ryu struck out Ozuna and retired Olivo on a ground ball to short.
In the seventh inning, Olivo kept the Marlins from being shut out for the third time in four games when he homered.
"I felt confident to throw a changeup," Ryu said through a translator. "It went over the plate. Obviously, at this level, it can cost you a home run."
Joe Frisaro is a reporter for MLB.com. He writes a blog, called The Fish Pond. Follow him on Twitter @JoeFrisaro. This story was not subject to the approval of Major League Baseball or its clubs.