Johnson allows six runs in loss to Twins
Wieters homers and drives in two, while Machado has three hits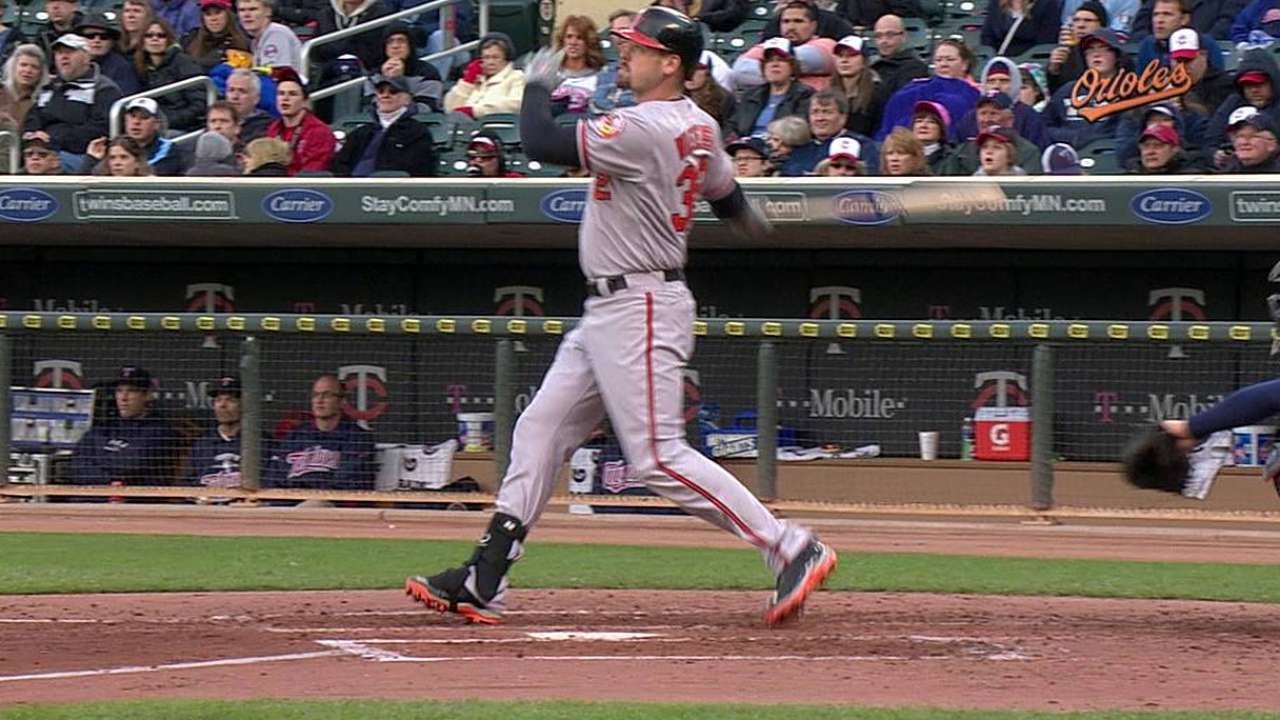 MINNEAPOLIS -- One of the Orioles' pleasant surprises last season, Steve Johnson took the mound for his first start of 2013 on Saturday night, confident a right lat injury was behind him and ready to pick up where he left off.
But given the opportunity with starter Miguel Gonzalez on the disabled list, Johnson didn't exactly run with it. Instead, Minnesota -- who watched a 6-0 lead dissipate on Friday -- erased the Orioles' early three-run lead and tagged Johnson with six earned runs in an 8-5 loss in front of 32,221 at chilly Target Field.
"It was tough to get a grip on the ball, but everyone's dealing with the same conditions," said Johnson of a game-time temperature at 53 degrees and swirling winds up to 25 miles per hour. "You need to find a way and I wasn't able to do it."
The 25-year-old Johnson, who allowed seven earned runs total in four starts with the Orioles last season, surrendered seven hits and four walks, including one intentional, and became the second consecutive starter to last just four innings.
The 88-pitch outing, which forced Orioles manager Buck Showalter to dip into his bullpen early, led to Johnson being optioned to Triple-A Norfolk after the game, so the Orioles could bolster their bullpen for Sunday's series finale.
A corresponding move will be announced before Sunday's game. Given Brian Roberts' hamstring surgery, the team could transfer him to the 60-day disabled list, should they need to add a player to the 40-man roster, as well.
"We're not going to be short. I can tell you that," Showalter said of the bullpen. "We're not going to assume anything with Wei-Yin [Chen starting], especially with the conditions that we're playing in."
Johnson was done in by a four-run fourth inning, in which the Twins sent nine men to the plate to take a 6-4 lead. After giving up a pair of runs in the third, Johnson allowed a leadoff single to Chris Parmelee and two outs later, walked No. 9 batter Eduardo Escobar. Brian Dozier followed with a two-run double to tie the score at 4-4.
"It's just [not] quite getting the feel of the off-speed stuff and being able to have that for strikes," catcher Matt Wieters said of Johnson's start. "The fastball was fine and the changeup came in pieces, but he just couldn't quite get off-speed pitches he could keep them off-balance with. And big league hitters will eventually get on-time."
After Dozier's hit, Johnson intentionally walked Joe Mauer before loading the bases on an unintentional walk to Ryan Doumit. Justin Morneau made him pay, punching the first pitch he saw into left field, scoring two more runs to give the Twins their first lead of the night.
The Orioles (22-15), who scored nine unanswered runs on Friday night, jumped on Twins starter Vance Worley with a three-run first inning, powered by doubles by Manny Machado -- who had three hits -- and Adam Jones. Nick Markakis and Chris Davis each had an RBI single and the Orioles took a 4-2 lead on Wieters' solo homer in the fourth.
That would be Johnson's final frame, with lefty Troy Patton entering the game in the fifth and tossing a 1-2-3 inning before Ryan Doumit's two-run homer in the sixth made it 8-5.
"You never want to put the bullpen in that situation," Johnson said of his early exit. "I wanted to go out there and go as long as I could. Unfortunately, I couldn't get out of that inning and I threw a lot of pitches. You don't want to put the bullpen in that situation and you don't want to give up the lead the way I did. It's just not good all around."
The O's -- who had pulled within 6-5 after Machado's RBI single in the top of the sixth -- left the bases loaded in the fifth and allowed Worley to go 5 1/3 innings before he was replaced by Brian Duensing, who tossed two scoreless frames.
"I gave up a lot more hits than I wanted to," Worley said. "The first inning was pretty ugly but overall my team had my back today. There were some really nice plays in the outfield and some big hits. And that saved me."
Brittany Ghiroli is a reporter for MLB.com. Read her blog, Britt's Bird Watch, and follow her on Twitter @britt_ghiroli. This story was not subject to the approval of Major League Baseball or its clubs.