Royals unable to figure out Pettitte, fall to Yanks
Shields takes another tough loss despite notching seventh quality start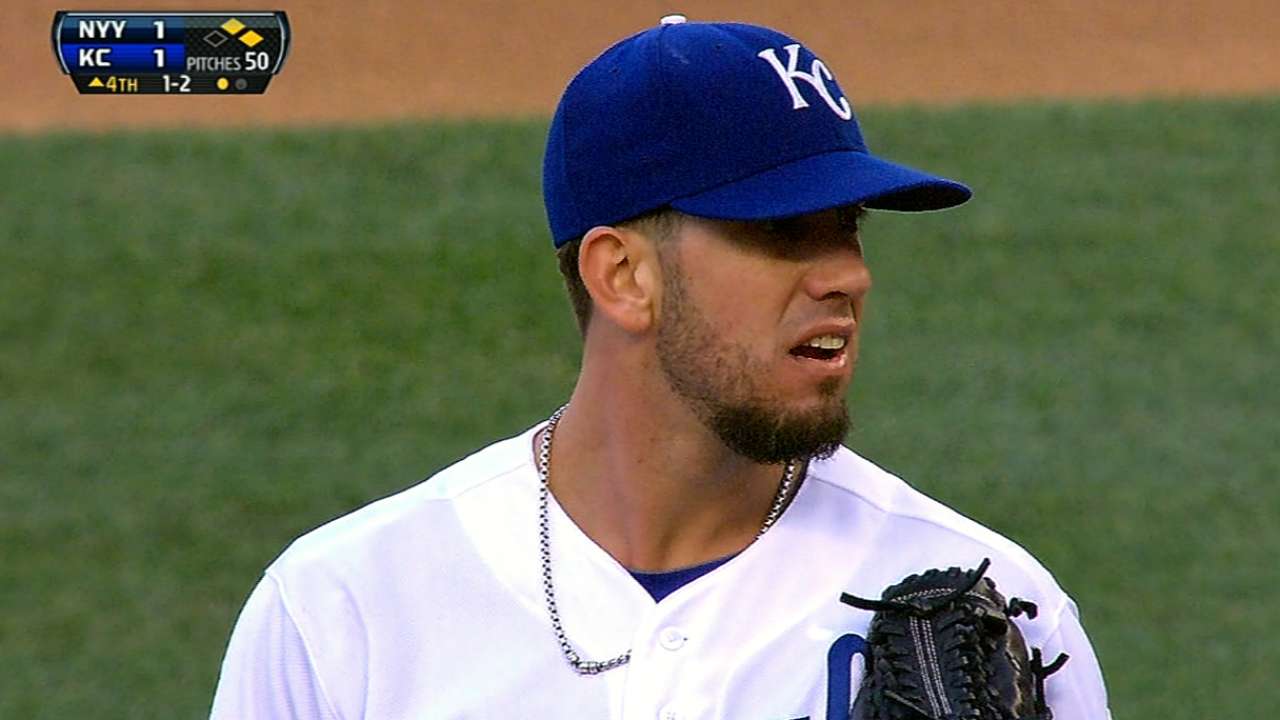 KANSAS CITY -- Andy Pettitte has always been trouble for the Royals and nothing has changed.
Pettitte pitched the New York Yankees to a 3-2 victory over James Shields and Kansas City with 30,910 fans at Kauffman Stadium on a breezy, 66-degree Saturday night. The victory gave the Yankees' left-hander a career record of 15-3 over the Royals.
The second straight loss to the Yankees meant the Royals have lost five of their last six games, their roughest patch of the season. They dropped into third place in the American League Central, behind Detroit by 1 1/2 games, while the Yankees pushed one game ahead of Baltimore and Boston in the AL East.
Shields went eight innings, was charged with just two earned runs and his record slid to 2-3 despite a 2.48 ERA. No excuses from the No. 1 starter.
"You've got to pitch better. That's it," Shields said.
All three of his losses have come in one-run decisions, 1-0 on Opening Day and twice by 3-2 scores.
"We haven't given Shields much run support this year, and in a game like that, we've got to give him more," designated hitter Billy Butler said.
Butler did his best, belting a solo homer for his 500th career RBI to give Shields a 2-1 lead in the fourth inning. But Vernon Wells overcame that with a two-run homer in the fifth and that settled the issue.
The Royals just couldn't break Pettitte of his very annoying habit of beating them so consistently. This victory was his 10th straight winning decision over them going back to a win on Sept. 4, 2000. He's made 14 starts in that stretch.
"He's very intelligent when he pitches," the Royals' Eric Hosmer said. "He gets the most out of every one of his pitches. He's got a really good game plan, and between him and [catcher Chris] Stewart back there, they're very smart."
Pettitte went seven innings. David Robertson pitched the eighth and struck out the side. Mariano Rivera, on his farewell tour, gave KC fans a look at his 622nd save in the ninth.
Shields was more irritated that he drilled Stewart with a pitch to start the fifth inning than he was with Wells' homer that followed after two outs.
"The home runs are the home runs, but you can't give Stewart the free base; 1-2 count, you can't hit him right there," Shields said. "To me, that's unacceptable. He's a nine-hole hitter and I had him [in a] 1-2 count, and you've got the leadoff hitter and [Robinson] Cano coming up. That's unacceptable right there."
Wells connected on a 3-1 pitch, a drive to left field.
"It wasn't that bad of a pitch," Shields said. "It was middle away on 3-1. He's a pretty good hitter, and you fall behind on a good hitter and they're going to put a swing on it. He made a good swing there."
For Wells, it was his eighth home run this season but just his second in 44 career at-bats against Shields.
"Typical James Shields, changing speeds," Wells said. "He had a good fastball, too, that made his offspeed stuff be even more effective. Luckily, he fell behind me and had to throw fastballs, but he's as good as they come. He's 'Big Game James' for a reason."
Both teams had scored single runs in the third inning. Chris Nelson led off the Yankees' half with a double and, after two outs, he sprinted home as third baseman Mike Moustakas snared Cano's bouncer and flung it high over first base for an error.
"Shields threw a great game for us today, he got a ground ball when he needed it and I just threw it away," Moustakas said.
Royals manager Ned Yost went into more detail: "It's one of those situations where Cano has had a bunch of success against Shields (31-for-76, .408, to that point) in his career. He had a base open and Shields did a phenomenal job of pitching to him in terms of not giving him anything to hit. He got him to top the ball, Moose ranged over to his left, caught the ball ... and just got under the throw a little bit."
The Royals got a run in their half, starting with a swinging-bunt single that Pettitte thought was a foul ball off Elliot Johnson's foot. The ball dribbled out to Pettitte as Johnson zipped to first base safely.
"It was a trying day for me today. I knew Elliot Johnson fouled a ball off his foot and he scored. Nobody else saw it. I'm looking around at everybody and they're looking at me like I'm crazy, but you can see the ball spinning sideways," Pettitte said. "I asked the ump and was looking around at all the other ones, and nobody would help me out. I'm the only one that can see the ball is spinning sideways? If the ball is spinning sideways, it means it went off his foot."
Johnson stole second base and moved around to score on two groundouts.
Rivera came in for the ninth and got two quick groundouts from Butler and Hosmer. Salvador Perez doubled down the right-field line and speedy Jarrod Dyson ran for him. Moustakas' bid for a hit with a line drive went just foul down the right-field line.
"I hit it and it stayed pretty straight, and toward the end it kind of came a little further right," Moustakas said.
Then he flied out to left and Rivera had his 14th save in 14 opportunities. His farewell season is going well.
Dick Kaegel is a reporter for MLB.com. This story was not subject to the approval of Major League Baseball or its clubs.