Sox don't meet expectations in loss to Halos
Ventura holds pregame meeting to discuss lackluster defense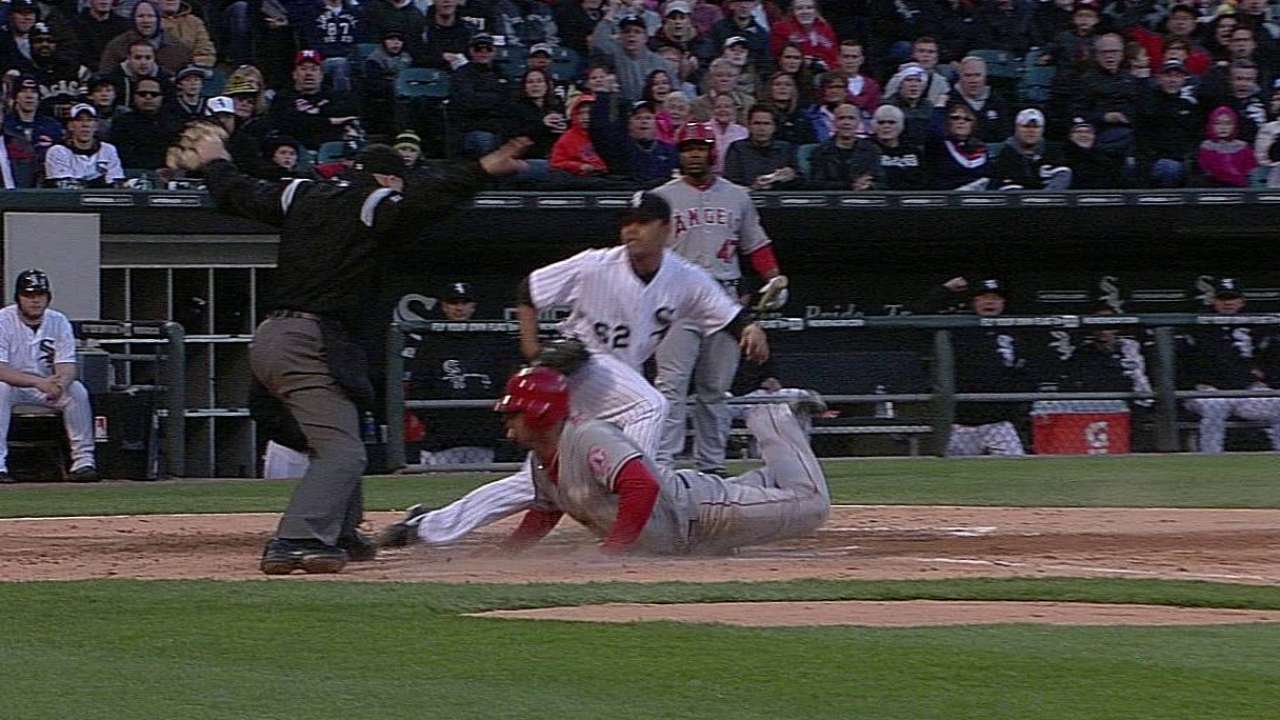 CHICAGO -- Robin Ventura apparently has grown tired of listening to the same old song.
The White Sox manager called a rare pregame meeting on Saturday following batting practice at U.S. Cellular Field, coming on the heels of Friday's series-opening loss to the Angels, during which their season-long defensive issues rose open again. Not just physical mistakes, mind you, but also cutoff men being missed or players late to cover at a base.
Following that meeting, Ventura's crew went out and dropped a 3-2 decision to the Angels before 28,774 on Paul Konerko Bobblehead Night. This particular setback featured three errors and a passed ball, leaving the last-place White Sox (14-20) and the Angels (14-22) tied with an American League-worst 27 errors.
As a point of reference, the White Sox didn't commit error No. 27 last season until June 8.
A safe assumption can be made that this extremely rough defensive display stood as one of the talking points for Ventura, who confirmed the meeting, but didn't reveal much more.
"Stuff just needed to be said," Ventura said. "It's just at a point where I needed to say some stuff and I did."
Konerko, the team captain and steady leader, shed a bit more light on the meeting and the White Sox overall struggles.
"It wasn't like jumping us like crazy, but it also wasn't the old upbeat positive one. It was probably somewhere in the middle," said Konerko of Ventura's talk. "Sometimes meetings like that, it doesn't come out right away, it takes a few days, it's kind of a delayed effect.
"You know, everybody's working. It's a tough thing sometimes. This year it's been the mistakes we make, the hits we don't get, it's coming from a place of trying too hard. When you're in here and you're with everybody all the time, we have some good older players in here.
"If we weren't going about it right, there would be issues. It's just not the case," Konerko said. "It's coming from a place of wanting to do so good. We've just got to figure out a way to find that happy spot where we're not trying too hard."
Saturday's go-ahead run scored in the third, courtesy of the defensive miscues. Mike Trout, who delivered a two-run homer in the first off Jose Quintana (2-1), opened the third with a single, but was promptly picked off.
Albert Pujols followed with a single, and one out later, Josh Hamilton hit what looked to be a routine inning-ending grounder to second baseman Tyler Greene. With Hamilton running hard down the line, Greene threw wide of first base and Adam Dunn was unable to corral the wild throw that sent Pujols to third.
Pujols then scored on a passed ball by Tyler Flowers, as Pujols avoided Quintana's tag with his left hand and sneaked his right hand on to the plate.
"He got a good read, got his hand in there," said Angels manager Mike Scioscia of Pujols' strong baserunning move. "He reacted well on that play, and once he got going, he was OK."
Alejandro De Aza committed an error on Hamilton's first-inning double, and Dunn dropped Pujols' fifth-inning popup, but neither one led to a run. Ventura understands physical mistakes are part of baseball and doesn't believe the miscues are coming from poor mental focus.
"But you know it's just one of those that you do have to do it better," Ventura said. "It's that simple."
Jerome Williams (2-1) didn't exactly mesmerize the White Sox offense, with Trout recording 10 putouts in center field alone. Even when a ball was well struck, such as Alex Rios' long fly to left with one out in the third, it ended up in Mark Trumbo's glove a few feet from the wall.
This White Sox squad isn't exactly blessed with an abundance of speed. And with an on-base percentage ranked 15th in the AL and big producers such as Dunn featuring a dismal 16 hits in 117 at-bats overall, it's hard for the South Siders to sustain big rallies.
In the second, for example, Konerko, Dayan Viciedo (3-for-3), Jeff Keppinger, Greene and De Aza all singled off of Williams, but the White Sox managed just two runs. Keppinger was thrown out at home plate by Hamilton to end the rally.
Quintana allowed two earned runs over six innings and a career-high 117 pitches, while battling through a high early count. He struck out five and walked one, but the unearned run in the third was the difference.
"Those are things that we don't control, and I'm sure that my teammate didn't want to make a mistake," said Quintana, through translator and White Sox coach Lino Diaz. "I just wanted to stop the rally right there and just get out of the inning."
After 34 games, the White Sox sit six out of first in the AL Central and even 3 1/2 games out of fourth. Simply put, they are not playing very good baseball and that fact has not gone unnoticed by Ventura.
According to Konerko, though, accepting your team as the one struggling instead of trying to fight and deny it, while continuing to put in the work, just might lead to a turnaround.
"I feel if we just keep going at it the right way it's got to come out. You've got to believe that," Konerko said. "Sometimes it's hard to believe that but as a player I've seen it happen a lot to yourself and to teams. You just have to keep believing. There's no other choice."
Scott Merkin is a reporter for MLB.com. Read his blog, Merk's Works, and follow him on Twitter @scottmerkin. This story was not subject to the approval of Major League Baseball or its clubs.