Loss leaves Crew preaching 'Move on,' but 'pen is tired
Battered bullpen throws five innings vs. Reds after Burgos struggles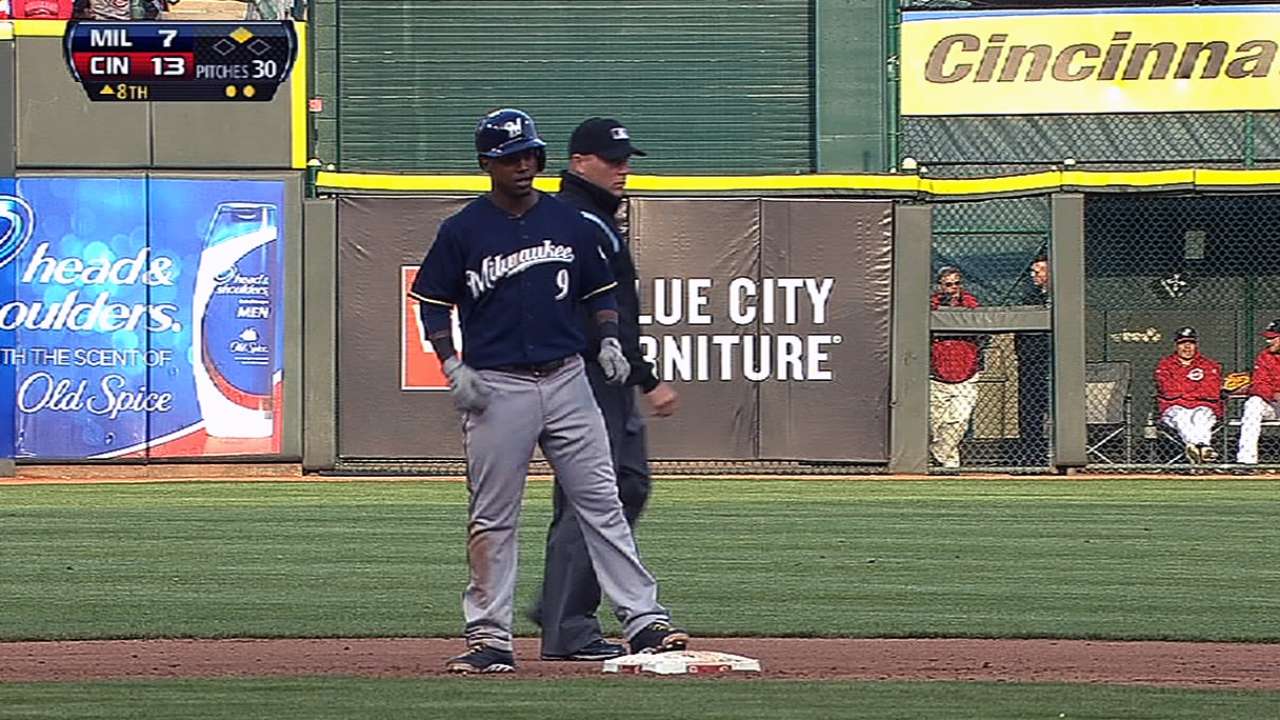 CINCINNATI -- The schedule won't stop for the battered Brewers, who face something of a pitching emergency two games into a stretch of 13 in as many days.
After covering four innings of Friday's loss to the Reds, a banged-up bullpen covered five more Saturday after rookie Hiram Burgos suffered through three disastrous innings of Milwaukee's 13-7 loss at Great American Ball Park.
Burgos' outing went down as one of the worst in franchise history: three innings, 12 runs (10 earned), 11 hits, three walks and two strikeouts. It pained Brewers manager Ron Roenicke to watch a 25-year-old making his fourth Major League start receive such a beating, but there were few other options.
Left-hander Tom Gorzelanny was hurt, placed on the disabled list after the game with tendinitis in his shoulder. Alfredo Figaro was off-limits after throwing two innings twice in the past three days, and John Axford was unavailable after throwing a pregame bullpen session Friday in an ongoing effort to work out his command issues, then pitched a long inning in the opener against the Reds.
Nobody told Burgos, but the Brewers had only four available arms in the bullpen.
"This is the worst outing of my career, really," said Burgos, who pitched for the first time in 10 days. "But the good thing about baseball is there is another game tomorrow, and you just have to keep focused. This is all part of the game, now you have to move on."
He was only the third pitcher in club history to surrender at least 10 earned runs in three innings or fewer, joining Ricky Bones (Sept. 29, 1995, vs. Boston) and Yovani Gallardo (Aug. 8, 2007, at Colorado).
It was only the 16th time in a franchise history that spans 7,033 games that a Brewers starter allowed 10 or more earned runs, and only the fourth time that a starter allowed 12 total runs in a game.
"I don't ever want to have to do that to somebody," Roenicke said. "It still bothers me, but we're hurting down in the bullpen."
The dubious club record for runs allowed still belongs to Bill Travers, who was charged with 14 earned runs (and a club-record 18 hits) in 7 2/3 innings of the second game of an Aug. 14, 1977, doubleheader in Cleveland. When Travers allowed five runs in the bottom of the eighth inning of that game, then-Brewers manager Alex Grammas finally went to the bullpen for Bob McClure, and Travers received a standing ovation from the Cleveland crowd for "wearing" one for the team.
It was Burgos' (1-1) turn to do the same Saturday.
"You feel kind of bad for the kid, but you can't call off the jam either," Reds manager Dusty Baker said. "I knew [Roenicke] didn't want to go to his bullpen early. I know the feeling. People don't understand, but sometimes, you have to leave a guy out there as a sacrificial lamb to save the rest of your team."
Roenicke remembered enduring a similar situation with left-hander Randy Wolf, who once approached the manager during a dismal outing and said, "Hey, just leave me in." But Saturday, with Burgos, it hurt even more.
"It's never good, but it's worse with a young guy, because he probably doesn't understand," Roenicke said. "We talked to him, but sometimes, it's still tough."
The Brewers have lost eight of their past nine games, including seven in a row against National League Central opponents.
Yet Saturday actually began with promise. Jean Segura, the second batter of the game, hit an opposite-field home run off Reds starter Mat Latos (4-0), and Aramis Ramirez nearly added a two-run homer two batters later, settling instead for an RBI double high off the wall for a 2-0 Brewers lead.
Burgos' first sign of trouble came when Brewer-killer Jay Bruce led off the bottom of the second inning with a booming home run to right field. The next sign of trouble came two batters later, when Ryan Braun settled under a fly ball to left field like he'd done hundreds of times before -- and just missed it.
The error opened the floodgates for the Reds. Burgos followed the error by walking No. 8 hitter Devin Mesoraco, allowing a game-tying single to Latos and then walking Shin-Soo Choo to force in the go-ahead run.
The Reds scored five runs in that inning and seven more in the third, when Bruce doubled twice. The Reds hit five doubles that inning -- including one that dropped between Braun and center fielder Carlos Gomez -- and Latos delivered another RBI single. By the time the Reds stopped circling the bases, Burgos was finished, throwing 88 pitches in three innings and leaving the Brewers in a 12-4 hole.
Braun was asked: What happened on that fly ball?
"Nothing. I wish I had an excuse. I just missed it," he said. "It didn't go in the sun, nothing happened. I didn't catch it. I can't remember ever having dropped a ball, ever, in my life. Hopefully the last. I doubt it will be the last, but hopefully it's the last."
The Brewers hit their way back into the game against Latos, who entered the day with a 2.23 ERA, but allowed 15 Brewers baserunners and seven runs -- six earned -- in six innings. Segura had four hits and scored three runs. Ramirez and National League batting leader Gomez each had two hits and two RBIs. Norichika Aoki hit a solo homer in the sixth.
Slumping Brewers second baseman Rickie Weeks went 0-for-3, ended a pair of Brewers rallies and saw his average fall to .179. He struck out with runners at second and third to end the Brewers' two-run third inning and grounded into a double play with runners at the corners to end a two-run fifth.
"Obviously, it wasn't a good game," Braun said. "Not many things to take from today in any facet of the game. I guess, offensively, we did OK against Latos, who's actually really good. His stuff wasn't bad. I thought we put some good swings on him. He made some mistakes, for sure.
"Other than that, after a game like that, you just try to move on to the next one as quickly as possible."
Adam McCalvy is a reporter for MLB.com. Read his blog, Brew Beat, and follow him on Twitter at @AdamMcCalvy. This story was not subject to the approval of Major League Baseball or its clubs.